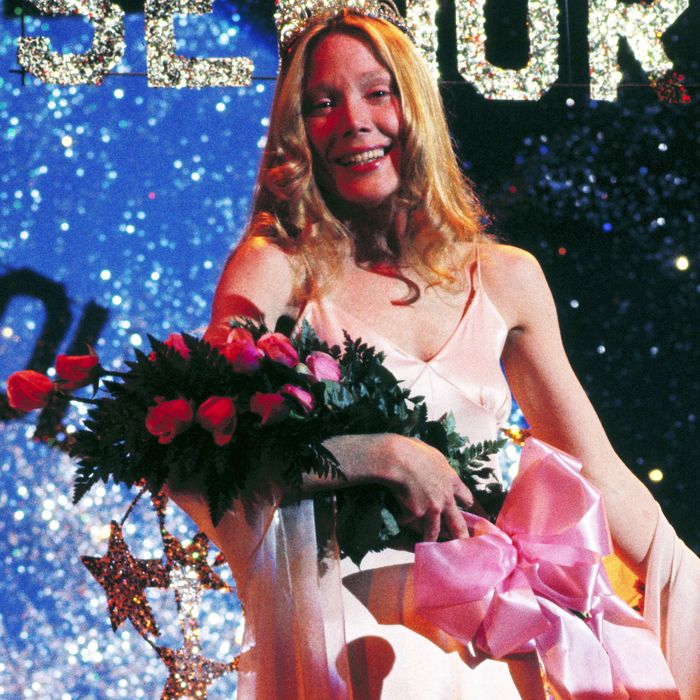 Photo: Silver Screen Collection/Getty Images
This Week's Highlights
Carrie (1976), Amazon
It's officially spooky season, and oh man if this month isn't a wealth of streaming riches. Hitting Amazon is Brian De Palma's adaptation of Stephen King's Carrie, starring Sissy Spacek as Carrie White, which is still one of the most iconic horror films in recent memory. It's also the first film adaptation of a King work, which feels particularly significant in light of the spate of King adaptations that have come out in the past couple of years. It, Castle Rock — it all comes back to Carrie.
The Shining (1980), Netflix
If you're looking for something a little chillier, or you're just looking for another film featuring torrents of blood (or if you weren't sure what that dream ballet interlude in Spielberg's Ready Player One was about), Stanley Kubrick's take on Stephen King, The Shining, is here to help. Jack Nicholson and Shelley Duvall blow the roof off of the Overlook Hotel as Jack and Wendy Torrance, battling the horrific events of the hotel's past as they threaten to overtake them.
Mulholland Drive (2001), Hulu
The honor of most visceral filmic representation of horror, however, belongs to David Lynch's Mulholland Drive. Whether it is or isn't a bona fide horror movie aside, Lynch has created a film that will shake you to your core, with what is truly one of the scariest scenes of all time (watch out for that dumpster!). Naomi Watts stars as Betty Elms (or does she?), with Laura Elena Harring as the amnesiac Rita. The farther you get into the film, the harder it is to tell what's real and what's not — and that's the point. (Lynch has infamously refused to explain exactly what's going on in the movie.)
Starship Troopers (1997), Hulu
Also hitting Hulu in October are some of Paul Verhoeven's best-known works, Robocop and Starship Troopers. Both are terrific, but we'll slot in Starship Troopers as this week's recommendation. The film was panned upon its release, but in the years since then, critical consensus has started to turn around. It's not an action movie for the sake of action (or space bugs) — rather, it's prophetic, damning in a way that can be easy to overlook.
Galaxy Quest (1999), Hulu
For more obvious irony, try Galaxy Quest. The film has reached cult status for good reason — it's peerless as a parody of Star Trek and its associated fandom, as well as a tremendously good time in its own right. Sigourney Weaver! Alan Rickman! Tony Shalhoub! Sam Rockwell! Not that a great cast is a guaranteed recipe for success, but in this case, by Grapthar's hammer, it works. Even if you're not a fan of sci-fi or know absolutely nothing about Stars Trek or Wars, it won't get much better than Galaxy Quest if you're looking for something fun.
The Thick of It, Seasons 1–4 (2005–2012), Amazon
If you've seen In the Loop, Veep, or The Death of Stalin and you haven't seen The Thick of It, good news, Amazon is here to deliver you. The Thick of It may just be comic genius Armando Iannucci's best work, and contains one of Peter Capaldi's most incredible performances as foul-mouthed political spin doctor Malcolm Tucker. In case you need some frame of reference for just how incredible the show is, know that it spawned its very own, Oxford English Dictionary–approved word.
For more coverage of the best movies and TV shows available on Netflix, HBO, Amazon Prime, Hulu, and Showtime check out Vulture's What to Stream Now hub, which is updated throughout the month.