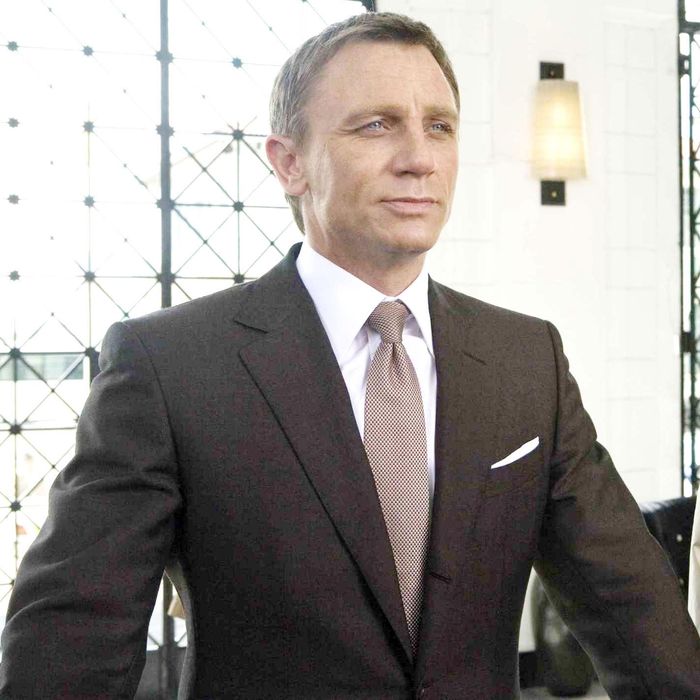 Photo: Sony Pictures Releasing
This Week's Highlights
Quantum of Solace (2008), Showtime
Is it time to rehabilitate Quantum of Solace yet? Though it's arguably the least-liked and most-forgotten entry in recent Bond canon, the water-crisis-based Quantum of Solace isn't actually so shabby (in my opinion, anyway) — or at least, it seems timely, now. Most of that has to do with Mathieu Amalric's performance as villain Dominic Greene, as he veers between having a handle on his emotions and just going HAM. There's also a terrific sequence involving a floating opera, so if you're looking to reassess the Bond series as the question of who will replace Craig (and how Cary Fukunaga's turn at the helm will turn out) creeps toward a resolution, give Quantum of Solace a shot. Yes, I know the title is still kind of nonsensical.
Results (2015), Hulu
If you've seen this year's Support the Girls, you know that director Andrew Bujalski has a knack for picking apart human idiosyncrasies, and making seemingly inconsequential moments and actions into wrenching scenes. For further proof, check out Results, which stars Cobie Smulders, Guy Pearce, and Kevin Corrigan as some of the staff and patrons of a gym. As they try to work through love, life, and all of the attendant insecurities therein, things get messier — just like they do in real life. What results, exactly, are they getting? Only one way to find out.
Inherent Vice (2014), HBO
For another journey through the ups and downs of being alive, try Paul Thomas Anderson's Inherent Vice. The film, adapted from the Thomas Pynchon novel of the same name, is a little less full-body cringe-inducing than Results — it's a little dreamier, as befitting a story anchored (or rather, unmoored) by a stoner hippie detective. As Doc Sportello (Joaquin Phoenix) tries to make sense of three different cases, the film strays further from coherence, but that's a feature rather than a bug. With appearances from Josh Brolin, Reese Witherspoon, and Martin Short, the journey is as much the point as the destination.
Illang: The Wolf Brigade (2018), Netflix
Kim Jee-woon (A Tale of Two Sisters; The Good, the Bad, the Weird; I Saw the Devil) is one of South Korea's best directors, and his latest film, Illang: The Wolf Brigade, is now streaming. Illang, adapted from Mamoru Oshii's manga Kerberos Panzer Cop, takes place in a hypothetical future in which North and South Korea struggle with reunification. Though it seems a handy allegory for the current political climate, Jee-woon doesn't make too much of it; rather, he dives into the denseness of the manga, serving up a dark, sleek, sci-fi spectacle that's thrilling to behold.
Dracula (1958), Filmstruck
Dracula — also known as Horror of Dracula — is just one of many Hammer Horror films to hit Filmstruck in time for the spooky season. And, per its singling out here, perhaps the best of them. Starring Christopher Lee as the Count and Peter Cushing as Van Helsing, the film has been credited with cementing the popular image of the vampire, as well as being heralded as one of the best British films of all time. If you've never seen it before, this is the perfect opportunity to brush up on your horror history, and to take in one of Lee's most iconic performances.
The Cell (2018), Amazon
If Daredevil didn't have enough Vincent D'Onofrio for you, try The Cell on for size. Granted, he's playing a very different character in one of the strangest films in recent years, as Tarsem Singh (of The Fall) posits a world in which the technology to travel into someone else's mind has been developed. Catherine Deane (Jennifer Lopez) is the traveler in question, and her journey into the mind of a serial killer (D'Onofrio) serves as fodder for one of the most visually striking (and potentially disturbing) movies you'll ever see.
For more coverage of the best movies and TV shows available on Netflix, HBO, Amazon Prime, Hulu, and Showtime check out Vulture's What to Stream Now hub, which is updated throughout the month.