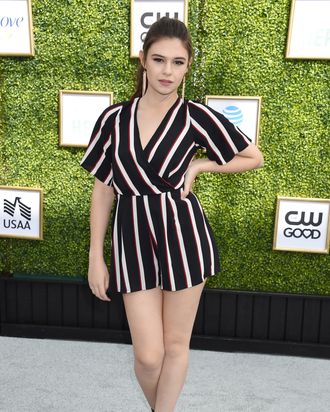 Nicole Maines.
Photo: Gregg DeGuire/WireImage
The range of superheroes that are populating the large and small screens is becoming as rich and diverse in race and gender as it is in creative superpowers, and now actress Nicole Maines is adding TV's first-ever trans superhero to the cast of the CW's Supergirl.
"It means everything to me," says the 21-year-old actress of the opportunity. Maines has been living in the public eye since she was a teenager at the center of a landmark 2014 Maine case, which ruled that barring teens from using the gender bathroom of their choice violated the state's human rights code. Her personal journey as a young transgender woman has been chronicled in both a book and documentary films, and after making her acting debut on an episode of Royal Pains, she was tapped for the groundbreaking turn on Supergirl as the nascent crusader Nia Nal, a.k.a. Dreamer.
"I think that we are in a place in our country and in our society right now, where we really need a trans superhero as the most logical next step," Maines told Vulture at the CW's Fall Preview event. "And seeing how so many people have come out to love and support both me and Nia shows me that all hope is not lost … It shows that we can be anything that we want, and that being trans is not a limiting factor in anything that we want to do in our lives."
Maines's role is a contemporary adaptation of Nura Nal, the precognitive comic-book heroine Dream Girl, later rechristened Dreamer, created in 1964 as a member of the 31st-century–based Legion of Super-Heroes, a hero team long associated with Superman and Supergirl story lines and recently featured on the Melissa Benoist–starring series. The comics character was originally conceived as a cisgendered female, but Maines is thrilled at the multidimensional 21st-century reimagining.
"She's a full-fledged character beyond being trans," says the actress. "She is a reporter, she is an alien, she is a woman, and she has so many great interactions with the rest of the cast; and she becomes so ingrained in this 'Supergirl' family. Kara takes her under her wing at first as a mentor, and that blossoms into this beautiful friendship; and she has great conversations with James Olsen, who is her boss. She has an amazing, beautiful chemistry and relationship with [Legion member] Brainiac 5, and all of their interactions are hilarious. It's just really, really great to get to see how welcomed she is."
Maines said she's been especially pleased to join the progressively themed DC TV family, executive produced by Greg Berlanti. "I'm so honored to get to be a part of this amazing cast, crew, group of executives, and producers who have been so dedicated to telling diverse and inclusive stories," she said. "People of different religions, ethnicities, sexual orientations, genders, places of origin, powers."
"It's been a complete and utter dream, an honor, and they've been so tactful in how they've been approaching Nia, not just as a trans character but as just a character," she added. "They're all very, very dedicated to making her the best that they can. We're in love with how she's come out, and we're really, really excited to get to show her to people."