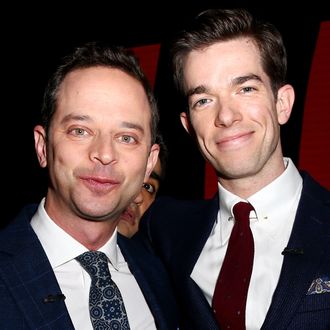 Nick Kroll and John Mulaney
Photo: Rich Fury/Getty Images
On Friday, Nick Kroll and John Mulaney blessed us with season two of Big Mouth, their very gross, very funny series on the wonders and miseries of puberty. But that's not all. After a live table reading of the second season's premiere at New York Comic Con, a fan reminded the audience that Big Mouth isn't the only Kroll-Mulaney collaboration currently on Netflix. Last year, you'll remember, the two reprised the crotchety geezers Gil and George from their Broadway hit Oh, Hello on Broadway for Netflix. Have they considered the duo's return?
"Interesting," said Kroll. "We hadn't thought about that."
"We have discussed Gil and George going back to Broadway," said Mulaney.
"The problem is we have to fax everything to Gil and George," said Kroll. "And they're currently living out of, like a pale blue Volvo from the early '80s. We're kind of trying to figure out how to get in touch with them."
"And George is right now Bruce Springsteen's understudy," said Mulaney. "And the nights he goes on, people are disappointed."
Guys, if you're reading a printed-out copy of this blog post: Please come back. We'll give you precisely the right amount of tuna.