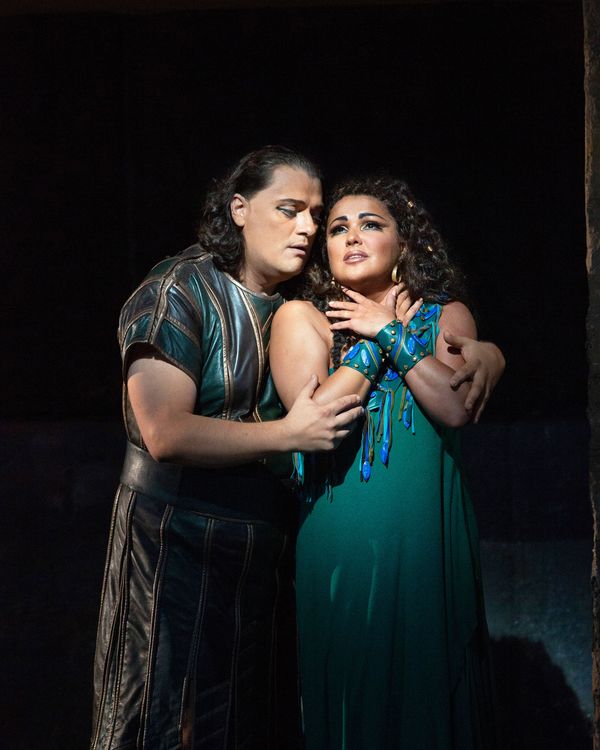 Netrebko as Aida, at the Met.
Photo: Marty Sohl/The Metropolitan Opera
If you're curious about what the 2018 edition of the Opera Diva™ looks and sounds like, go on safari to the Metropolitan Opera where she can be observed romping, left wrist to forehead and right palm to chest, in Verdi's Aida. Anna Netrebko, one of the only sopranos who can still make a box office hum, sings the title role with a rich, Amarone-hued voice and consummate control — and watches herself nail every tricky passage as if she were her own coach. Netrebko is not one of the great singer-actresses, like Lorraine Hunt Lieberson was, who dissolve into a character, voice and music fusing in a Yeatsian riddle: How can we know the singer from the song? Nor is she a diva like Leontyne Price, who donned each role like an extravagant gown, temporarily blotting out the possibility that any rival could ever sing it again. Rather, Netrebko is an Instagram-age diva, constantly checking her status. She hovers outside herself onstage, preening, calculating, making sure that she's delivering what her fans have bought.
And she does! She explodes into "Ritorna vincitor," slipping without a glitch from high peal to feline snarl. Aida is in an impossible position, daughter of a king enslaved by another, in love with the warrior whose job it is to slaughter her people. Netrebko slaps down her emotional cards — anger, jealousy, passion, and pessimism — then assembles them into a winning hand. Later, in the famously unforgiving aria "O Patria Mia," in which she longs for the "green hills and fragrant streams" of her native Ethiopia, she suspends a luminous high C above the stage and lets it hover there, weightless and bright. In her tender moments with the warrior-lover Radamès, Netrebko seems unfazed by the tenor Aleksandrs Antonenko, who finds each note like a dowser, passing close but rarely on target. Her voice flows around his honks, as if to say, I know he's not perfect, but I'm going to join him in this damn tomb all the same.
Having marched from lighter lyric roles into heavy-gauge dramatic soprano territory, Netrebko is now diva enough to command a stage replete with foam-block temples, bare-chested troops, snorting horses, cowering slaves, and glittering hardware. She can even — almost — make me overlook the Trumpian spray-on tan that is supposed to transform her into Ethopian royalty but instead makes her look like a Russian tourist after a week in Ibiza. How, in any case, can the Met still be slathering on the brownface, years after it finally retired the blacked-up look for Otello? Sonja Frisell's 30-year-old Aida production is old-fashioned spectacle with dubious racial politics, but that doesn't mean it should rewind right back to minstrelsy.
There are three things Netrebko can't do. One is to let us forget that she is Anna Netrebko, international prima donna, for whom each new role is one more shot at the spotlight. The second is to forget that fact herself. And the third is to outshine the Georgian mezzo-soprano Anita Rachvelishvili, who turns the role of the Pharaoh's daughter Amneris into a competing star vehicle. By turns blistering and tender, she never lets the character's emotions eat through the honeyed varnish on her voice or allows technical demands to sand away the rawness. When Aida makes her escape in the final act, Amneris thunders at her sneaky "abhorrent rival." But it's Rachvelishvili who's creeping up on Netrebko, gunning for a spot in the pantheon.
Aida is at the Metropolitan Opera through March 7.