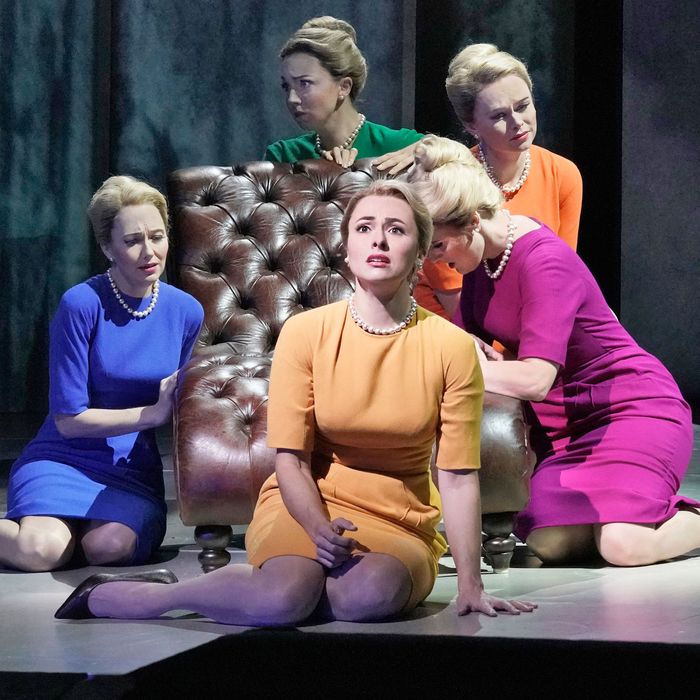 From Nico Muhly's
Marnie,
at the Met.
Photo: Ken Howard/MetropolitanOpera
When the Metropolitan Opera commissions a new work, it commits. For Marnie, the second opera that the company has ordered from composer Nico Muhly, it rounded up an elite strike force of a cast, had the conductor Robert Spano lead it, and let director Michael Mayer loose on the staging. It's too bad that this deluxe production of a lavish opera rests on such a wispy score.
The source is not the Hitchcock film, but Winston Graham's 1961 novel, a tightly wound psychodrama about a woman who, damaged by childhood trauma and a shrewish mother, grows up to do terrible things. The story, divided into compact episodes of betrayal and cruelty, might suggest a gnashing, expressionistic score à la Lulu.
But that's not this composer's way. Instead, a seam of good-natured lightness runs through even the most brutal moments. Muhly's music smooths the roller-coaster of Marnie's life into a series of speed bumps. Attempted rape, slashed wrists, infanticide — each of these horrors gets a perfunctory climax that has to be juiced with a flash of light or a spreading curtain of red.
The creative team, which included Mayer and the Met's experienced dramaturg Paul Cremo, didn't whittle away nearly enough of Nicholas Wright's libretto, so Muhly speeds through it, cramming strings of syllables into shapeless vocal lines. Wright doesn't always earn that generosity. "I'm sorry," Marnie's husband Rutland says after he has tried to force himself on her. "Sorry isn't enough," she responds — and neither is the whole exchange. What is Muhly to do with dialogue like this but fit it out with hurried declamation against a backdrop of fidgety orchestration?
Marnie keeps changing jobs, addresses, hair colors, and names, apparently leaving even the composer unsure of who she is. Thank god for costume designer Arianne Phillips, who allows the character to shed her identity without losing her sense of style. It's up to the mezzo-soprano Isabel Leonard to find the human being beneath the trappings, if any. Leonard is a marvel, navigating disjointed recitative with velour voice and technical aplomb, and maybe she doesn't feel the frustration of so many promising but truncated moments. Muhly gives her not arias, exactly, but "links" — sleight-of-hand moments when the character reflects (quickly!) while the plot pivots and the scene shifts. But she is too mercurial to hold one of these solos for long and a few phrases in, a new locale is already established, new characters are introduced.
The backbone of the opera is her icy relationship with Rutland, the man who blackmails her into marriage. Christopher Maltman, always superb, plays him as an entitled whiner, and tries to kindle whatever chemistry might exist between them. Other characters circle around the void at the center of the opera, persuasively sung but somehow superfluous. Iestyn Davies is fabulously sweet-voiced and bitter as Rutland's brother Terry, and Denyce Graves sings Marnie's mother with lunatic hauteur. Spano manages the whirl of talents with the kind of energy that should have propelled him onto the Met podium 20 years ago.
There are glimmers of a great opera contained in Marnie. The emotive heart of Act II takes place on a therapist's couch and, here, the collaboration between Mayer and Muhly reaches its apogee. Marnie's fragmented psyche appears in the form of five alter egos, all blonde, poised and indistinguishable except by their outfits, which are variously cerulean, emerald, gold, fuchsia, and orange. They take turns lying on the couch, then cluster on it together, and the apparitions surround Leonard with a high-voiced halo while she excavates her most awful memory. Here, Muhly shows that he can manage complexity, build up drama, and refract pain through a prism of lyric beauty. He pulls it off again later in the act, when Marnie, riding her beloved horse, joins a fox hunt that horrifies her so much that she lets her ride gallop out of control. These set pieces, in which the characters take their time, gliding inexorably towards disaster, jibe with Muhly's instincts as a composer.
In his other pieces, he gravitates to serene tintinnabulations, shimmering atmospheres, and decorous drama. His most intoxicating pages — the third movement of the Viola Concerto, for instance — evoke a field of variously sized spinners: pinwheels, rainbow lollipops, bicycle wheels, tops, dreidels, and hubcaps, all throwing off sparks and colors. The solo viola in the concerto is a protagonist he understands, using the space cleared by a big orchestra to linger on an intimate soliloquy that is by turns rhapsodic, indignant, and pensive. If only the title character in the opera were half as insightful or introspective.
In all three of his operas, Dark Sisters, Two Boys, and now Marnie, Muhly grapples with the genre's dramatic demands, but he doesn't struggle hard enough. His idol, Philip Glass, stretches out the dramatic pacing so far that it practically liquefies. Muhly doesn't put up that kind of resistance, adapting instead to traditional theatrical structure without obvious enthusiasm. On opening night, I kept hoping he would dam up the flow of plot and words and let his ideas bloom. Instead, it often felt like he was grudgingly supplying the soundtrack for someone else's show.