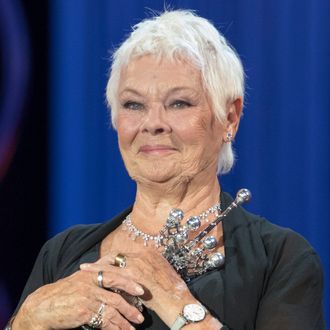 Photo: Europa Press/Europa Press via Getty Images
What do Idris Elba, James Corden, and Ian McKellen all have in common? If you said, "They're British!" then you need to dream bigger. They are all now part of the cast of Tom Hooper's forthcoming screen adaptation of Cats. Deadline reports that Dench will take on the role of Deuteronomy, leader of the feline tribe the Jellicles, who decides which of her fellow cats will be chosen to be born into a new life on the Heaviside Layer. She will also be joined by Jennifer Hudson, Mette Towley, Laurie Davidson, and Taylor Swift in the Andrew Lloyd Webber musical.
Dench, however, has not always been a Cats fan. She once addressed students in a classroom at the Borough of Manhattan Community College and said she was cast in a stage production of the show, but had to back out because of an injury. Turns out, she was relieved to have missed her Cats moment at the time. "I went to see it and thought, 'I'm glad I wasn't in that,'" she told the students, according to The New York Daily News. So either Tom Hooper's vision so inspired Dench that she's taking a leap of faith, or her views on Cats have just wildly changed since a year ago.