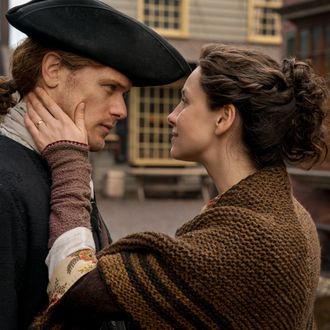 Smooch!
Photo: Aimee Spinks/© 2017 Starz Entertainment, LLC
The sound you may have heard earlier was 5000 Outlander fans screaming with pure delight. At New York Comic Con 2018, Starz unveiled a surprise screening of the hit drama's season four premiere and it did not disappoint. The episode introduces us to Claire and Jamie's new life in America and it was full of the things you know and love about the show including, but not limited to, a shirtless Jamie, Clare tending to a man's wounds, slimy aristocrats, clueless redcoats, and of course, an outdoor sex scene. We get to meet the Fraser's adorable new dog Rollo (who will fill the void in your heart left by those damn direwolves) and fans were also treated to the show's new opening titles which you can watch below. Listen to those North Carolina fiddles!
In perhaps the event's most poignant moment, an audience member asked the panel how they felt about depicting non-consensual sex in today's political climate. Executive producer Ron D. Moore responded by saying that they try not to preach to the audience but that headlines were hard to escape. "We don't choose to look at it as a platform for political ideas," he said. "But at the same time all of us live in the world. We all live in this culture, we all live in this society, we can't help but have what happens in the world inform what we do." He continued by quoting another known heartthrob, saying, "I take solace in something that Barack Obama said. In his opinion 'the arc of history bends toward progress' and I tend to take that point of view."
So yes, this panel had a surprise screening, sexy Scottish people, and a quote from Barack Obama. The new gold standard for all Comic Con events.