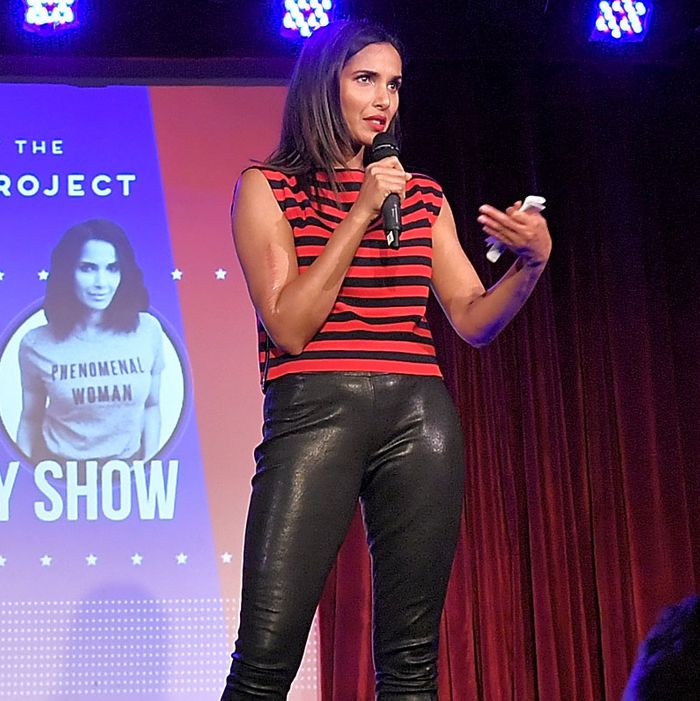 Padma Lakshmi onstage at the Bell House.
Photo: Michael Loccisano/Getty Images for Movement Voter
The night began, as so many do lately, with a tweet. After the news that Louis C.K. had made his return to comedy with a surprise set at the Comedy Cellar, Padma Lakshmi followed up a tweet from Kathy Griffin with a list of talented comics she loves — all of them female, queer, and nonwhite comics — who are still waiting to get to that Louis C.K. money. Some of those included bigger names like Leslie Jones and Hasan Minhaj, but then there were deeper cuts, including many Vulture faves: Naomi Ekperigin, Joel Kim Booster, Patti Harrison, Ana Fabrega, and on and on. The tweet had the effect of recommending some very good comics, and maybe more importantly, making us take a pause: Wait, Padma is a comedy nerd?
So with the help of her assistant Caroline Perkins, the Top Chef host and author became an unlikely but welcome patron saint of New York City comedy, putting together two sold-out comedy shows at the Bell House, co-produced by Sue Bohlen and Vulture's own Jesse David Fox. They raised almost $20,000 for the Movement Voter Project through ticket sales, raffles, and auctions ahead of the midterms. "I'm giddy like a schoolgirl," Lakshmi said on the phone the day after. "I'm like a comedy groupie, so for me, it was like the time I played tambourine onstage with the Foo Fighters when they were doing a concert for 12,000 people in Rochester. I felt that same exhilaration, but I didn't have to speak, so this is a little more challenging."
Lakshmi opened the night succinctly: "I'll make this brief: Fuck Louis C.K." "To be honest, I just couldn't think of any other jokes. It was that lame," she said afterward. "I thought, 'I'll just say the same jokes that are short, and just warm [the audience] up for 30 seconds and then say thank you and get off. But maybe I'll just use that little bit to say thank you, and just pivot and say, if it wasn't for my ire about what happened, I would've never had this show tonight.'"
"The thing that annoyed me most about [Louis C.K.'s] particular case was that he tried to stifle and bury the careers of various female comedians who called him out on his shit," Lakshmi continued. "And it's just like, it's so hard as a woman, as an actor, as a director, as a comedian, as a writer, to even get noticed. And then to have the courage and bravery to speak the truth, and be slapped down and punished for it in such a cruel way, really spoke to me."
Lakshmi does believe that there is a path for redemption for someone like C.K., but that she hasn't seen him put in the requisite work. "I can recognize that Louis C.K., or Matt Lauer, or Charlie Rose are very talented men who are also predatory and abuse their power, and to my mind, haven't really demonstrated any remorse or deeper understanding about what they did, or empathy for the people they did it to, and therein lies the problem," she said. "Show me what those types of men have done besides to try to pull off their own comeback? But from where I stand, I know a lot of women who need jobs. I know a lot of queer people who are funny as hell. I know a lot of people of color who would make fantastic romantic leads."
The evening, filled with comedians mentioned in that original tweet, became a showcase of many of the weird women and queer comics who have been pushing the boundaries of comedy in the past few years. Hosts Matt Rogers and Bowen Yang took charge of the proceedings, featuring sets from John Early, Ziwe Fumudoh, Roy Wood Jr., Catherine Cohen, Pat Regan, Larry Owens, Jo Firestone, and headliners Michelle Wolf (for the first show) and Nikki Glaser (for the second). Pat Regan pitched a treatment for a movie entitled Bedridden that goes through all the familiar teen rom-com tropes; Catherine Cohen and Larry Owens both did musical bits; Ziwe Fumudoh did her signature anti-comedy singalongs; and emcee Yang sang a song dedicated to Padma set to the Top Chef theme while Rogers danced. "They were paid in pizza and Prosecco," said Lakshmi. "I am profoundly thankful to every comic because unless they were out of town or already booked that night, everybody said yes, and they didn't have to, and they did."
The first show also featured a brief, surprise appearance from Padma Lakshmi's good friend Chris Rock. "I just texted him to come. I only gave him a few days notice … I didn't want to put that pressure on our friendship, but I just said, 'Look, this is going on next week, and if you can just support me by being in the room, that would be phenomenal.' And he just showed up, " she said. "He was sitting next to me in a corner to the side of the stage, and then at some point he just got up and went to the backstage area and I knew. I've been around him enough to know when he's ready to perform, whether he has material or not. I really appreciate that because he didn't have to do that."
Lakshmi is mulling over what to do as a thank-you. She'll probably cook dinner for him. "He likes to eat at my place. He's been at my dinner table many times with his girlfriend, or with his kids," said Lakshmi. "If I can return the favor in some way — I don't know, cater a party of his — I'll be happy to do that."