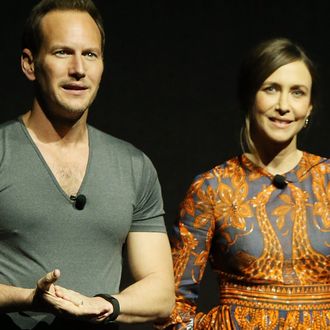 Patrick Wilson and Vera Farmiga.
Photo: Michael Tran/FilmMagic
Get your nightlights ready, because it turns out they still haven't figured out a way to get rid of that creepy Annabelle doll. They're trying though! Both Patrick Wilson and Vera Farmiga will return as Ed and Lorraine Warren in the upcoming third installment in the Annabelle franchise. Which is, of course, just one facet of what is known as the Conjuring Universe, made up of all the treasures found in Ed and Lorraine Warren's creepy "artifacts" room that for some reason no one thinks to just burn to the ground. Variety reports this third movie will be about how Annabelle the doll awakens the evil in that room to target the Warrens's daughter, who at this point should really just be allowed to go off to boarding school already. The film is luckily set to hit theaters on July 9, when there will be a lot more daylight.