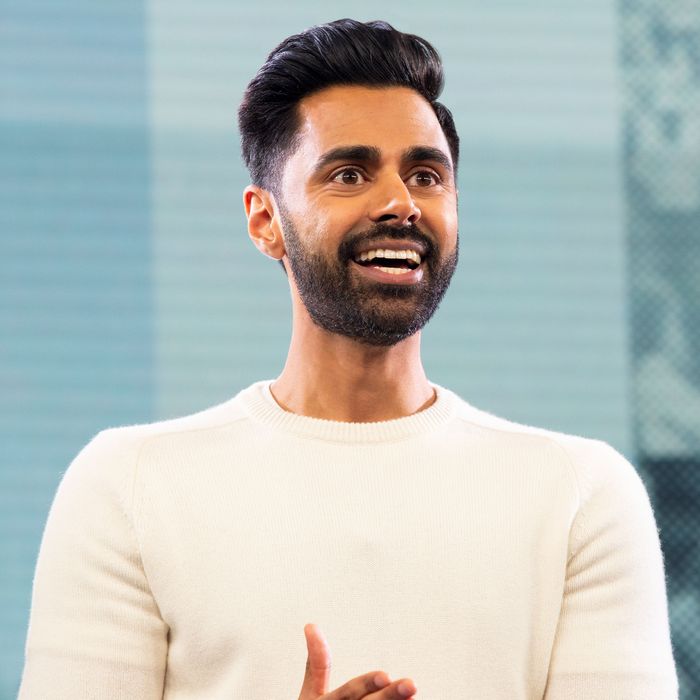 Hasan Minhaj
Photo: Cara Howe/Netflix/Cara Howe/Netflix
"We did it!" Hasan Minhaj announces jubilantly at the beginning of his new talk show, Patriot Act With Hasan Minhaj. "This is our first show."
That "we" and "our" may refer to Minhaj and his colleagues, who have worked for two years to make Netflix's latest foray into the talk show genre a reality. But make no mistake, Minhaj is also talking about people like himself: an American Muslim, the son of Indian immigrants, and the type of person who rarely gets the opportunity to anchor a program like this one.
A comedian with Minhaj's background has not hosted a late-night talk show before — not on network TV, which is dominated by white Jimmys and/or Jameses, and not on basic or premium cable. That notable fact is central to the operating system of Patriot Act With Hasan Minhaj, which, like Minhaj's stand-up comedy, dissects topics using his ethnic and religious point of view as its scalpel.
In a way, each episode of Patriot Act With Hasan Minhaj is a 26-minute stand-up set. There are no interviews, no sketches, no fun games with celebrities nor genial banter with a sidekick. It's just Minhaj, on a set that he describes as what it would look like if "Michael Bay directed a PowerPoint presentation" (and that I would characterize as a cross between Wolf Blitzer's Situation Room and the inside of a Lite-Brite), speaking at length on a specific subject for an entire episode. In the first one, that subject is affirmative action; in the second, it's the dodgy relationship between the U.S., corporate America, and Saudi Arabia. He also does a shorter riff on what he refers to as "shitty Indians," which does the important service of once again reminding us all that Dinesh D'Souza is the absolute worst. (Future episodes will land Sundays on Netflix.)
In essence, he's taking a page from fellow Daily Show alum John Oliver, whose Last Week Tonight is also structured around Oliver's extended monologues. The difference is that Minhaj has totally done away with the desk and stays on his feet the whole time, strolling around his high-tech set the same way a comic prowls around a stage. In the second episode, he refers to his show jokingly as "a woke TED Talk" and that gets it pretty right, except this woke TED Talk is not only informative and incisive, but funny.
Patriot Act's most crucial distinguishing factor is that it enables Minhaj to say things that no other current talk show host could possibly say. The affirmative-action episode focuses on the lawsuit filed against Harvard University by the anti-affirmative action group Students for Fair Admissions, which has garnered support from some Asian-Americans who believe that race should not be considered by college admissions officials. Minhaj dismantles that argument using facts and figures, but also doesn't entirely let Harvard or other universities off the hook. (He makes the very strong point that one of the most discriminatory admissions practices is letting in legacy applicants, who often tend to be white and wealthy.) But he also makes jokes about tiger moms and dads, Indian uncles who brag about arriving in America with a comically small amount of money, and how even he, as a high-school student, bought into the fear that his Asian heritage would work against him when he applied to college.
"I thought I wasn't going to get into Stanford because some black kid was going to take my spot," Minhaj says. "But I didn't get into Stanford because I was dumb."
No other talk show host could tackle this material with the same authority and humor because they don't have the background or perspective to credibly discuss it without potentially sounding racist or bigoted. Minhaj can, and that's even more clear in the second episode, in which he addresses the assassination of Washington Post journalist Jamal Khashoggi to explore our attitudes toward Saudi Arabian crown prince Mohammed bin Salman.
While highlighting the problematic recent history involving the U.S. and Saudi Arabia, Manhaj quips: "Saudi Arabia was basically the boy band manager of 9/11. They didn't write the songs, but they helped get the group together." No one else on TV right now could make that joke so effectively, nor could they pivot a few minutes later and sincerely lament that, "Whenever Saudi Arabia does something wrong, Muslims have to live with the consequences."
That's why Minhaj's voice is necessary in this realm of television. Whether it will translate into a long run for Patriot Act remains to be seen. Netflix has been trying for a while to break into the talk show scene, with limited success. The first-ever streaming entry in the category, Chelsea Handler's Chelsea, ended after two, non-buzzy seasons. The Break With Michelle Wolf and The Joel McHale Show With Joel McHale closed up shop after just one. David Letterman's My Next Guest Needs No Introduction did a little better in the buzz department thanks to the strength of its first two episodes, though the conversation died down a bit as the remaining installments slowly rolled out once a month. It's possible that Netflix, famous for dropping entire seasons of television onto its platform, just isn't ideal for talk shows, which are topical and, by necessity, don't arrive in one massive chunk.
Netflix has had enormous success with its comedy specials, though, which is one of several reasons why I wouldn't write off Patriot Act. By designing his show to sit square in the middle between stand-up and late-night talk, Hasan Minhaj may have come up with an equation that solves the Netflix talk show problem. At the very least, he's proven that in this section of the TV landscape, his voice is very much worth hearing.