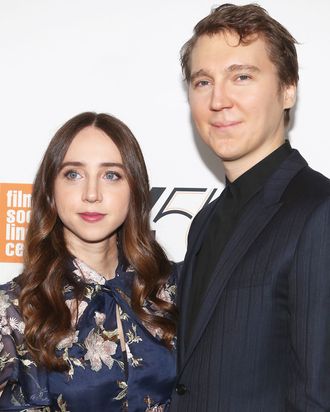 Zoe Kazan and Paul Dano co-wrote
Wildlife
, which Dano directed.
Photo: Sylvain Gaboury/Patrick McMullan via Getty Image
After Paul Dano wrote a treatment for Wildlife, his directorial debut based on the Richard Ford novel of the same name, his longtime partner Zoe Kazan decided it'd be easier to just rewrite it, rather than give him all her notes on the script. "Paul read the book first, and fell in love with it, and read it about a million times," Kazan told Vulture on the red carpet of the movie, which she co-wrote with her partner. "We started trading it back and forth. It was about a three-year process of adaptation. It was really fun. Actually, pretty stress-free after that initial conversation."
Dano interjected: "Did you help because you thought it was good, or because it was helpless, because I was helpless?"
Kazan thought for a moment, then laughed: "I'm just not going to comment on that!"
Wildlife follows a decomposing midwestern family: Jake Gyllenhaal is the father who leaves town to fight wildfires, Carey Mulligan is the mother having an affair, and Ed Oxenbould is the son coming of age and trying to make sense of their drama. Despite the dark subject matter, Dano and Kazan agree that they prefer writing together over acting together. "[Working together is] easy now," Kazan told Vulture. "I think it's much easier to not be on set together, but for him to do a draft and give me notes, it's just a conversation."
"Acting together is probably harder," Dano said.
Kazan agreed: "Acting together, I don't think we'll do again."