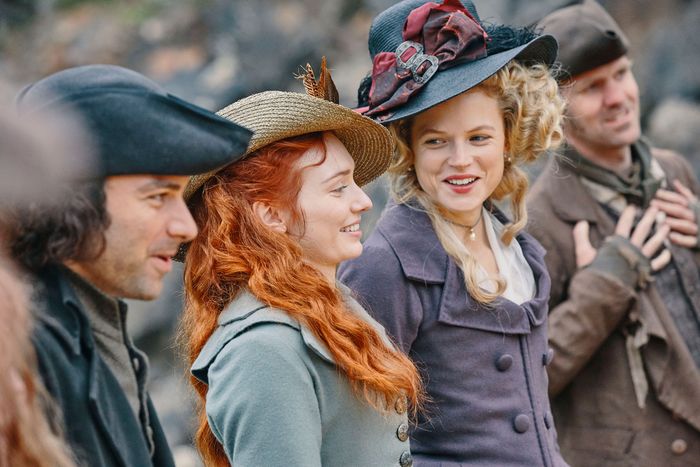 Photo: courtesy of Mammoth Screen for Masterpiece
I see you, Poldark. I see you.
After a few seasons of push-pull, will-they-or-won't-they romantic plots which haven't particularly elevated the caliber of the show (as opposed to our blood pressure), we're finally starting to see a more mature and more interesting set of marriages take shape.
Marriage is a lot more interesting than falling in love. I didn't say it was more fun, mind you, but it's what two people are left with when they have gotten to know each other well enough to realize that the person they've signed on for is not really the same person who wakes up next to them every morning, but they still keep going. People are connected in marriage by shared responsibility, honor, commitment, children, and a heap of other things besides infatuation.
We're watching Ross and Demelza fumble their way through this transition now, just behind George and Elizabeth. If Dwight and Pug Lady do have children, they'll be next in line. And it's making Poldark darker and twistier and more enjoyable, at least for me. There's only so far you can go with "aristocratic classic beauty v. windswept warm earthy peasant girl," you know?
In this most recent episode, when George's greatest-ever setback at Ross's hands could have thrust a new wedge in between him and Elizabeth, you can tell there's a new strength between them. Elizabeth can be a fool, but she's very good at accepting things as they are and making the best of them.
Ah, yes, the setback. Political machinations everywhere! George (eventually, after much fluttering and suspense) loses his seat in Parliament to one Captain Ross Poldark. What about Hugh, you may be asking? Well, it will come as little surprise to you that Hugh spends the vast majority of the episode on his deathbed, with the exception of the rest of the episode, in which he is simply … dead. It was tremendously sad! Demelza was by his side, shooting down his final requests for some hope that they might be together (I think that was the right thing to do but I would be very conflicted in the face of a dying war hero who worshiped me).
As Hugh weakened, Lord Falmouth decided that Dwight's more modern approach to medicine wasn't cutting the mustard, and instead brought on a More Traditional Old-Timey Cornish Doctor, who immediately ran through the Prestige Drama Checklist for bad medicine: leeches, purging, cupping, vomiting, sweating, and, should we have time, trepanation. To Lord Falmouth's credit, he called Dwight back into service just after the doctor got to trepanation. To no avail, of course, but that's brain fever for you. Seeing the writing on the wall, Lord Falmouth asks Ross to be his new candidate, pledging that Ross will have the freedom to make whatever moves necessary for the improvement of the lives of the poor and the powerless.
Even with Lord Falmouth's backing, Ross would have failed had Sir Francis Basset not switched his allegiance to him from George Warleggan at the 11th hour. Poor George couldn't believe it was happening until it was over. It's the prejudice, you see! People hate him not because he's a terrible person and a cruel magistrate, but because he's new money! Surely, they will grow to see his true worth.
Speaking of fruitless endeavors, Sam Crane gets to have his own heart toyed with by a beautiful lady (a blonde who we suspect is no better than she ought to be, especially since she's hanging out with that crooked violent gamekeeper of George's, Tom). Should Sam win, Blondie will come to church with him (why is he so good?) and also George will donate to a worthy cause (Ross to donate if otherwise). In keeping with such plots, the villain prevails, but only by cheating (eye-gouging, to be exact!). The sweet boy doesn't even care if Blondie is a virgin or not, because of how the angels will rejoice if she repents her sin! As she is … less than repentant … they part kindly, with a kiss.
The evil clergyman (I sensed you were worried we wouldn't see as much of him this season!) is blissfully nomming on the toes of a woman of the night, who is barely bothering to feign interest in him, which I truly cherished. Don't be concerned; he's still got plenty of time to ruin Morwenna's brief, chaste encounter with Drake Carne, not to mention the utter perfection of his run-in with Morwenna's dear, sweet, crafty sister. Guys, this beautiful hussy lied about being pregnant in order to hassle him into giving her a dowry so she could marry someone she actually liked! The look of shock and disbelief on his face will keep me warm through many a cold night, I can assure you.
It's a grim and sad duo that meet back up at the cottage that night. Demelza has cried her eyes out for Hugh, and Ross is finally starting to understand what having won his election means for his future and hers. For once, blessedly, they try to speak honestly and kindly to each other (you can tell it's like getting a root canal for Ross, dear heart) and mostly succeed. Demelza says that she feels as she did when Julia died, and that her heart is broken by the misery of the world (oh, we have all been there). Ross is able to take on her sorrow and not get pissy, which is a lot for him! I am impressed.
They part with a warm embrace, as Ross leaves for London. What's left to be seen is how our central couple will cope with their new situation: months apart, the stresses and pressures of political life, and all of this on the heels of one of the most significant crises of their short marriage.
With any luck, Ross will run over the evil clergyman with his carriage within minutes of arriving in London.