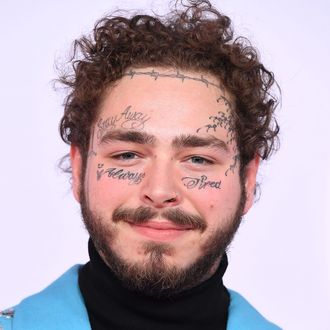 The heart wants what it wants!
Photo: Steve Granitz/WireImage
Post Malone is on the cover of Billboard this week (pre-haircut) campaigning for the Grammys, but it's what's on the inside that counts. Peel back those bad-boyish layers and your boy is just a big ol' softy, the teddy bear of the group, alongside his cover co-stars Dua Lipa and Ella Mai. In the interview, Posty gushes about everything from reconsidering reality TV — but specifically Love Island — as high art to being a cat dad and, frankly, we are smitten. Austin Richard Post has officially won our hearts and there's no going back. These are the most endearing things he says in this charming-as-hell interview, which opens with him beckoning to the ladies, "Dua! Ella! Hear ye!" because it's just swooooon from start to finish.
After asking Lipa and Mai if they watch Love Island — they're Londoners, of course they do! — he gives his correct review and defense of reality TV writ large:
When one of the boys suggests that "reality TV is wack," Post Malone quickly corrects him. "No, dude, this one is good," he says. "It's all about the concept. Don't be so quick to judge."
Why caring about the Grammys is like trying to get the girl.
Post Malone: It's like liking a girl in middle school, right? You try to do something cool to impress her, but at the same time you want to act like you don't care. But then you'll do the little bullshit, like 50 pushups at home, and hope she notices. But if she doesn't, whatever, it's fine.

Lipa: Beautiful analogy!

Post Malone: [Stage-whispering into the recorder] I should've gotten a nom last year.
On his cat, who he'll probably take to the Grammys if we're lucky. (Listen Taylor, if this whole Joe Alwyn thing doesn't work out, we think we have the man for you.)
I'd probably bring my cat. Apilli Roller. She's the bomb. I'd roll up with her fluffy tail. People would probably love that.
Just look at this woke bae.
I think about this a lot, I do, because super-talented female artists don't get the recognition they deserve. Last year was just super fucking ignorant to female artists. There's so many dope-ass people that deserve to get a nom, never mind win. I think we need to take a step back and look at the way shit has gone on for a long time and come up with something better. Something that works for everyone.
Leonardo DiCaprio and wood-carving all in the same analogy. Shook!
If you want to be the best at what you do, you're going to keep working at it until you feel like you've hit your potential. It's like any craft. If I'm a fucking woodcarver, there might be a woodcarver who's better than me, but you know what? I'm going to stay and carve wood until I'm the fucking best. Play the Leonardo DiCaprio game.
We love a humble boy.
Didn't Kanye say, "I keep my Grammys in my sock drawer"? Sure, fine, it's cool to hate on them, but it's also cool to have [the awards] because what we do isn't normal. I think of it this way: We're supposed to be in college, but instead we're here, traveling around the world and working our asses off. For artists like us, it's cool to be acknowledged. It's like getting an A or something. For our art. For something we made ourselves.
Yeah, so, when's the wedding?
Post Malone: I might take it easy. I might wear a cummerbund. I might wear a Benedict Cumberbatch.

Lipa: On a T-shirt!

Post Malone: Yes! I'll just wear a T-shirt with Benedict Cumberbatch on it. And then suddenly everyone's wearing Benedict Cumberbatch T-shirts.