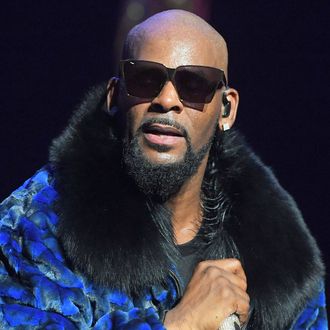 R. Kelly.
Photo: Prince Williams/WireImage
All year, reports have been surfacing from multiple women in R. Kelly's life that detailed his alleged history of sexual and physical abuse against them. Now, his ex-wife Andrea Kelly is speaking out about her 13-year marriage to the musician — they have three children together — and how she feared for her life because of frequent instances of domestic violence. Appearing on The View, Kelly detailed how she ultimately feared for her life while the two were married, even believing she would be killed by him. "One time he attacked me in the back of a Hummer, and I do suffer from PTSD because of it. I thought I was gonna die in the back of the Hummer," she recalled, launching into the full scope of her trauma:
He'd taken this left arm and pulled it behind me, and his weight was on my body, but he didn't realize his forearm was on my neck. As he's pressing down, my breathing is getting labored. The only reason why I think I made it out is 'cause I said, Robert, you're gonna kill me. I can't breathe. You have to get your arm off of my neck. I just remember sitting in the back of the Hummer and it got blue. I just thought, Oh my god. I'm gonna die in the back of this Hummer, and he's gonna drive off with my body in the back seat and nobody's gonna know.
Kelly also recounted an instance when she was "hogtied" by her husband after an argument, and he fell asleep and forgot about her. "It's about saving lives," she said, when asked why she's coming forward now. "You cannot not speak when someone's life and what they've been through is parallel to yours." Kelly has consistently denied all of the allegations against him. In fact, he's bragged that "it's too late" for his accusers to end his career.