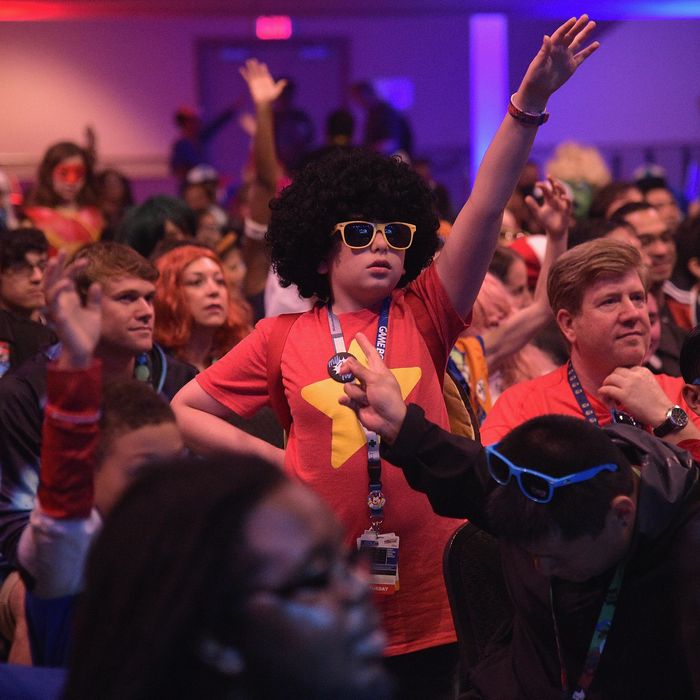 We're not doing a
Steven Universe
panel, but you'll love what we *are* doing!
Photo: Jason Kempin/Getty Images
Greetings, fellow geeks! It's that time again: New York Comic Con is just around the corner, and Vulture will be there in full force, moderating a bevy of panels for your attending pleasure. In fact, we're so stoked about the four days of pop-culture insanity that we're even doing some panels that don't require a convention pass! Below are the various events that our own nerd correspondent Abraham Riesman will be moderating during the weekend. Won't you come and make him a little less lonely by attending?
Thursday, October 4, 6 p.m.
Anthony Bourdain's Hungry Ghosts
Tribeca Barnes & Noble, 97 Warren Street
The late Anthony Bourdain's legacy in filmmaking and prose has been much discussed since his death this past June. But unbeknownst to many of his fans, Bourdain was also a huge nerd and had a sideline in comic books. His final effort in the medium was co-writing Anthony Bourdain's Hungry Ghosts, a Dark Horse Comics short-story collection that mixed food and horror. Riesman will be speaking with co-writer Joel Rose, editor Karen Berger, and artists Vanesa Del Rey, Paul Pope, and José Villarubia.
Friday, October 5, 4 p.m.
Share Your Smile: Spotlight on Raina Telgemeier
Shop Studios, 528 W 39th St, Level 4
Although grown-ups may not recognize her name, mention Raina Telgemeier to an 11-year-old and they'll completely freak out. The writer/artist has become the biggest name in youth comics through mega-bestsellers like Smile, Drama, Sisters, and Ghosts. At this spotlight panel, Riesman will catch up with Telgemeier and the two will unveil some surprises that will delight anyone born after 2005.
Saturday, October 6, 2:30 p.m.
Graphic Novels That Make History
Jacob K. Javits Center, Room 1C03 (NYCC badge required)
Since the earliest days of the comics medium, creators have tried to recreate history. Historical fiction and nonfiction have been staples in sequential art for decades, and Riesman will converse with a panel of creators who have made comics situated in days gone by. Peter Tomasi (The Bridge), Nathan Hale (Lafayette!), Ted Fox and James Otis Smith (Showtime at the Apollo), Mikaël (Giant), and Matt Fitch and Chris Baker (Apollo) will all be in attendance.
Saturday, October 6, 7:30 p.m.
Voices of Valiant Beyond
Jacob K. Javits Center, Room 1C03 (NYCC badge required)
The rebirth of Valiant, a publisher that briefly flourished in the early 1990s before collapsing and being resuscitated by a longtime fan in 2012, remains one of the most interesting business stories in recent comics history. The company is entering a new era this year, with new ownership and a new editorial initiative called Valiant Beyond. Riesman will chat with writers Vita Ayala (Livewire), Andy Diggle (Incursion), and Lonnie Nadler and Zac Thompson (Bloodshot: Rising Spirit); artist Ken Lashley (Bloodshot: Rising Spirit); and executive editor Joseph Illidge, who will talk about what's next for the upstart outfit.