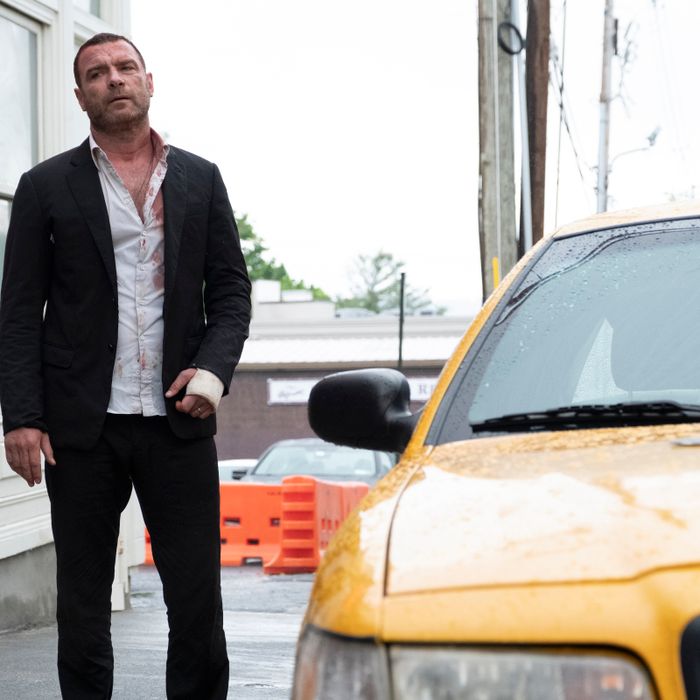 Photo: Jeff Neumann/Showtime
Ray Donovan may have moved back to the East Coast, but he doesn't take long to fall into some of the same life routines. A show that needed a shake-up creatively hopes to find one by transplanting most of its action to the Big Apple, but we're not done with the City of Angels yet as several Donovans remain, likely to struggle even more without their fixer relative to save them. Most importantly, "Staten Island, Part 1" maintains some of the creative strength the show found last season, adding a pair of excellent supporting actors to the ensemble and continuing to give Liev Schreiber a platform to give one of the most consistent performances on television. It's still not all that clear how the show will change with its new location, if much at all, but this is an encouraging start.
Ray has always had a habit of falling into dangerous situations. He does so literally in the opening scenes as his suicide attempt is witnessed by a Staten Island cop named Sean "Mac" McGrath (Domenick Lombardozzi) just as he happens to be arresting a Samoan drug dealer that he may have racially profiled. Mac wades into the water and rescues Ray, who promptly tries to beat up the cop for saving his life. The cop won't give up, pulling a baton and knocking Ray out. They really save lives in NYC.
Sam Winslow (Susan Sarandon) bails Ray out of the holding cell Mac threw him in overnight and Lena begs him to come back to LA. He refuses and stumbles upon his cop savior in a bar in Staten Island. Over a few scenes, Ray will basically learn that his savior could use some saving himself. Like Ray, Mac is a semi-drunk who has been affected by cancer. His dad died of it before they could finish the bike they were working on. He's going through a divorce, and even has a kid who's getting beat up in school. Mac could use a friend, and Ray decides to become one. Why? Sure, Mac saved him, but Ray barely wanted that. Maybe Mac reminds him of his brothers, a good-hearted man given some bad beats by life.
With a wonderfully meta line delivered while they're watching TV that the writers had to smirk while inserting — "This is a goddamn good series" — the episode jumps forward long enough for Ray to have grown a beard and put on a few more pounds. This is what NYC does to LA people — hipster beards and 15 pounds. And that's when Sam Winslow calls Ray with a new job.
Ray hesitates to go back to work for Sam until he learns that one of the newspapers that Winslow runs is going to run a story on his cop buddy and racial profiling. He gets her to bury the story and take the job, which just so happens to be fixing a problem for a mayoral candidate named Anita Novak (Lola Glaudini). He learns that Anita had a one-night stand with a stranger and caught him taping the action. A fight ensued, and now she needs that recording.
Before the ending that Ray Donovan fans probably saw coming, we catch up with the other Donovans very briefly. Let's see. Mickey Donovan is in prison, enraged by the fact that his highly revised script for Mister Lucky is going forward while he's in the clink. He gets a bedpan, fills it with tobacco and water, and drinks the concoction. Then he works out, giving himself a heart attack. Good work, Mick. Totally gross, but good work.
Meanwhile, Bunchy is struggling with losing custody of his daughter (easier for the writers to get him to NYC that way, probably) and Daryl is working on the actual production of Mister Lucky, watching one of the weirdest costume fittings ever. Terry seems happiest and healthiest, looking fit at the gym he's running, where Ray runs into Bridget too. She seems happy as well. Both of their happiness will likely be short-lived. It is Ray Donovan, after all.
As would be expected for a show that divided its cast across the country, "Staten Island, Part 1" feels transitional, setting up narratives for the season more than developing much action of it own. We've got a new ally in Mac, and a new client in Anita. And Ray Donovan is still getting beat up a lot, taking another one from the Samoan when he tries to pay him off with Mac's money. That's one big problem, but it doesn't compare to the one that ends the episode. Anita calls. She found her potential blackmailer, and they agreed on a price. So why is he dead on the politician's floor?
Deleted Scenes:
• I would like GIFs of Mickey Donovan running in place like a maniac after drinking a bedpan of liquid tobacco, ASAP please. Internet, get on that.
• Allen Coulter directed this episode! He's a genius, one of the key directors behind The Sopranos (he did 12, including some of the best) and a seven-time Emmy nominee. He's one of the best TV directors in history and he helmed the first two episodes in Ray Donovan history, but hadn't been back since. With this and next week, he'll helm the first two of this new chapter of the series in NYC. I love bookends like that.
• Maybe Coulter suggested Lola Glaudini, as I still remember her most of all as the 'friend' who got close to Adriana La Cerva only to turn her as an informant against Tony. She was so great on The Sopranos. Nice to see her again.
• Same goes for Domenick Lombardozzi, a great character actor who often plays cops and is still most-known for Herc on The Wire. He's always a welcome face.
• Mac says to Ray, "Grief changes shape, but it never ends," and then reveals that it's a quote from modern philosopher Keanu Reeves. He's not wrong.
• Blink and you'll miss a cool series of ads for shows within shows in the lobby of Pacific Media, including one for Waterfall, starring Natalie Barnes.
• A couple of cool music cues this week on a show that always uses tunes well, including Cat Power's version of "New York" in the Previously On and "Supergroovalisticprosifunkstication" by Parliament during the fitting.
• I'm glad Terry practically winced at a Ray's NY Yankees hat. I think it's actually a crime for a Boston native to wear one.