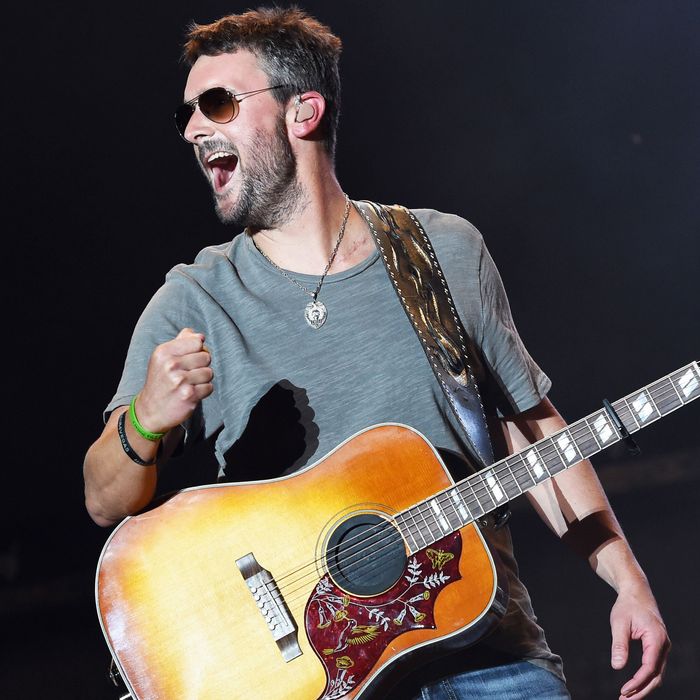 Photo: Rick Diamond/Getty Images
Eric Church is a classic rock idol trapped in a country superstar's body. His biggest hit is an ode to Bruce Springsteen, and his studio albums are peppered with allusions to '70s rock in both style and lyricism. His live shows are grueling three-hour spectacles; last year's 61 Days in Church box set catalogued the battery of opener-free 30-song gigs that taxed the performer's body and mind over last year's Holdin' My Own Tour. Church works hard — Holdin' My Own required prednisone shots to finish and exacerbated a brief but life-threatening case of thrombosis — and he ought to enjoy the same mainstream music industry recognition awarded to Nashville peers like Kacey Musgraves and Chris Stapleton. His talents as a singer, songwriter, guitar player, and bandleader are sharpening every year, but certain award show honors continue to elude him. Church is a repeat platinum-selling artist without a Grammy and a world-class touring and recording act who keeps getting overlooked in the CMT, CMA, and ACM Awards' top honors. With each release, you wonder, "Will this be the one to make the dam break?"
In a just world, this week's Desperate Man is that album. It's a document of chaos, of personal and political upheaval inspired both by Church's brush with mortality and by fallout from the tragic shooting at Route 91 Harvest festival in Vegas last fall, where 58 attendees were killed, and over 800 were injured. The singer performed Friday night and learned of the calamity on Sunday; he recently told Rolling Stone that one of the victims was buried in a T-shirt with his name on it. "The Snake" opens Desperate Man with a chilling nature allegory, likening dueling political factions to poisonous serpents: "Rattlesnake, copperhead / Either one of them'll kill you dead / We stay hungry, they get fed." Later, "Monsters" turns a yarn about irrational childhood fears into an emboldening word about faith in the face of human cruelty: "I keep my faith intact, make sure my prayers are said /'Cause I've learned that the monsters ain't the ones beneath the bed." Desperate Man doesn't pretend to have answers for why evil perseveres or feign insurance from loss and heartbreak. It's most interested in holding on to the comforts of home and family.
Desperate Man is Eric Church's quietest album. "Hangin' Around" and the title track serve the expected guitar theatrics — the former is a canny country-rock groove that zips back and forth between quietude and feisty fretwork, and the latter calls back to the busy percussion and whooping background vocals of the Rolling Stones' "Sympathy for the Devil" — but the rest of the record settles into sobering reflections on the pitfalls of growing up and raising children. "Hippie Radio" is another bit of AM radio reverie in the spirit of "Record Year," from 2016's surprise album Mr. Misunderstood. "Heart Like a Wheel" strikes the same mix of warm soul and hushed folk as the Linda Ronstadt album it borrows its name from. Stripping away the beefed-up pomp of hits like "Drink in My Hand," "Outsiders," and "Cold One" exposes the brooding sentimentality that gets the big band numbers cooking, and pushes Eric Church's devastating pen to center stage.
Listening to a great country song is like assembling a jigsaw puzzle. Every piece brings the overarching idea into greater focus. By the end, you're looking at an image you couldn't see in the fragments, and appreciating the integral role of each bit in tying the whole thing together. The best Eric Church songs behave this way. You're never entirely sure what he's getting at until you're tearing up in verse three. Desperate Man presents a handful of these moments: "Some of It" coyly opens with a list of simple truths — "Beer don't keep, love's not cheap, and trucks don't wreck themselves" — and builds to a chorus about life being a game of patience and learning. You think he's singing about the value of wisdom, and then the bridge deals a haymaker: "What really makes you a man / Is being true to her till your glass runs out of sand." "Hippie Radio" looks like a tribute to old Warren Zevon, Billy Idol, and Patti LaBelle hits until you realize the songs are there to mark time in a story about meeting and marrying a soul mate. Songs like these are why critics call a narrative a "yarn." The simple messages are often the toughest to draft. Eric Church is a pro, and Desperate Man weaves excellence out of ordinary threads.