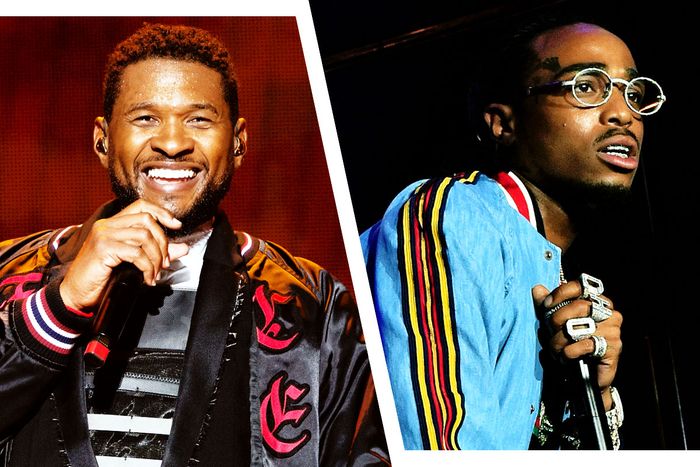 The battle of the low-key and not-so-low-key albums.
Photo: Getty Images
Atlanta has been an indispensable force in hip-hop culture since the '80s and early '90s, when acts like Kilo Ali and MC Shy D crossed New York attitude and Miami bass production values and came out with their own brand of body music. Tag Team's "Whoomp! (There It Is)" took American pop culture by siege years before OutKast informed the '95 Source Awards audience that "The South got something to say." While the Dungeon Family altered consciousness with righteous records like "Git Up, Git Out" and "Cell Therapy," Jermaine Dupri groomed promising young hip-hop and R&B artists from Da Brat and Kriss Kross to Xscape and Usher. Since the birth of trap in the aughts, ease of access to production software and a fertile nightlife have kept Atlanta music on the charts and in the streets. The city's biggest successes concoct and release new music at the speed of a factory. The success in this decade of Future, Young Thug, the Migos, and their tributary acts is, in part, a story of crop-dusting the streets with content, of developing a fast, formidable songwriting apparatus through trial and error. Last week, Usher teamed up with trap maestro Zaytoven for A, a low-stakes eight-song mini-album that represents an Atlanta vet's most deliberate dip into the sound of his city since "Yeah!," and Migos member Quavo released Quavo Huncho, a workmanlike and frequently fun solo album that could've used a little help from his band.
Every group can't be Destiny's Child. There's not always a surefire bankable solo star in the ranks waiting for the right moment to step out and go supernova. Most are more like TLC, capable players with complementary individual strengths that buttress the rest of the group. When the Mississippi rap duo Rae Sremmurd announced that its third album SR3MM would come packaged with individual solo albums from brothers Swae Lee and Slim Jxmmi, excitement for Lee's Swaecation outstripped expectations for Slim's Jxmtro. Upon release, Jxmtro and the group album outpaced Swaecation in quality, because Swae's great with rhymes and hooks but best served bouncing ideas off someone else.
Arguments about who's the best rapper in the Migos have persisted for years, and they're funny because the Migo power rankings have never been static. For a while, across early singles like "Versace" and "Bando," the top dog seemed to be Quavo. As the group began to dig into its craft on mixtapes like No Label II, Takeoff's stock swelled. Lately, Offset is shining. As the individual members of the Migos continue to workshop one-off projects outside of the confines of the group, like last Halloween's Offset, 21 Savage, and Metro Boomin tape No Warning and last winter's Quavo and Travis Scott effort Huncho Jack, Jack Huncho, a solo outing from Quavo, the member in greatest demand, has seemed inevitable. Quavo Huncho coasts where it does because the rapper is trained and precise, but after an hour, you come away thinking, "What about your friends?"
The most jarring thing about Quavo Huncho is all the open space. Migos songs are carnivals of sound. Voices bounce around the mix like pinballs. Offset takes a verse in a spitfire triplet flow, and Takeoff hits ad libs while Quavo does wigged-out Gregorian chant–style vocals in the margins. The string of slow raps and somber productions in this album's first quadrant — see: "Biggest Ally Oop," "Huncho Dreams," "Give It to 'Em" — give Huncho the desolate feeling of a house with no one home. It doesn't take flight till Drake walks into "Flip the Switch," Quavo's remake of the Cash Money classic "Ha," revisiting the downcast, despotic funk that powered If You're Reading This It's Too Late: "I just let the money energize me / Nigga, you was in your 20s in the '90s." "Shine" pops thanks in part to a jolt from "Nonstop" and "Sicko Mode" producer Tay Keith.
Trading verses with guests lifts Quavo's spirits. "Champagne Rosé" gets a lift from Cardi B and Madonna. Lil Baby steals the show — the whole album really — in the second verse of "Lose It." Travis Scott's "Rerun" hook is one of the best in an album that's curiously avoidant of soaring choruses. Left to his own devices, Quavo's results vary. For every bright spot like "How Bout That," "Lamb Talk," and "Go All the Way," there's something else considerably more labored. Like the last Migos album, Quavo Huncho needed a hard edit. There's nothing outright terrible here, but shaky concepts like "Huncho Dreams," where Quavo responds to Nicki Minaj's Biggie redux "Barbie Dreams" with bad-idea bars like "No 'FEFE' I skeet skeet on yo' face ass" and "Shake it like Iggy," give an album that could've been filling the lightness of a late-night snack.
Usher's A seems to want to fly under the radar. No one knew it existed until last Thursday morning, when the singer updated his Twitter and Instagram accounts with the title, track list, snippets, and a "MIDNIGHT EST" release time. Like the Weeknd's spring mini-album My Dear Melancholy, A seems like a deliberate exercise in escaping the machinery of the mainstream hip-hop album rollout, the protracted campaign of trailers, track list reveals, singles, music videos, and late-night appearances artists and their labels devise to pique fan interest while drawing in the attention of onlookers. Like Melancholy, A is a few degrees too polished to be considered off-the-cuff. The melodies are more intricate and considered than your average Zaytoven collaboration. Most artists let the beatmaker's emotional piano do the heavy lifting, crafting a simple, gripping melody that Zay's keys drizzle over like dressing. (Think of "Racks Blue" off BEAST MODE 2 with Future.) Usher uses Zaytoven beats like springboards. He can parrot Zay's lines, as he does in "You Decide," and he can cut through tricky, abstract sequences of piano notes with sharp melodies of his own, as he does in "Say What U Want." The lilting "lay-lay-lay" in the chorus of "ATA" is so sharp they let the track fade out into a playback of people freaking out about it in the studio.
The stable of songwriters and producers that pitched in work on A includes reality television star and progressive gospel heavyweight Deitrick Haddon, Trippie Redd collaborator Elliott Trent, and Dimitri McDowell, a singer-songwriter with credits on records by R&B guys like Chris Brown and Ty Dolla $ign and guest spots on Christian rap records by Trip Lee, Andy Mineo, and Lecrae. This mix of trap and gospel specialists makes sense when you know that Usher got his start, as many gifted black vocalists do, singing as a child in the church choir, and Zaytoven never misses a Sunday at the Life Abundantly Church in Conyers, Georgia, where he's the active organist in residence. Good R&B crosses the high drama and melisma of gospel with the threadbare desperation of the blues. A's best tracks effect this balance in style, though they're light in substance. They're lush in melody, but the lyrics are sensual boilerplate. "Peace Sign" pushes the same "legs up like a peace sign" image rappers and singers have trotted out year after year. Like Drake's "Ratchet Happy Birthday," A's "Birthday" aims for the anthemic catchiness and perennial birthday-party utility of "In Da Club" and "Birthday Song" but comes out more than a little pandering.
A's volley of horned-up come-ons makes a solid soundtrack for parties and bedroom high jinks, and it's a pleasant shock to hear some of these lyrics coming out of this specific group of players. As a response to the year that Usher has had, though — since last summer, the singer has weathered a divorce and fought back against lawsuits from accusers alleging he gave them an STD — A is more of a palate cleanser than an explainer. The itch to hear the guy who bared his soul on albums like Confessions and Raymond vs. Raymond goes unscratched. (Remember that Zaytoven and Usher's first song together was the forlorn divorce anthem "Papers.") The accomplished melodicism and surprise release of A suggest that Usher's interested in giving people something else to talk about. In spite of lyrics that could stand to dig deeper, it's a success, a good album disguised as a nonevent. Quavo Huncho, an event album that's upbeat but also sort of inessential, could've used a little of its polish and brevity.