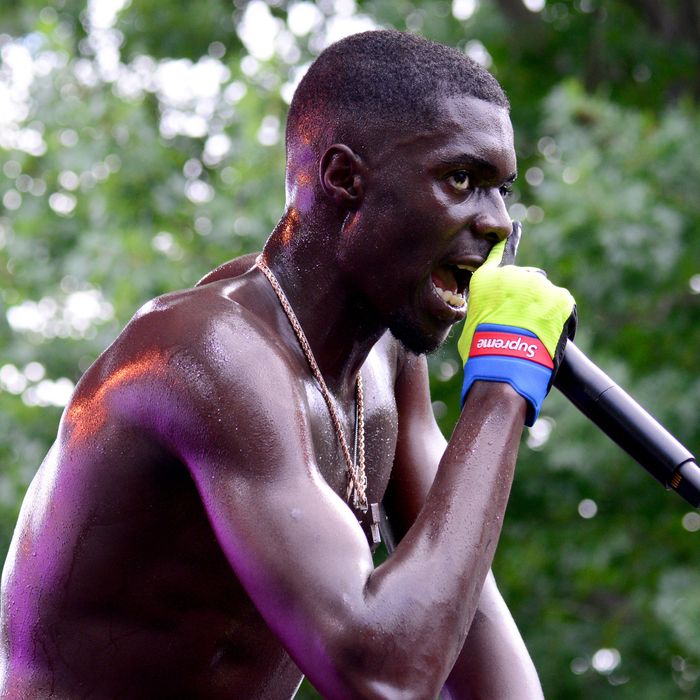 Photo: Lisa Lake/Getty Images for Roc Nation
Harlem is gentrifying. There are open-air bistros and doggie day spas and tae kwon do centers on streets where, even a decade ago, such things would be unfathomable. To outsiders whose experience of the city is gleaned from blog news and weekend Airbnb stays, maybe the place has lost a little luster. If you still live here, though, you've probably met people who are down and out and willing to go to any length to get by — bootleggers, boosters, scammers, and dealers who didn't get chances to funnel their ingenuity into law-abiding enterprise. You might have stories you can't tell in mixed company. You probably know hard-working families whose concern about security at home is now complicated by rents inching up as renovations and new businesses attract new money, or immigrant communities whose fight for rocky peace among the diaspora north of the park has been thrown into chaos by a growing chorus of anti-black, anti-immigrant nativism. People still think shit is sweet in the city. It isn't. If you know you know.
There's three ways out of the ghetto, the old saying goes: either you rap, you ball, or you rob. Harlem rapper Sheck Wes tried a little of everything. He was a creative teen, pouring his time into music, design, basketball, and modeling, but a growing reckless streak caused his worried mother to send him back to her native Senegal for what he thought would be a quick trip but learned, as days became months, was an exercise in lifestyle reform. He came back to the city at 18, focused on building a career in rap and struck gold with a song celebrating a childhood friend from the neighborhood who'd just been drafted to play for the Orlando Magic. That song, "Mo Bamba," hits like a bomb. It's simplistic almost to a point of amateurishness — deceptively so, if you followed the Twitter tiff where Zedd criticized the song, and co-producers Take A Daytrip popped in to explain the music theory behind the melody. Sheck Wes's raps are loud, churlish, and direct, pulsing with the same cocky, blunt-force energy that codified the hip-hop, punk rock, and streetball movements in the city decades prior. You can hear some of the laid-back cool of Harlem rap veterans like Mase in Wes's voice; there are also traces of the DIY melodicism of Lil Yachty and iLoveMakonnen and the raucous, off-the-cuff abandon of a Lil B based freestyle. After a few months of "Mo Bamba" sending club nights into chaos, word got back to Travis Scott and Kanye West, who signed Sheck Wes in a joint venture with Interscope. Today, they release his debut album, Mudboy.
Mudboy is the first rap debut in ages that feels like an actual debut. Usually, by the time the majors come sniffing around, an artist is three or four projects in, and ready to start making slick, professional studio albums. Think of Kendrick Lamar hitting the ground running on good kid, m.A.A.d city because he'd worked up a polish on C4, Overly Dedicated, and Section.80. On Mudboy, Sheck Wes hasn't worked out the kinks yet, but it's a strong first showing. It's foreboding New York trap music that doesn't give the post-regional cognitive dissonance the early A$AP Mob records did in mixing Memphis rap aesthetics with jiggy-era swagger. Mudboy producers Lunchbox and Redda blessed the record with dark, gritty sonics that feel indebted both to the coarse lo-fi spirit of SoundCloud rap and the icy electronics of '90s New York indie rap. (Fittingly, Lunchbox is from Harlem, and Redda hails from Miami.) "Gmail" and "Wanted" seem cut from the same nihilistic cloth as Cannibal Ox's The Cold Vein. Mudboy drifts between bleak, gothic (but graciously tuneful) cuts like "Fuck Everybody" and hypnotic, almost psychedelic productions like "Never Lost," as Sheck Wes looks for acceptance in a city that doesn't seem designed to help him prosper.
"Never Lost" tells the story of Sheck Wes's return to Africa in a lilting, disaffected tone: "My cousins' behavior starting to rub off / I'm picking up on their bad habits / My mother said that she don't like it at all / She sending me back cause she can't have it." The song presents the rapper's downward spiral as an impossible situation, a foregone conclusion. "Where I come from, they shooting the four / Where I come from, no books in the stores." He's fighting the magnetic grip of the streets in the song's early verses, then diving into it in the ultraviolence of the last two, dramatizing the war in the heart of anyone who grows up in a loving household realizing there's brasher, faster living waiting outside for the reckless and daring. "Wanted" reminisces about mobbing 30 heads deep downtown and narrowly avoiding the bookings. In Wes's heart, it's a noble action: "They leave us young niggas with no options / They leave us young niggas with the robbin' / But I was Robin Hood when I was robbin'." On the surface, Mudboy sounds like a lot of rowdy, ghoulish trash talk, and often that is the story. But in songs like "Never Lost," "Jiggy on the Shits," and "WESPN," where the young artist remembers struggling to balance his schooling with his interests in basketball and modeling, Mudboy is the work of a budding talent with an intriguing backstory quickly growing the tools to speak his truth.
Over the summer, in a profile for The Fader, Sheck Wes said that he believes gentrification isn't so bad, because it busts up the racial divide that keeps certain kinds of culture cordoned off on one end of Manhattan and other kinds relegated to the other. It is a short-sighted outlook with a kernel of truth in it. Harlem youth are getting access to arts and interests they might not have encountered a decade or two ago. Every now and then I hear the crackle of a detail of skateboards zipping across pavement outside my window and think about how rare of an experience that was not very long ago. I think about new arts spaces creeping in uptown, giving access and inspiration to inner-city creatives. I don't want to attribute these changes to gentrification. Harlem has been radiating genius since the turn of the 20th century. There are peaks and valleys, though. We're just on the way to another high.