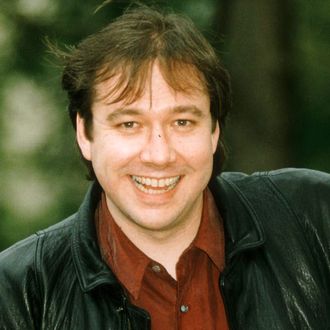 Bill Hicks.
Photo: Glen Copus/Evening Standard/REX/
The late and controversial comedian Bill Hicks might get the biopic treatment thanks to director Richard Linklater. According to Collider, Linklater is attached to write and direct an untitled film for Focus Features based on the life of Bill Hicks, who died of pancreatic cancer in 1994 when he was 32 years old. Linklater has long been a fan of Hicks's work and the two even share some similarities — they both grew up in Houston, Texas; Linklater's older brother went to the same school as Hicks; and Hicks was reportedly a big fan of Linklater's 1993 film Dazed and Confused. "Everything that's going on in our culture, I always think, 'What would Bill Hicks be doing?'" Linklater said back in 2011. "You just miss him."
Linklater's project isn't the first time a film about Hicks has been in development. Back in 2012, Russell Crowe was attached to direct a Hicks biopic, but the project never moved forward. Prior to that, in 2009 Matt Harlock and Paul Thomas released a documentary about Hicks's life titled American: The Bill Hicks Story. With a Hicks superfan like Linklater at the helm of this new biopic, perhaps the odds of it making it to theaters is a little higher this time around.