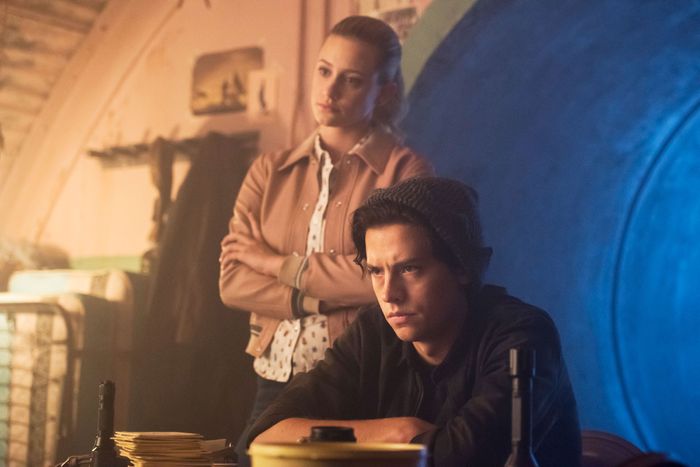 Photo: Dean Buscher/The CW
The FCC called: Riverdale was in danger of failing to fulfill its government-mandated quarterly kink quotient, but our opening scene should take care of that nicely. Archie's intake at juvie involves a guard searching inside his mouth with a flashlight, spraying him down with a hose, and dumping delousing powder all over his exquisitely shirtless torso. His cellmate is a boy named Mad Dog, who clearly is being afforded some kind of unspoken special privileges — he has a contraband record player, vintage pinup posters, and even an old-time-y TV — and not for nothing: his back muscles are insane. He also immediately intuits that Archie is someone he should ignore, so needless to say I am very attracted to Mad Dog.
Out in the exercise yard, Archie's Serpent tattoo earns him a seat at the gang table, until Joaquin — oh my God, hi, Joaquin! Were your eyes always this beautiful? — recognizes him as the goody two-shoes he is. If he wants Serpent protection, he'll need to shiv that inmate right over there. Archie refuses.
Dilton is dead, with cyanide the culprit; Ben is in a coma. And by the way, that creepy-ass skeletal branch creature that may or may not have done this to them isn't the Cargo King, like I told you last week, but the Gargoyle King. (In my defense, I rewound and relistened to that scene like three times and I still thought they were saying Cargo King; enunciate better, teens of Riverdale!) Jughead fills Betty in on his X-Files-worthy encounter, but she neglects to tell him about her seizure, at least not until her mom brings it up. Alice and Polly, meanwhile, have been effectively gaslighting Betty into believing all that throw-the-babies-into-the-fire business she saw — I mean, that she thought she saw — was a hallucination.
At school, Betty is rudely interrupted from Google-imaging runes (a great pastime even if you aren't personally investigating a potential murder victim with runes carved into his back) when an extremely spooky girl named Evelyn introduces herself. She's Edgar from the Farm's daughter, and she was at Betty's house the other night. Perfect! The arrival of mysterious, anemic young strangers on the Coopers' doorstep has always turned out so well.
Betty and Jughead are off to see a still-unconscious Ben Button in the hospital. Are we all really not going to acknowledge that Miss Grundy's second-favorite underage ex-boyfriend is named, in full, Benjamin Button? Ben's mom is there, too, as is a miniature Blair Witch--esque totem hanging on the doorknob. Mother Button reports that "the girl with the bow in her hair" must have left it there. It's a testament to the uniqueness of one's personal style that the mention of a single accessory is enough to pinpoint one's exact identity, and for that, we must give Ethel Muggs props. She explains to Jughead and Betty that this little creepsicle is a protection talisman she made herself, and that Ben is her boyfriend — they hung out all summer in Dilton's secret bunker in the woods. Sounds romantic!
Just when you thought we were safe from Archie's musical ambitions, he manages to find a guitar in prison. And just when you thought Archie was safe from getting the shit beat out of him by Ghoulies (including the very kid he declined to shiv; no good deed, am I right?), well, that happens. To add insult to literal injury, they steal his nice sneakers, too.
Archie has had enough. He delivers an extremely embarrassing inspirational speech to his fellow inmates about, you guessed it, "the triumphs and defeats, the epic highs and lows of high-school football." What these poor, unfortunate souls need isn't a new pair of shoes, nor cash infusions to their commissary accounts, nor even an appeal, but some sweet, sweet first downs. We thought we had a Shawshank Redemption situation on our hands, but this was The Longest Yard all along.
Ethel has promised to show Betty and Jughead where to find the bunker, so the lovebirds sneak out late and head for Fox Forest. There's no sign of the artist formerly known as Barb, but a gore-streaked winged skull creature does find time in his busy schedule to loom out of the darkness. This thing is a dead ringer for the Gargoyle King sketch Dilton left in Jughead's trailer — and it sure seems too tall have been Ethel in disguise, unless Ethel has some Cirque du Soleil–caliber stilts skills we don't know about. I'm not ruling it out.
Using Dilton's map, Betty and Jughead ultimately do find the underground bunker, which is about as clean and tidy as you'd expect an underground bunker populated by strange teenage boys to be. There are more talismans everywhere, the evidence of an unfinished game of Griffins and Gargoyles strewn on a table, cyanide (as well as the blue knockoff Kool-Aid powder Ben and Dilton dissolved it in, a beverage your preferred bartender will know as a Jonestown Old-Fashioned) on the counter, and drawings of the very same creature that frightened Jug and Betty plastered on the walls. Creepiest of all, a stray member of Dilton's Adventure Scouts troop — who's been missing for two days — turns up hiding beneath a bunk. He was Dilton's "apprentice," learning how to play the game like his scoutmaster, Ben, and "Princess Etheline."
When Jughead confronts Ethel about their discoveries, she wastes no time in having a seizure of her own, as our new friend Evelyn looks on. Does this pale little oddball have mind powers or what? Please say yes.
Veronica has been busy, not just founding a local chapter of the Innocence Project, but corralling the River Vixens into staging an impromptu prison pep rally just outside the fence. Playing "Jailhouse Rock" for a group of incarcerated youth might be insensitive in real life, but this is a very compassionately horny performance, and the boys love it. All but one adult boy, that is. Hiram has been invited by his pal the warden, who is in fact such a pal that he's done the First Husband of Riverdale the favor of banning his precious daughter from the visitors list.
Archie's vision of Serpents and Ghoulies peacefully and not un-erotically tackling one another comes to an abrupt halt when the guards violently ambush the players, in full riot gear. This took an extremely dark turn! Maybe Riverdale will be for wrongful convictions and prison reform what Taylor Swift has become for Tennessee voter registration. Archie returns to his cell to find Mad Dog's belongings have disappeared — the guard tells him Mad Dog died in the "riot," an obvious lie, given that the warden called Mad Dog away before the game began.
Shortly thereafter, Archie hosts two unexpected visitors. The first is blonde, wearing sunglasses indoors, and is definitely not Veronica masquerading as a non-person named (inject the following four syllables directly into my veins) Monica Posh. The second is the warden, who's been so "impressed" by Archie that he's selected him to serve as his "new Mad Dog." Excuse me, what exactly does that entail? This boy's not Andy Dufresne! He doesn't know how to do your taxes!
It's a special party that gets Hiram Lodge, Penelope Blossom, Alice Cooper, FP Jones, Fred Andrews, Sierra McCoy, and Tom Keller all together in one room. Mayor Hermione has gathered them to talk in vague yet intriguing terms about a multigenerational horrible secret they've shared since high school (the very best kind of secret!). "Dilton Doiley and Ben Button were found in the woods with blue lips," she explains, inducing a collective shudder of recognition.
Back at the hospital, Betty and Jughead find Ben awake, sitting in an open window. He smiles at them. "I'm going to be with Dilton now," he says. "We both flipped the coin. He was scared to ascend, but I'm not … It's all part of his plan. You'll see. Soon."
Ben lets himself fall. I don't think even Benjamin Button could reverse-age himself out of this one.