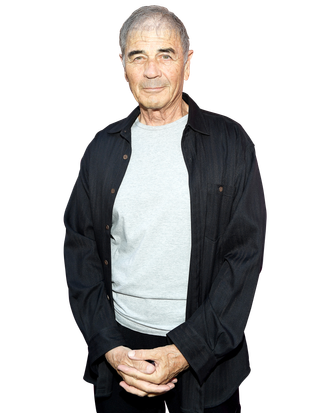 Robert Forster's comeback story never seems to end. After early roles that saw him appearing alongside Marlon Brando, Elizabeth Taylor, Gregory Peck, and others, Forster had a breakout starring role in Medium Cool, Haskell Wexler's groundbreaking 1969 film set, and sometimes filmed, against the backdrop of the tumultuous 1968 Democratic Convention in Chicago. As he puts it, "My career went upwards for about five years and then downwards for about 27 years." Those downward years weren't all bad and included such beloved cult items as Alligator, but by the early '90s you were more likely to see Forster in a title like Point of Seduction: Body Chemistry III than a film playing at a theater near you.
Then Jackie Brown, an Elmore Leonard adaptation written and directed by longtime Forster fan Quentin Tarantino, changed everything. Since then, there have been years in which Forster has worked more than others but seldom a year in which he was hard to find somewhere.
The last couple of years have been good ones, too. Forster stepped in as the sheriff of Twin Peaks for David Lynch. He gets an even brighter spotlight in the new film What They Had, an affecting drama from first-time writer-director Elizabeth Chomko. Forster plays Burt, a plainspoken Chicagoan who's resisting moving his wife Ruth (Blythe Danner) into a nursing home, despite her worsening dementia that's making it increasingly difficult to care for her. Hilary Swank and Michael Shannon co-star as their children, and though the film's characters spend much of the film sparring, Chomko's generous-hearted approach makes no one the villain and reveals everyone's unseen depths and unspoken needs. And few convey unseen depths better than Forster, who spoke to Vulture while appearing at the Chicago International Film Festival.
In this film you play a tough a guy who's smarter and more emotional beneath the surface than he lets on. Was this written for you? It seems like it's a quintessential Robert Forster role.
You know, I wish I could say yes, but I think it was written for her [Chomko's] grandfather, and it fits so easily that probably those qualities belong to her grandfather. This is the out of the mind of Elizabeth Chomko. Who as you know … well, you probably know, is a Chicago woman. And we made this picture almost two years ago in March, but the last time I was here was 50 years ago making Medium Cool. So, I've been here, but not a lot in the interim period.
When you read a script like this, what determines whether or not you think that the role is right for you?
It felt exactly right from the first second. The father's speeches … I listened to the guy coming in, the guy who was driving the car, who was talking to the woman that greeted me at the airport. And I said, "Wow, that's Chicago," and that's like Rochester, I come from Rochester. And when people accuse me of being from Chicago, I always say, "Yes I am, from the very eastern edge, Rochester, New York."
You've been playing grandfather roles for about ten years now. When did you realize you were making that transition?
I realized I was making the transition when I was playing the older cop. First I was the younger cop. First I was the cop, and then I was the younger cop, and then I played the older cop, and eventually I played the fathers and grandfathers and now I'm playing the, well, whatever age it is that they need, but grandfathers are my … grandfathers is us these days.
Michael Shannon is a Chicago native. Did working with him kind of help you get into the Chicago frame of mind for this?
He's totally Chicago and Rochester is a Chicago frame of mind. It's hard-working people. People who don't take much for granted. And work, that's the best thing in life. It's almost the best thing in life. Best thing in life is taking care of those you love, but work is also part of that. And as an actor, God, I could not have gotten better work. I could not have picked something better to do. It's creative, and demanding, and occasionally you work.
You kind of have an affinity for playing cops and military figures. Why do you think that is?
I wish it were because I was an old cop, or an old general. I did start out as a private in my first movie [Reflections in a Golden Eye]. In Olympus Has Fallen and London Has Fallen, I became a general. I did go from being a private to a general and a couple stops in between. But the, I guess it's a natural progression, when they try to hire you they say, okay, what age does the general have to be? I'm no longer a private for sure.
It's been over 20 years since Jackie Brown. What was the biggest change for you after that film came out?
Well, before that, my career went upwards for about five years and then downwards for about 27 years, and then lucky enough … You start by being lucky. That first five years was lucky. Who am I? But that after 30 years, Quentin Tarantino, I ran into him in a coffee shop and I said, "What are you doing?" And he said, "I'm writing an adaptation of Rum Punch, why don't you read it?" And I did.
And six months later I walked into that same coffee shop, where I start every day, and he was sitting in my seat and before I even got to the table he handed me the script and said, "Read this, see if you like it." So that was a big, big buoyancy, that gave me loft for the past 20 years. And you don't catch great roles, but you get the best ones you can. And don't forget, I've got four kids, so I always knew why I was working. And only occasionally … Jackie Brown and The Descendants and this picture, What They Had. I'm not sure that this is the capper of my career or whether it's the beginning of an extra inning or two, but I can promise you it is at least as good as anything, probably the best thing I've ever done. Notwithstanding Jackie Brown and The Descendants.
If David Lynch's Mulholland Drive had gone to series, you would have had a bigger role. Did getting to do Twin Peaks feel like a second chance for that?
Well, I always figure that anybody who hires me more than once, is a tasteful filmmaker. But no, he tried to hire me the first time he did Twin Peaks, but I was busy, I was doing something. And then Mulholland Drive came along and the phone rang, I was in my kitchen. I said, "Hello." He said, "This is David Lynch." I said, "Hey, David, hey, how you doing? What's up?" He said, "I want to do this television series." I said, "Oh man, I just got —" This was just after Jackie Brown, and I thought, "Oh, if I could only stay in movies instead of drifting back into television." And he said, "No, look, we'll work it around your schedule, it will not be very hard to do." I said, "By all means, let's go."
He is a very, very good guy. And when we did the second Twin Peaks, he was very generous to me and gave me the kind of part that I enjoy doing probably the best. A straight shooter, no nonsense, not a wild, offbeat character. He's a straight shooter. And I've been getting those kind of roles. And this role in What They Had is same thing. A good guy, no nonsense, straight shooter, and a guy who's standing up for the woman he loves and wishes to protect her.
What's next? What are you working on now?
I went into an office about three weeks ago and signed nondisclosure paperwork and read a script. And my agent told me when I did this that I was going to like it, and that I was going to want to work for these producers, and she was correct. So I am doing something that I am not allowed to speak about. It's not a big job, but it's a gem. And I don't get a lot of big jobs anymore. I get, here and there, gems. But this is a big job and this is a gem as well.
This interview has been edited and condensed.