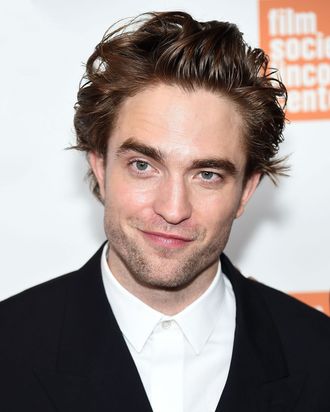 Robert Pattinson.
Photo: Jamie McCarthy/Getty Images
Let the battle of the heartthrobs begin! Robert Pattinson plays the villain in The King, an upcoming Netflix adaptation of William Shakespeare's Henry the IV and Henry the V. As the Dauphin, the French heir apparent, Pattinson goes head to head with Timothée Chalamet's young Henry V and apparently he'll serve looks while doing it. "I'm playing a kind of effete prince with a much more glamorous outfit," the High Life star told Vulture at the film's New York Film Festival U.S. premiere. "There are all these kind of rugged men and I'm in this little frilly frock."
These rugged men include his co-stars Joel Edgerton (Falstaff) and Chalamet, who "were really fighting in armor for months" as they filmed in England and Hungary. Pattinson's look may have the drama, but Timothée Chalamet dressed as a knight, fighting in battle? We might have to forgive the film for giving Chalamet a 15th-century bowl cut. (Rest in peace, curls.)
The film also stars Ben Mendelsohn (completing an Animal Kingdom reunion with director David Michod and Edgerton), Sean Harris, Lily-Rose Depp, Tom Glynn-Carney and more. Edgerton and Michod also co-wrote the script. The Plan B (Brad Pitt's production company) and Netflix-backed movie will stream on a device near you in 2019.