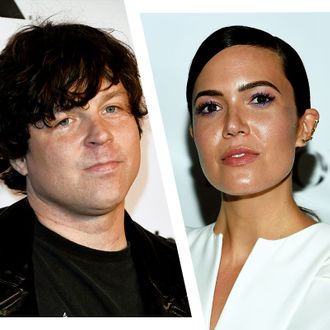 Mandy Moore, national treasure, was once married to Ryan Adams, national pot-stirrer, and in a recent interview with Glamour, she spoke candidly — but with no ill will! — about their divorce. "I don't feel guilty for it. I don't fault myself for it. When people said, 'I'm sorry,' I was like, 'No. Sorry would have been had I stayed in a very unhealthy situation.' I didn't," she said. "I found my way out. And when I did, things opened back up again." Moore is now engaged to a different rock dude and is TV married to perfect male specimen, Jack Pearson, so you could say her life is peachy. Meanwhile, Adams is bitter. Catching wind of a pull quote from that interview, via Perez Hilton, in which Moore also said their marriage was "not the smartest decision. I didn't choose the right person," he has responded on Twitter how only your douchebag liberal-arts-major ex would.
Keep the bad blood in 2015, sir.
Update, October 12: Adams has apologized for his tweet, saying he was "trying to be funny" but that it "isn't classy or ok [to] lessen what was." Adams followed up his original tweet with a since-deleted post adding that he was too high to remember marrying Mandy Moore. "When someone told me we got married I thought they were joking. Then I realized how many painkillers I was taking," Adams reportedly wrote. "Honestly there weren't enough to numb the shock. Gollygooops." Adams later tweeted a series of troubling messages on World Mental Health day, later reassuring fans that he is speaking with a grief/crisis counselor. Perez Hilton also apologized to Adams for causing him any pain.