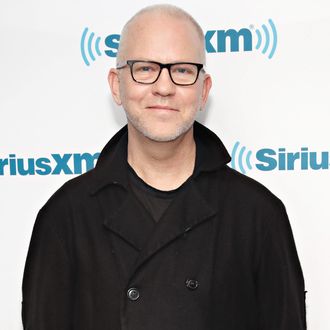 Ryan Murphy.
Photo: Cindy Ord/Getty Images for SiriusXM
Yes, you are probably going to cry while reading this news, but don't worry: It's for a positive, uplifting reason for a change! On Monday, Ryan Murphy revealed that his son Ford had been diagnosed with neuroblastoma two years ago, a potentially fatal pediatric cancer identified by Murphy's pediatrician and treated by the good people at Children's Hospital Los Angeles. "I'd like you to meet Ford Theodore Miller Murphy," he wrote on Instagram, along with a photo of the four-year-old riding a horse. "Today is a big day in his and our family's lives."
In his post, the American Horror Story creator praised his husband and his son's strength over the course of surgery and other procedures. "My better half, David Miller, was a rock through this — strong and patient and loving (I was always a trembling wreck)," wrote Murphy. "Ford was strong as well, and today he is thriving." The pair also have a 5-year-old son, Logan Phineas.
Now, in gratitude for the treatment Ford received, the whole Murphy-Miller clan is helping other families receive the same. "We are donating a wing in tribute to Ford and our family is making a gift of $10 million dollars so that other children can experience the love and care of this exceptional facility," wrote Murphy. "We are so honored and lucky to contribute, and encourage everybody who can to do the same. We love you, Ford."