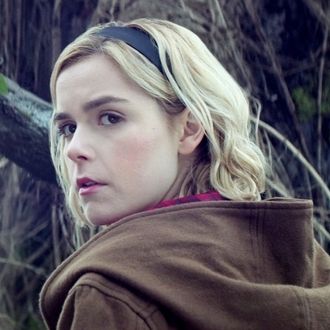 Surprise, Archie!
Photo: Courtesy of Netflix
For now, Sexy Archie and Dark Sabrina occupy two different shows on two different platforms, but long ago, there was a chance they could have been in the same world together. Speaking with EW, Riverdale showrunner Roberto Aguirre-Sacasa said they originally considered bringing Sabrina onto the show at the very end of its first season. "During season 1 of Riverdale — before Riverdale exploded and found its footing as sort of a noir, crime, pulp show — we had said, 'Maybe season 2 will be like Afterlife With Archie [the zombie comic series Aguirre-Sacasa created]. We'll do a big genre switch and it will be horror, and it will be Afterlife and Sabrina could come and be the antagonist,'" he said. "There was even a time when we talked about the season 1 cliffhanger being the arrival of Sabrina."
In the end, Aguirre-Sacasa felt better having Riverdale stick to its roots, which essentially meant only including stuff about serial killers, gangs obsessed with real-estate rights, and a drug called Jingle Jangle. "It felt like if Riverdale is crime and pulp and all that stuff, then Sabrina could be horror," Aguirre-Sacasa said. "It felt like there was a separation between Greendale and Riverdale — magic should exist in Greendale, but not in Riverdale. That was the thought." Chilling Adventures of Sabrina, which premieres on Netflix at the end of the month, takes place in Greendale and acts as a "companion show" to Riverdale. It seems Sabrina won't cross over into the CW series' universe, where magic doesn't exist, though the latest Riverdale season three trailer does imply something sinister and possibly occult is afoot in town.