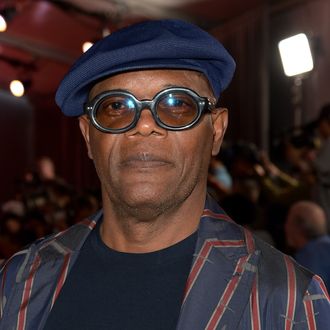 Samuel L. Jackson.
Photo: Kevin Winter/Getty Images
In an attempt to bring you what has to be the most intense, possibly traumatic show in recent memory, Fremantle has acquired the global rights to Enslaved, a six-part Canadian docuseries hosted by Samuel L. Jackson that seeks to uncover "the horrors of slavery as revealed through underwater archaeology." The focus of the show, directed by filmmaker Simcha Jacobovici, is the Middle Passage, the path taken by slave traders transporting enslaved African people to America across the Atlantic. Deadline notes that Fremantle's rights exclude North America and Israel, and boy, you'd hope audiences in the United States could see this whenever possible.
And since several outlets have mentioned the actor is a licensed diver, it stands to reason that Jackson might potentially himself suit up and join in the aquatic "search of the sunken slave ships that went down with their human cargo." Said Jackson in a statement about the show, "For me, this is much more than a TV series. For me, Enslaved is an attempt to give a voice to the millions whose voices were silenced." Jackson's own ancestors, he says, came from Gabon, in central West Africa.