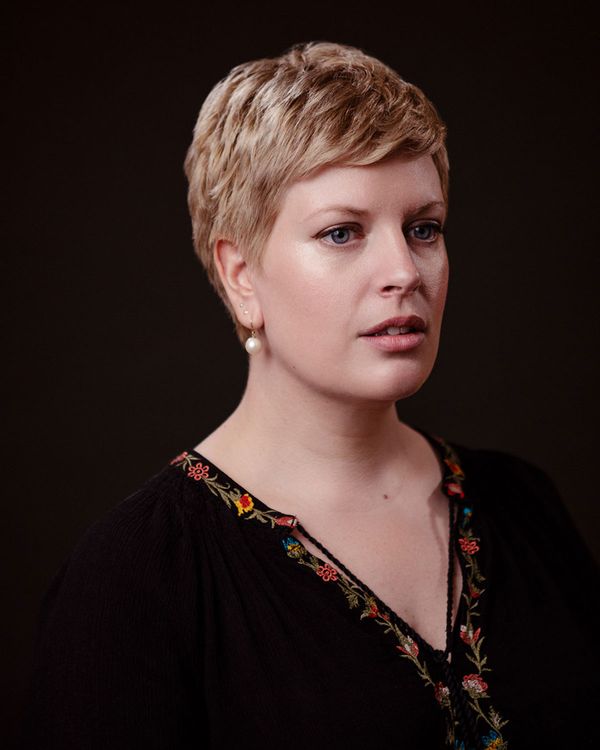 Sarah Perry.
Photo: Jamie Drew/Courtesy of Sarah Perry
When I meet the gothic British novelist Sarah Perry on a gloomy fall afternoon, she isn't surprised that I dreamed, the previous night, of a woman robed in black, with eyes like black holes, watching me from the corner of my apartment. I'd been visited by the mysterious figure that haunts the dark corners of her third novel, Melmoth. "I've heard a lot of that," she says. "I can remember when I was planning it, saying to my husband, I just want to really shit people up with this book. And people have been really shit up! And now I feel bad. Lots of people can't sleep. One woman said she'd keep the book in the freezer overnight."
Perry is in New York on tour for Melmoth, a feminist reimagining of an 1820 gothic tale about a man who sells his soul to the devil. In Perry's version, Melmoth is a woman, and not a very nice one. Condemned to a life of eternal loneliness, she wanders the world like "a black ship adrift in a windless calm," seeking out "everything that's most distressing and most wicked, in a world which is surpassingly wicked, and full of distress." She's there when an Ottoman bureaucrat draws up a document facilitating the Armenian genocide; she's there when a boy in Nazi-occupied Prague gives up his Jewish neighbors because he covets their beautiful radio. Mothers warn their children about her: if you're bad, they say, she'll take you away. Like Perry's first two novels, Melmoth succeeds on at least two levels — as a thrilling monster story that will keep you up late into the night and a weighty meditation on the dark side of human nature. In one particularly effusive review, the Guardian called it a "masterly piece of postmodern gothic," deserving "all the prizes and praise that will be heaped upon it."
Perry occupies an unusual place in the literary world. She is a successful genre novelist who happens to work in a genre that largely went out of fashion with corsets and top hats. With her penchant for murky settings and supernatural plots and her skill at crafting sentences as shimmery and ornate as a Victorian candelabra, she could be channeling the ghosts of Henry James or Mary Shelley. On Twitter she goes by "the late Sarah Perry," and she is often photographed with her peculiar "pet," a model jackdaw (a raven-like bird) named Hoffman. Despite (or perhaps because of) her gloomy antiquarian impulses, she has found a dedicated contemporary audience. Her second novel, The Essex Serpent, a fantasy about a widow searching for a fabled beast lurking in an English marsh, hit the best-seller list in England and won a British Book Award.
I meet up with Perry at St Paul's Chapel, the oldest church in Manhattan. She wanted to see "a tiny bit of Manhattan left from the 18th century" that her friend, the British novelist Francis Spufford, told her about, but now that we're here, she seems mildly disappointed by the decor. "I don't think I've ever seen crystal chandeliers in a church before," she says. Perry is 38 years old, though she says she often tells people she was born in 1860. She grew up in Essex, in a household without television or any other whisper of the modern world. Her family belonged to a Baptist church that was so strict they didn't celebrate Christmas. (Too pagan.) "Everything had to be completely plain, completely bare," she says, still eyeing the chandeliers. "There's a little bit of me that, however beautiful it is, I'm like, 'This is highly inappropriate. This is not apt for worship of our Son of man who had nowhere to lay down his head.'"
Perry has cast off that baggage in more ways than one. She's dressed in a leopard-print dress and a black trench coat, with a coppery-gold pixie cut and a lilting, acrobatic voice that veers swiftly from gentle amusement to operatic horror. Her earrings are silver serpents wound around teardrops of Victorian bone — a gift she bought herself to celebrate the publication of The Essex Serpent. Perry left her church in 2007 over its opposition to same-sex marriage, but it wasn't the sort of departure that leaves behind a trail of bitter estrangement. She's still close with her parents, and she doesn't lament her upbringing. "Because there was no television, I have loads of accomplishments. I'm an embroiderer. I can do dressmaking. I'm a good cook. I play the piano. I'm basically Mary Bennet." Her gothic sensibility is just a byproduct of her childhood. "That's what you get if you're brought up surrounded by ideas of sin, strangeness, and this constant feeling that this …" she offers a sweeping hand gesture that seems to encompass both the church and the bustling financial district beyond its stained glass windows "… this isn't it. There's a whole bunch of other stuff, including Hell."
We leave the brightly lit chapel in search of shadows. "Oh wow, I love a graveyard," she exclaims, as we step out the back door. Down the street, we find ourselves outside Trinity Church, with its looming spire and dark stone. "Now that's Gothic," she says, feeling at home. "Don't you feel different looking at it? The Gothic churches make you think, 'Oh, what have I done?' And then you start to think, 'I can hide here.'" Perry, who wrote her Ph.D. thesis on the Gothic in contemporary literature, said that feeling of simultaneous attraction and repulsion is the essence of the Gothic aesthetic. "When you desire, but also want to shut your eyes — that's the gothic," she says. "I'm completely in love with that feeling."
That's the feeling of each character who encounters Melmoth — "a kind of longing fear," one says, "as if what I desired most was also what appalled me most. Sometimes I made out a grinning mouth, a wrist, a hand — then I would reach for it and find myself saying: 'Melmoth — Melmoth!'" The book is set mostly in contemporary Prague, and the protagonist is a drab 42-year-old translator named Helen with a wicked secret in her past. Helen doesn't believe in fairy tales, but when a friend disappears, leaving behind a sheaf of documents relaying tales of Melmoth's encounters throughout history, she begins to sense that a figure cloaked in black is trailing her through Prague's snowy streets. Before long, Helen "dreads and longs" for Melmoth, too. "She's incredibly seductive," Perry says. "She knows everything you've ever done. If anyone else knew, they'd hate you, but she won't. She'd rather you had done a bunch of bad shit because then, you'd really want her, wouldn't you? You'd feel like there was no other choice."
When she began writing the book, in 2016, Perry was in a bleak place. Her health was failing, and she was spending a lot of time on Twitter reading terrible news from around the world — ISIS, the Syrian refugee crisis, the Orlando massacre. "I remember thinking that I wanted to give up writing because it seemed so futile to just be making up stories when the world was burning," she says. She'd been toying with the idea of a feminist Melmoth rewrite for years, but in that troubled moment it occurred to her that her monster could bear witness to the world's atrocities. She gave her a new backstory, as well. Melmoth is condemned because she is with a group of women who witness Christ's resurrection; she, alone, lies about it and says it never happened. "The reason she lied was because the women at the tomb weren't believed," Perry says. "So her whole curse is based on a woman who knew that men wouldn't believe her, and was then damned for it."
We stop for lunch at a nearby pub. Over Pinot gris and burgers, Perry wonders aloud what Melmoth would make of the men of #MeToo. "I just would like to see Melmoth the witness have an hour with Harvey Weinstein or Brett Kavanaugh," she says. "To brutally and savagely show them exactly what they've done." However frightening Melmoth is, Perry ultimately finds her a comfort. "Wouldn't you rather she be watching? That right now, Weinstein can't relax, because he feels something on the back of his neck? I wish that was the case."
In other words, Perry hopes to create a modern legend. "If I were to say what my ultimate hope would be, it's that before long, people forget that I invented the legend and they'll just say, 'Melmoth is watching.'"