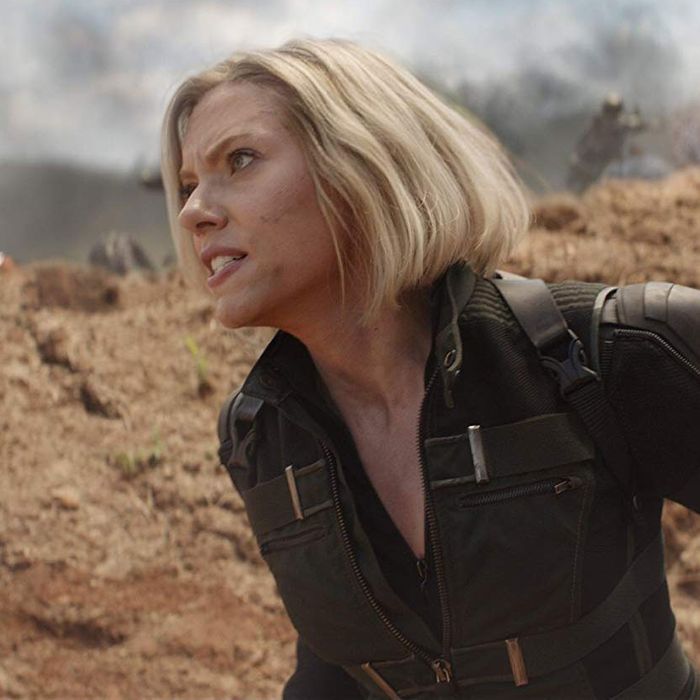 Get it, Scar.
Photo: Marvel Studios
In a just world, it'd be no surprise that Scarlett Johansson is getting paid $15 million (per The Hollywood Reporter) for her upcoming Black Widow flick, roughly the same amount that co-stars like Chrises Evans and Hemsworth earn for their individual outings. After all, she's played the character in numerous megahit Marvel Cinematic Universe films and the solo picture will almost certainly be a license to print money. Of course, we don't live in a just world — we live in one where women actors are paid significantly less than their male counterparts, so this news is being met with justifiable glee. What's more, if you take a step back, this payday may be a sign that we're moving (a little bit) closer to industry-wide parity. All it took was extensive public shaming.
In the past few years, the gender pay gap in film and television has become an object of increasing scorn. The high-profile examples have piled up: year after year, the highest-paid women actors make millions upon millions less than the highest-paid men; Mark Wahlberg made $1.5 million for All the Money in the World reshoots while Michelle Williams made less than a thousand bucks; Tracee Ellis Ross made less than Anthony Anderson on Black-ish; even Meryl Streep said she's consistently paid less than her male co-stars. And, of course, those examples are just the tip of an underreported iceberg — one can presume such gaps are endemic.
In response to these revelations and a wider cultural climate of pushback against socioeconomic gender inequality, there's been a growing call to end these disparities. Media outlets have made uneven pay a primary and very public target. Advocacy organizations like like Time's Up have regularly put the spotlight on this once-hidden secret of filmed entertainment. Individuals like Ellen Pompeo have made it a mission to raise awareness and push for equality. It's a top-line issue in a way it never had been.
Marvel and Disney higher-ups like Kevin Feige, Bob Iger, and Alan Horn have surely watched with growing nervousness as the clarion call has risen in volume. At this point, it would have been a scandal if it had been revealed that ScarJo was raking in significantly less than her fellow Marvel icons (though she's still behind Robert Downey Jr., but he's a bit of a special case at Marvel due to his perceived indispensability and uniquely powerful draw for audiences). The House of Mouse would've had so much explaining to do that it may not have been worth the penny-pinching. Could it be that sunshine was a primo disinfectant? The struggle is hardly over, but if the anger continues to rise, the chasm may continue to close.