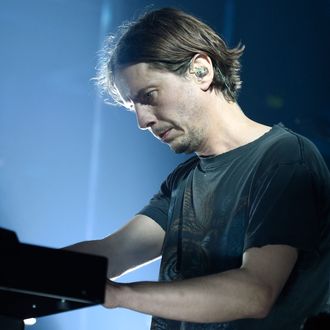 Orri Páll Dýrason.
Photo: Stephen J. Cohen/Getty Images
Sigur Rós's drummer Orri Páll Dýrason has left the Icelandic band after being accused of sexual assault. "In the wake of the extremely serious and personal allegations made against him in recent days, we have today accepted the resignation of our bandmate Orri Páll Dýrason to allow him to deal with this privately," Jónsi and Georg Hólm announced on Facebook. Last week, Los Angeles artist Meagan Boyd made the allegation on Instagram, accusing Dýrason of sexually assaulting her twice after meeting her at a L.A. club in January 2013. "I was drunk, and I had met him at a club (I had a brief period in which I was a dancer at a club called "the body shop"), I also engaged in a kiss with him before falling asleep in the same bed, after that I completely knocked out," she wrote. "I woke up with the feeling of being penetrated without my consent during a deep slumber." Boyd said she never reported the incident or spoke about it publicly, but was inspired to come forward with her story after hearing Dr. Christine Blasey Ford testify about her sexual-assault allegation against Supreme Court nominee Brett Kavanaugh.
Per Pitchfork, in a since-deleted follow-up post, Body shared an email conversation between her and Dýrason in which he denied her allegations. "I cannot understand why you would want to publicly accuse me of something I did not do," he reportedly wrote. "I am so sorry you are going through all this. But my experience from that night is completely different from yours." Boyd reportedly replied, "I had trauma for months and for years have not been able to forget how awful you made me feel and how used and taken advantage of." She continued, "You are gaslighting me. Just fucking admit what you did."
Update, October 1, 12:30 p.m. ET: Boyd has since taken down her original post. Meanwhile, Dýrason has issued a separate response on his personal Facebook page. "I ask people to stay calm and not to be divided into two battling armies, these are not court proceedings, just Meagan's words against mine, on the internet. Loud and provocative words are in nobody's favour – neither to me or her," he wrote. "In light of the scale of this matter, I have decided to leave Sigur Rós. That is a difficult decision for me, but I cannot have these serious allegations influence the band and the important and beautiful work that has been done there for the last years. A job that is so dear to me." He continued, "I will do anything in my power to get myself out of this nightmare, but out of respect for those actually suffering from sexual violence, I will not take that fight public."
Update, October 10: Both Boyd and Dýrason have issued new statements to Pitchfork clarifying what happened the night of the alleged assault in 2013. Dýrason claims that he and Boyd did not have sexual intercourse, though he confirms he spent the night with her. "My comment is I didn't do anything," he says. Boyd, however, recalls Dýrason both performing oral sex on her and penetrating her without her consent while she was asleep, and her confronting him about it after it happened. "I pushed him off of me, and I was like, 'I was asleep, what are you doing?' And he was like, 'I'm sorry, I just wanted to make you feel good.' And then he said that he didn't know that I was asleep. And I was like, 'How could you not know that I'm sleeping?'" she says. "And he just kind of was like, 'I'm sorry.' And then he laid back down and I was like, 'You don't do that to people who are sleeping.'" After she went back to sleep again, Boyd alleges that she woke up to Dýrason raping her a second time and left.
Boyd says that she did not report the incident to police because she feared being accused of soliciting since she worked at a strip club when they met. Instead, Boyd says she first went public about it in a Reddit AMA with the band weeks after the alleged incident. (Reps tell Pitchfork that the band did not see her comment.) "I just wanted to speak my truth," Boyd now says. "I sincerely hope it leads to Orri admitting the truth publicly and an apology to me."