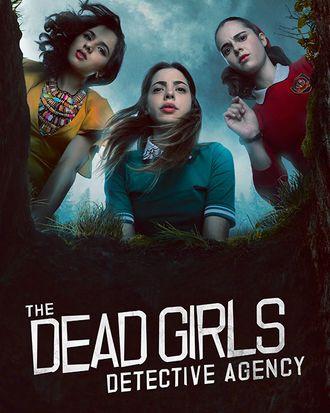 The Dead Girls Detective Agency
is one of many upcoming Snap Originals.
Photo: Snap
Snapchat is jumping into the scripted space today, debuting a pair of serialized programs and announcing its first-ever slate of projects under its long-gestating Snap Originals initiative. Launching immediately are Class of Lies (a college-set mystery from Riverdale writer Tessa Leigh Williams) and Co-ed (a comedy from Love writer Mason Flink). In coming weeks, they'll be joined by an adaptation of the young-adult novel The Dead Girls Detective Agency; a horror anthology called V/H/S; an adaptation of the 2011 French short-form sitcom Bref being shepherded by Bloodline writer Carter Harris; and a docuseries chronicling the rise of "cash me outside" meme star turned rapper Bhad Bhabie.
But before you bang your head against a wall in frustration over having to worry about keeping up with one more virtual TV network, know this: Snap shows will be short (episodes will clock in at five minutes or less) and, like messages on the app, they'll sort of disappear quickly ("seasons" will last less than two weeks, though you'll be able to catch up long after a season ends). Here are six more things to know about Peak TV's latest player:
Snap shows are designed for a mobile audience …
This is a no-brainer, since Snapchat — unlike Facebook or YouTube, which are also making their own originals — is only officially available on cell phones. So rather than stick with the usual release patterns and production formats of traditional television, "We set out to figure out what an episode of mobile TV could and should look like," says Sean Mills, head of original content for Snapchat parent company Snap Inc. "Because people watch video in such different ways — you're holding the screen in your hand, your thumb is hovering over it, there's a lot competing for your attention — the content has to work a lot a harder and a lot differently to hold the viewer's attention. You really need to create in a very different way."
Much the way Netflix studied how its members consumed DVDs on its service before it began making its own originals for streaming, Mills says Snap has spent years observing how its users craft (and interact with) content for the platform. "We had this front-row seat for how people tell stories on mobile," he says. In addition to the billions of individual Snapchat stories users have produced this decade, Snap has also been working with a slew of media partners (like NBC, ESPN, Discovery) over the past couple of years to create about 60 unscripted shows, most tied to news, pop culture, or relationships. Between the user-generated and sponsored content, Mills says Snap came away with four big lessons about mobile content: "Things need to be paced quickly. It needs to be a highly concentrated form of storytelling. You have to grab people right away. And the screen needs to be highly visual so that you're constantly reengaging people."
… and in some ways will mimic the feel of daytime soap operas and telenovelas
Because episodes will be so short, Snap plans to hit audiences with new installments of a show every day vs. once a week or all at once. In that way, they'll harken back to one of the oldest forms of TV: the soap opera. "That's exactly the way we talk about it internally," Mills says when asked about the similarity between soaps and Snap shows. "I think [soaps are] a really compelling form of storytelling. And we deconstruct the telenovela internally, and talk about what worked, minus the big dramatic slap in every episode." Soaps have long been known for their lightning-fast pacing and episodic cliff-hangers designed to get viewers to "tune in tomorrow." Snap wants its scripted shows to have a similar urgency, which is why seasons will run from roughly eight to 12 episodes and episodes will debut daily (including weekends). "We think the seasons should feel like real events, where they play themselves out in a much more concentrated period of time" than regular TV, Mills says, adding Snap is open to ordering multiple seasons of successful shows. The "daily cadence tracks really well with the behaviors of Snapchatters who come over 20 times a day, on average, back to the app."
But despite sharing some DNA with daytime dramas, Mills is quick to note Snap shows will be their own thing, and not simply traditional TV shrunk down to size for a mobile experience. "We're not taking a 50-minute episode and chopping it up into ten five-minute pieces," he says. "Each five-minute episode is actually scripted like a full narrative, where you're really seeing the arc of these characters. You need to write a lot of story into five minutes." And the production values won't be cheapo. "It's digital, so I don't think it doesn't come with the cost structure that traditional television has," Mills says. "But the production quality I think is on point with what you'd see on television. We're not talking about Game of Thrones budgets, but they're really healthy." The exec says Snap shows can be produced relatively quickly, with an entire season of short-form episodes made "over the time it would take you to produce an episode or two of [a traditional TV] show."
You won't have to pay extra for Snap shows (but you will have to watch advertising)
Snap isn't looking to compete with Netflix or Hulu, so there are no plans to get audiences to pay a monthly fee for shows. Instead, content will be sponsored by advertisers, and "depending on the length of the show, you'll have two or three commercials in each episode," Mills explains. But the ads will be super short: six seconds. "Just like the episodes are sized for mobile, so are the advertisements," he says. The won't be "a pre-roll. You'll get into the show, [and] it'll be paced into the show at the right point, narratively —let's say at a quarter of the way through and maybe 75 percent of the way through if we do two ads."
Parents won't have to worry about the content
While Snapchat got its start as an app where users could send very, er, intimate photos that were designed to self-destruct soon after opening, Snap shows will "be comfortably PG to PG-13," Mills says. "There's no nudity, and we would bleep any obscenities. It's very advertiser-friendly." But that doesn't mean creators will be making stuff you might see on Nickelodeon or Hallmark Channel. "We want the content to feel authentic and real," Mills says "Our horror show, V/H/F, has real scares and is really intense, and there will probably be some viewer discretion."
Augmented reality will be part of the experience
Much the way Snap currently lets users distort reality with various lenses or put their Bitmoji avatars into the real world, the company is planning to cross-promote its original series with an augmented-reality feature it's calling Portals. "When you open the Snapchat camera, you'll be able to tap on the screen, open a portal in your living room or your backyard, and literally step into a scene or an environment from a show," Mills says, taking some liberties with the use of the word "literally." So for the new docuseries Endless Summer — which premieres today — users will be able to "meet characters on Laguna Beach, sitting around a bonfire playing guitar," Mills says. "That's a really cool experience for a 17-year-old who lives in South Dakota who wouldn't get to Laguna Beach any time soon." The Portals will also be available for users to access while they're watching an episode via a simple swipe up.
Snapchat wants to make its shows easy to find
Some of Snapchat's media partners (and many of its users) complained earlier this year when a redesign radically altered how folks found and interacted with content. With its originals, Mills says his goal is to make content "much more easy to find," and to do so, Snap will launch a special section which will allow users to subscribe to individual series. In addition, "You'll be able to go see all the episodes of a show and how you're progressing through those episodes," he says. "And you'll be able to access past seasons and subscribe to the show there as well." These show profile pages will become more important as Snapchat bulks up its roster over the next year. In addition to the series mentioned above, the platform's roster of greenlit projects also includes two docuseries from reality pioneers Bunim/Murray Productions (the aforementioned and just-launched Endless Summer and the upcoming Growing Up Drag, about teen drag queens); a rom-com about a couple who "opt out of the rat race and start a new life in a 2004 Dodge Sprinter"; and a docuseries about a fashion-model scout who works for Wilhelmina.