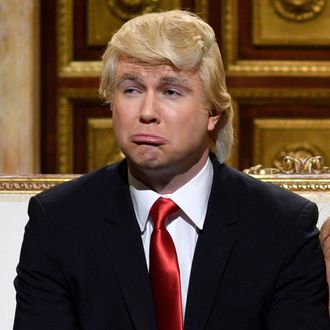 Taran Killam as Donald Trump on
SNL.
Photo: Dana Edelson/NBC/NBCU Photo Bank via Getty Images
If you're a fan of behind-the-scenes Saturday Night Live gossip, Matt Gourley's new interview with former cast member Taran Killam on his podcast I Was There Too is full of great stuff. During the lengthy interview, Killam got candid about his decision to leave the show in 2016, noting that he felt the show had changed for the worse after Seth Meyers left as head writer, a position that Colin Jost, Michael Che, and Kent Sublette currently hold.
"When Seth Meyers left the show, the dynamic changed quite a bit. He was the last person there who I witnessed really collaborate with Lorne, as opposed to just kind of do what Lorne says," Killam said. "And I also think the 40th [anniversary show] really sort of affected Lorne in that I think it was exciting and I think it was flattering and I think he was really able to sort of relish in this incredible institution that he's responsible for and all these amazing iconic careers and all of his famous friends, and it had to have been the most potent overwhelming boost of a 'this is your life' experience ever. And then it all went away, and then it was back to this cast who's all 40 years younger than you and aren't as famous as Tina Fey or whatever, and my experience was he became very impatient." Killam went on to say that the increasing number of pretaped sketches every week, as well as the general vibe at the show post–Seth Meyers, made SNL feel like "less of a happy place to be" and more of a "competitive, exhausting environment."
As for SNL's controversial choice to let Donald Trump host in 2015 — which Killam has opened up about before — during this interview he told Gourley about how Lorne Michaels essentially forced the cast and writers to go easy on the presidential candidate in their coverage of his campaign back in 2015, which only made sense weeks later when they all found out he had been invited to host.
"Lorne was being so specific about what we could and couldn't say about him, and he was dictating a lot of the settings," Killam said. "At that point — the first CNN interview he was doing — and that was sort of looking like what we thought we were going to do, and Lorne's like, 'It'll be too old news by then, and you know, you don't want to vilify him. You know, he's like any New York taxi driver. I know him, I've seen him around at parties for years and years, and he just says whatever it is he's thinking, and that's his thing. But you know, you have to find a way in that makes him likable.'"
Listen to the full interview here.