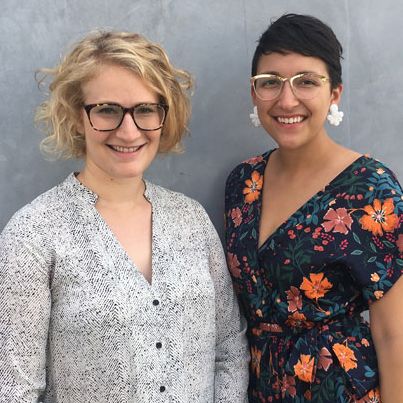 Hannah Levy and Adriana Robles.
Photo: Courtesy of CAA
Wait, aren't SNL announcements done for the year? Naaaaaaw, they still comin'!
A source close to the show has confirmed to Vulture that Hannah Levy and Adriana Robles have been hired as video directors on Saturday Night Live's 44th season. The directing team joins SNL at a time when the show has evolved its strategy to ramp up its output of internet-friendly digital shorts. Levy and Robles's hiring came not long before the announcement that they will also be directing one of six short films funded by Paul Feig and Laura Fischer's new Powderkeg: Fuse incubator initiative, which will champion the work of women filmmakers with a slate of original shorts.
As SNL's first female directing team, Levy and Robles will continue to build on the sterling reputation of 8H's now-ubiquitous digital shorts popularized by Lonely Island directors Akiva Schaffer and Jorma Taccone, Matt & Oz (the duo comprised of Osmany Rodriguez and the late Matt Villines), and most recently Paul Briganti. In a landscape where C+3 viewing numbers (which includes viewers who watch a show three days after air) account for so much of a show's ratings, and streamers like Hulu and SNL's YouTube channel allow fans to drive viewership through the posting of after-air clips, digital-bred video directors are key. Likely, Levy and Robles are going to make a splash, because they're going to — out of necessity — be very involved. Their exact skill set is the ace up SNL's sleeve.
In looking back at Levy and Robles's catalogue of work, the only surprising part about their SNL hire is that it didn't happen sooner. For the last couple years, they've been stalwart contributors to Funny or Die (where they met as editors), helping to usher in a brand of comedy that feels as daring as it does accessible. SNL catnip!
Take 2017's They Finally Made a Handmaid's Tale for Men, for example: the take that Hollywood needs to spend more time championing narratives with women in positions of power seems almost commonplace now, but that's – at least in part – because of zeitgeist-affecting pieces like this one, delivering that mixture of broad humor and pointed specificity.
They Finally Made a Handmaid's Tale for Men
Levy and Robles have also shown their chops in spoofing commercials and music videos, each with their fair share of on-camera celebrity firepower.
Tampax Titanium With Jillian Michaels
Love Ballad to Your Therapist With Kristen Bell & Yvette Nicole Brown
Cool — Levy and Robles can make relevant, relatable commentaries with famous people. But can they get weird? Can they channel that last-sketch-of-the-night, "let's see what happens" vibe into the kind of output that makes viewers glad they stuck with an episode till the end? Look no further than their Spanish-language instructional series Me Llamo Alma.
Me Llamo Alma
And last week, TV-watching America got its first taste of Levy and Robles's SNL brand. Their debut effort took the form of a "dramatic" vignette wherein Kyle Mooney celebrates his sixth season on the show by copying every element of Pete Davidson's style and personality, in hopes that the switch will garner Mooney more of the spotlight. It was perfect.
A New Kyle
Congrats, Hannah and Adriana, and welcome home.
Luke is executive producer at Big Breakfast and a watcher of many web videos. Send him yours @LKellyClyne.