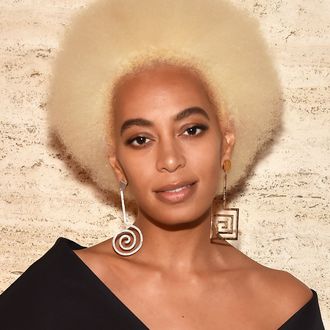 Solange.
Photo: Kevin Mazur/Getty Images for Stuart Weitzman
The year is saved! Solange's next album is set for an imminent release, as in any day this fall without warning save for this small teaser she's just given to the New York Times' T Magazine. The follow-up to the balm that was 2016's A Seat at the Table will "likely arrive into the world fully formed at some mysterious and unexpected moment," the Times reports. "There is a lot of jazz at the core," she says of the album, which is still unnamed and will be "in progress until the very end." "But with electronic and hip-hop drum and bass because I want it to bang and make your trunk rattle." According to the Times, she recorded it in New Orleans, Jamaica, and California's Topanga Canyon, and has mixed it in Los Angeles.
"The record will be warm, fluid, and more sensual than her last one," the Times says. The focus of it will also move beyond the self, inspired by the spacial difficulties she experienced with her 2017 outdoor performance "Scales": "I realize how much wider, figuratively and literally, my work could be if I took myself away as subject." She says her other recent inspirations include dancer/choreographer Diane Madden, director Busby Berkeley, Joni Mitchell, Aaliyah, Missy Elliott, Sun Ra, Rotary Connection, and Stevie Wonder's Journey Through the Secret Life of Plants. "I have this fear living in my body about releasing work," she says. "I don't know any artist that doesn't feel that before they hit the send button." No worries, our bodies and souls are ready.