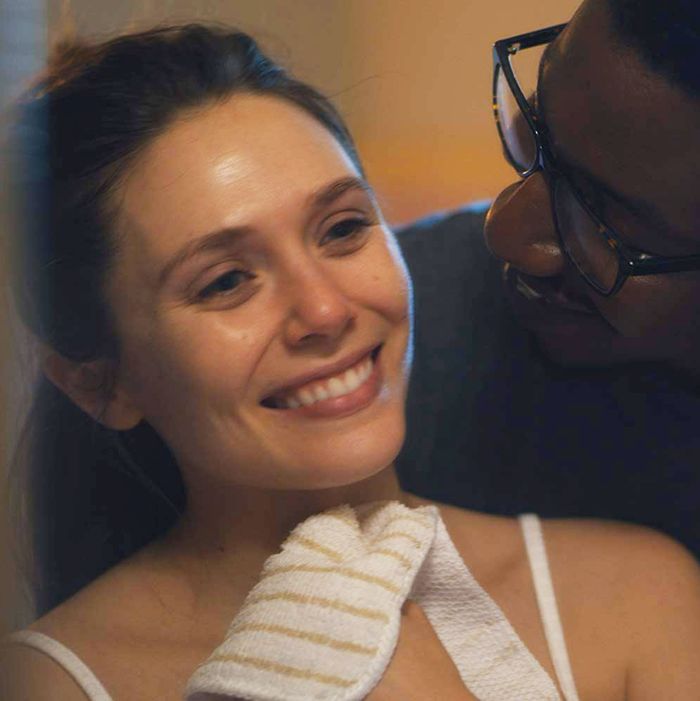 Elizabeth Olsen and Mamoudou Athie in
Sorry for Your Loss.
Photo: Facebook Watch
It takes a while to emotionally reckon with each episode of Sorry for Your Loss, playwright Kit Steinkellner's Facebook Watch series about a family dealing with an unexpected death — the last two installments especially. It's emotional work to watch this show. You have to commit to listening to each character equally and not taking anybody's side. The scripts constantly report on everyone's emotional interior, but never deign to decide if they're justified in feeling how they feel. The details are all carefully observed, and seem to be the result of compassionate listening as well as research. A few are so odd and striking (such as the discovery of a mysterious credit card kept in a small glass in the back of a freezer) that I'd bet money they were pulled from the life story of somebody involved in the production.
The show did sterling work exploring how the death of aspiring comic-book artist Matt Greer (Mamoudou Athie) affected his wife Leigh (Elizabeth Olsen), his only brother Danny (Jovan Adepo), and their relatives and close friends. But what proved most surprising during the final stretch of season one was how Sorry for Your Loss expanded its scope, setting the stage for future seasons that wouldn't just endlessly turn over the same well-trod ground. Just when you started to wonder about the advisability of building an ongoing series around one sudden trauma, Sorry for Your Loss took a secondary story that was already in the mix — Leigh's sister Jules (Kelly Marie Tran), a recovering alcoholic who's carrying a heavy load of shame for how she behaved while she was using — and built it out, along with many other stories that were about grief and/or loss, and all the different ways you can define those words. The end result is a prismatic look at a subject that was at risk of being flattened out if seen through just one lens.
All of the major characters are juggling multiple traumas, some recent, others low-level but continuing. Danny and Leigh are drifting toward a relationship that will seem like a soap-opera contrivance if you haven't known people who got into a relationship that was partly sparked by a shared loss. (I'm in one now.) A big part of the attraction, though neither Leigh nor Danny have talked about this just yet, is the feeling of emotional safe harbor: The former mate and the only surviving sibling are two people who are never going to get tired of hearing the other one talk about the dearly departed.
We learned how Jules, an Asian-American, ended up being adopted into a white family, and how it affected the relationship between her mother Amy (Janet McTeer) and her ex-husband and Leigh's biological father, Richard (Don McManus). On top of Jules's recovery issues, she's carrying the trauma of never having known her biological parents, and there are hints that even though she feels loved and accepted by her adoptive family, she may always feel a bit culturally discombobulated. (The connection between Jules's life experience and her drug use is ripe for exploration in future episodes.) Meanwhile, Amy is surprised to realize that she's still pained by the memory of her ex-husband's selfish and disrespectful behavior and their subsequent divorce — a shock that Richard still deals with, too, even though he seems mainly responsible for the split.
We also get more details about Matt's inner life. He seemingly killed himself after learning that his first book, which Leigh pressured him to write, had been accepted for publication, despite not having what the editor considered a proper ending. Matt's story didn't have a proper ending, either, of course — does anyone's? — and as Leigh unlocks her late husband's cell phone and listens to a string of illuminating messages, we start to understand more about his psychology. We delve into details that the show elided at first, not because it was trying to be sneaky, but because the physical fact of Matt's death was so overwhelming that his survivors had to face that first. We see that Leigh and Matt's interracial relationship was the source of some discomfort and awkwardness for them and their families (though certainly not insurmountable). We learn that Matt and Danny were profoundly affected by the loss of their father and are at emotional loggerheads with their mother Bobby (LisaGay Hamilton) over her refusal to acknowledge his abusiveness. This is all overwhelming in a good way — a trove of information that enriches the characters without explaining them.
The show is just as smart about depression as it is about grief. A flashback-dominated episode about the circumstances leading to Matt's death — one of the best single episodes I've seen this year — gives us a realistic and fair-minded depiction of depression that's chronic and chemical rather than situational. At the same time, it works brilliantly as a portrait of a single character who's complicated and contradictory: lovable in some ways, maddening in others, and has many reasons for keeping secrets from people who love him. The glimpses of Matt when he's separated from the other main characters gets across the notion of chronic depression as a physical state, a bodily fact that people carry around like an unpredictable glandular, vascular, or other condition — something that could be tolerable at certain times, but other times demoralizing, even paralyzing. The suggestion that Matt killed himself because he feared that finally achieving his childhood dream wouldn't make him happy might've seemed contrived or unbelievable on a show that didn't go the extra kilometer, as this one does, to delve into the character's upbringing, and peel back the layers of experience that made him who he is apart from his depression. Matt's story is also a thoughtful portrait of a middle-class African-American coping with chronic depression while moving through a white-dominated world — a subject that I don't believe has been portrayed in such detail before, and that can still be explored through Danny.
The show also reiterates a point that a lot of viewers may never have heard before, unless they've experienced some form of mental illness or persistent psychological trauma and had access to good books or experienced therapists: Suicide is very rarely a statement or choice, no matter what the dead person's note might say. More often it's just the endpoint for a mind that just wasn't built to hold up under constant misery and strain. As Leigh says, quoting another woman in her therapy group, "My sister didn't kill herself. Mental illness killed my sister."
A friend once compared the emotional aftermath of loss to suffering a knee injury that heals up to the point where it's not debilitating. Even though you're supposedly "better," or "over it," you still favor that leg in ways obvious and subtle, and avoid doing anything that might trigger intense pain again. And even if you get used to the bad knee, there's never just one injury. The older you get, the more injuries you collect. The emotional ones you feel in the body, too. People aren't the only things taken from us. We lose relationships, partnerships, jobs, homes, hope for the future, faith in institutions. Some of us struggle to deal with losses that we don't necessarily think of as losses because they happened when we were too young to consciously process them, such as a child losing a parent as an infant or a toddler, or an adoptee like Jules losing the opportunity to know her birth parents, to whom she's connected by culture as well as blood. A friend who did a lot of grief counseling once cautioned me never to try to measure anyone's grief against anyone else's, because it's not a contest, and ultimately there's only one abyss, and depression is what happens when you're down in it. Sorry for Your Loss gets right down in it. That it understands that we're all in it together is what makes it not just bearable, but inspirational.