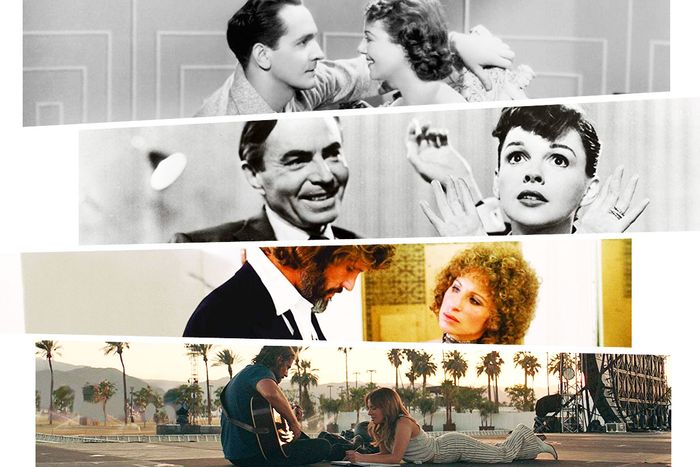 Many born-ed stars.
Photo: Warner Bros.
All four versions of A Star Is Born follow the same beats: megastar meets up-and-comer, he marries her and trains her in the ways of fame, and her talent and appeal eventually eclipses his. Though the latest version, directed by Bradley Cooper, eschews specific quotes that pop up in all of the other movies, and at face value seems most similar to the Streisand-Kristofferson version (two musicians in different genres collaborate and fall in love), it holds onto several details from the originals — and pays homage in some new ways, as well.
"There's a little bit of 'Where's Waldo?' in the movie," Cooper told FilmStruck (which has the 1937, 1954, and 1976 versions available to stream). "That was fun cinematically. [Gaga] sings the preamble to 'Somewhere Over the Rainbow' as she's walking up the ramp from her job and that was a nod to Judy Garland. Even though that was not sung [in the previous films], oddly enough it was the first song that we had to learn in grad school."
Though Cooper has taken the most liberties with the story's tried-and-true formula, each version of A Star Is Born repeats at least five of the same scenes: the bar meet-cute, the "I just wanna get another look at you," the proposal and quickie wedding, the awards-show crash, and the last look. Below, we look at the ways that each iteration tackled these classic scenes.
The Bar Meet-Cute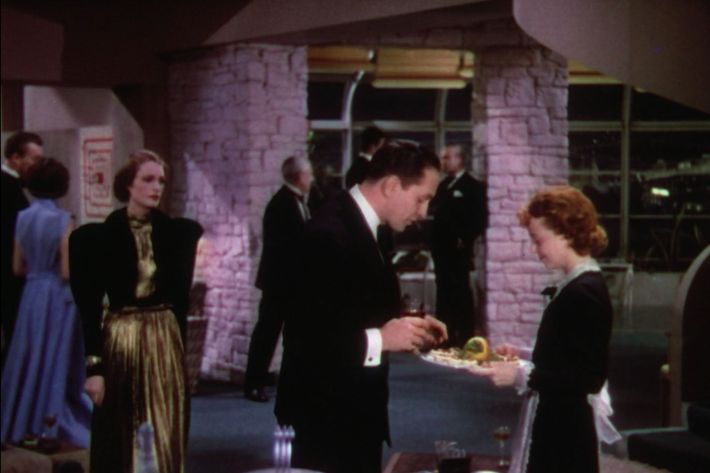 1937: Wannabe movie star Esther Blodgett (Janet Gaynor) first sees movie star Norman Maine (Fredric March) at a show at the Hollywood Bowl. He's drunk and irascible, and slapping away paparazzi. The two don't meet until she's working as a cater-waiter at an industry house party. He lays eyes on her as she's serving caviar, and he abandons his snobby date, instantly smitten.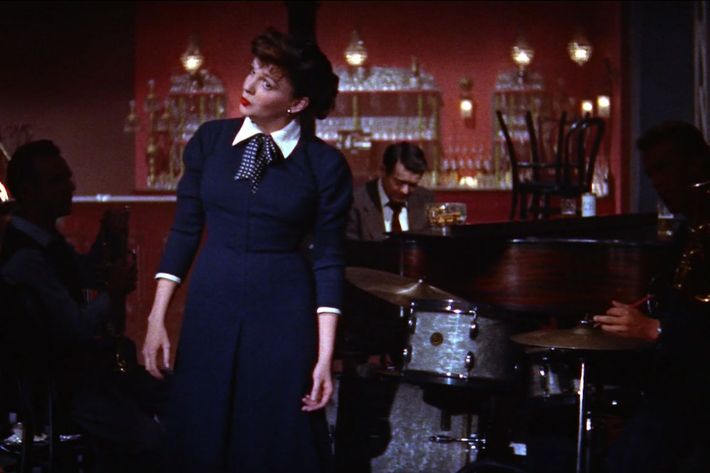 1954: Esther Blodgett (Judy Garland) is performing with her band at an event when a drunken Norman Maine (James Mason) stumbles onstage. She sees how drunk he is and seamlessly incorporates him into the choreography. Later on, he stumbles upon her singing "The Man That Got Away" with her band to a closing bar.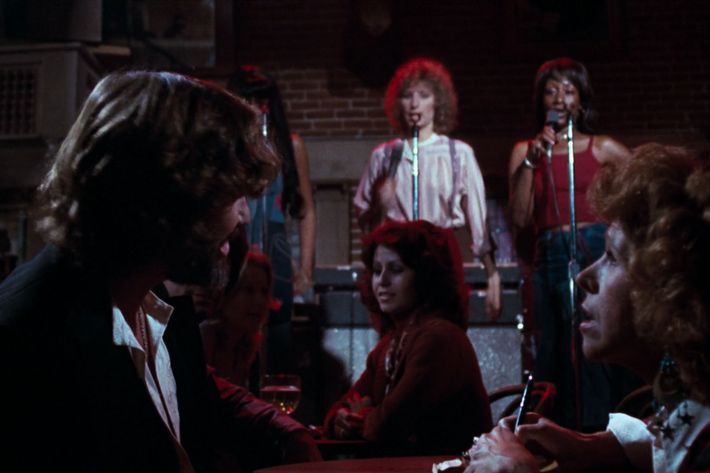 1976: After a less-than-stellar performance where he forgot his own lyrics, rock star John Norman Howard (Kris Kristofferson) stumbles into a bar that doesn't even have a liquor license. Performance onstage are "The Oreos" — Esther Hoffman (Barbra Streisand) and her two black backup vocalists. He's loudly bickering with a waitress as Esther performs, and she interrupts her performance to shut him up. When John gets into a fistfight with a disgruntled fan, Esther rushes him through a back door, and the two escape in his limo.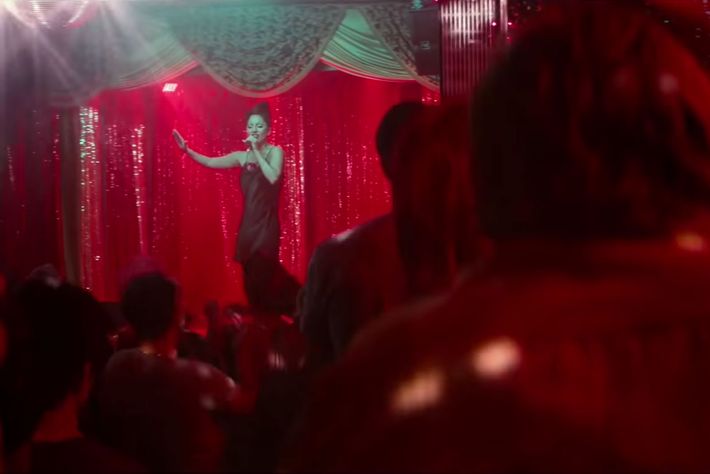 2018: Jackson Maine retreats to his SUV after a concert, and pushes his driver to stop at a random bar. It's a drag bar where Ally is singing "La Vie en Rose." Jackson waits for her while she takes off her performance makeup, and the two drive to another bar where Ally gets into a fight with an obnoxious fan of Jackson's.
Proposal and wedding
1937: Norman pops the question when he and Esther — who's now been renamed Vicki Lester by the studio publicist who works with Norman — see a boxing match, but she declines: "No thank you," she says. "Because you're not dependable, you throw away your money, and you drink so much." The pair ends up marrying in San Verdo township in a courthouse that's also holding two prisoners in a jail.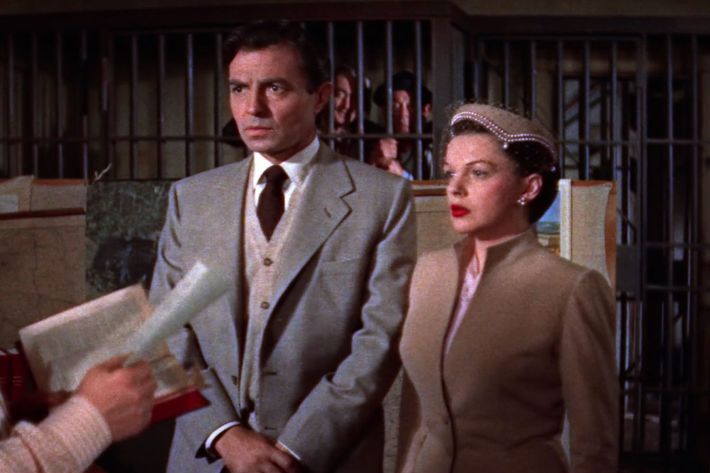 1954: Esther — who's now been renamed Vicki Lester by the studio — is recording a track when Norman surprises her at the studio. As the orchestra plays, she and Norman steal time in a corner. He asks her to marry him and she says yes; unknowingly, they're being recorded by the recording engineers. The engagement is played back for the entire studio on speaker. "I was thinking about another kind of arrangement," Norman says. "Will you marry me?" The two elope in San Verdo, marrying using their real names and in the justice of the peace's office, again in front of two men in jail.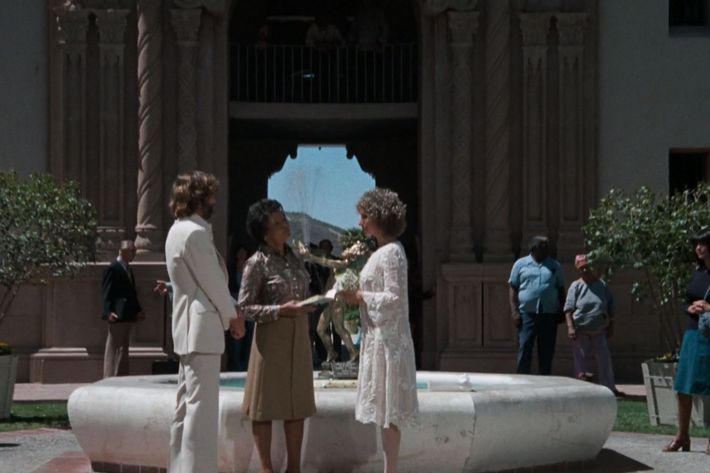 1976: After a crowd goes wild for Esther's first live performance, John drives her home. In the car, she says that she wants to marry him. "Look, I never thought I'd get married again, you'd be lucky to have me," she says, as he tries to dissuade her. They get married outside of a courthouse, by a rather irritated black justice of the peace.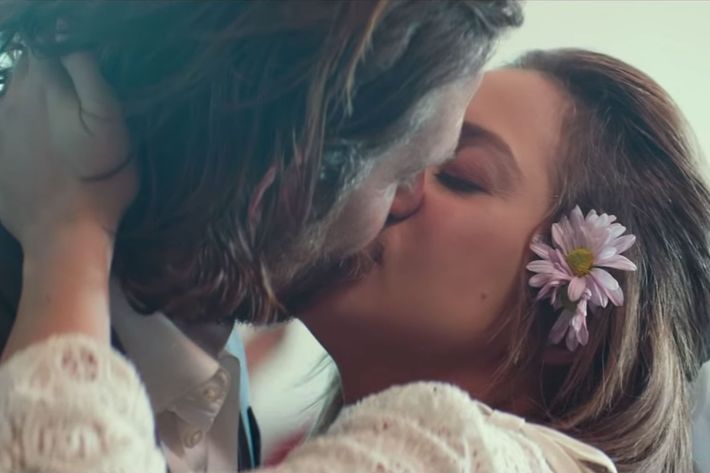 2018: Jackson drunkenly disappears one night after a show, and ends up in the front yard of Noodles (Dave Chappelle). Ally goes out of her way to find him, telling him this isn't something she'll make a habit of. She's eating with Noodles and his family when Jackson cuts off a small piece of guitar string and fashions it into a ring. At dinner, he asks her to marry him, and they pull a wedding together that same day: Noodles's wife helps Ally get a dress, they get all their friends together and marry in a black church.
Crashing her awards show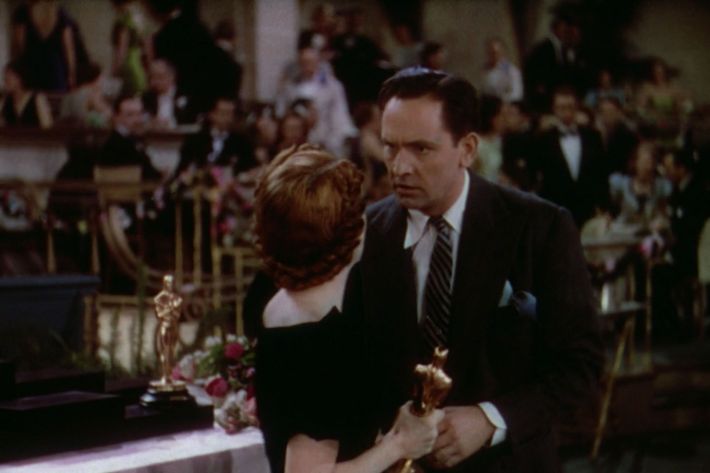 1937: Vicki is giving her acceptance speech for the Oscar for Best Actress at the eighth Academy Awards ceremony. Norman stomps in. "I want to be the very first one to congratulate you on that valuable little piece of bric-a-brac," he says, launching into a tirade about how the award doesn't really mean anything. "I want a statue, one that nobody else can get. I want a statue for the worst performance of the year," he concludes, rather presciently predicting the Razzies. Vicki approaches him, trying to coax him offstage when he accidentally slaps her across the face in front of the audience.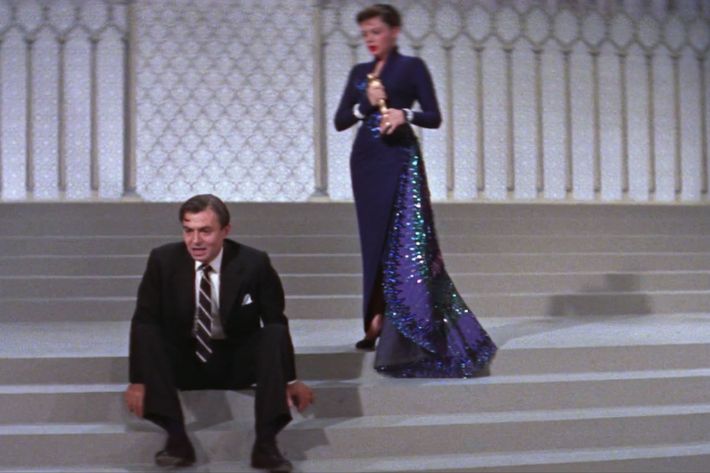 1954: Vicki has a full table with her at the Academy Awards, save for the seat right next to her. Norman's absence fills the frame. She wins Best Actress, and takes the stage to accept the award when Norman storms in. "May I borrow the end of your speech to make a speech of my own?" he asks. He pleads with the room to hire him for any job, since he's lost all work for being a studio liability. He paces the stage as a silent room looks on. To lighten the mood, he asks to be played off, throwing out his hands and accidentally hitting Vicki in the face.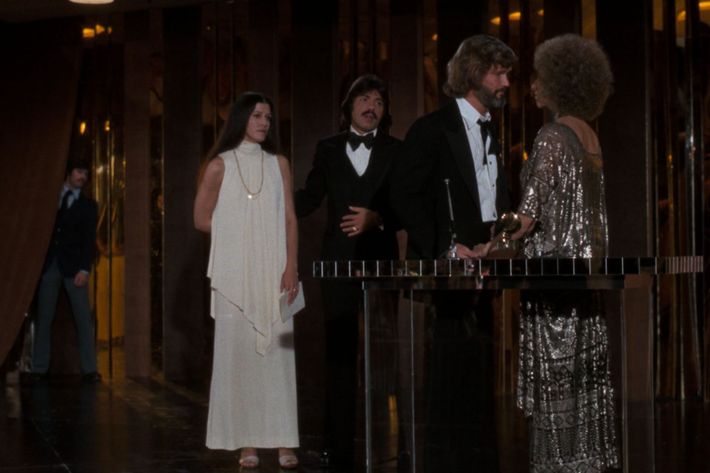 1976: Esther is accepting a Grammy when John stumbles into the room. He's drunk and belligerent and complains that her table doesn't have a seat for him. Like Norman in the previous two versions, he asks for an award for worst performance: "Let me see the worst you've got to offer," he slurs, "for the worst I've got to offer."
2018: Jackson drunkenly plops down in the seat next to Ally moments before she wins best new artist at the Grammys. He's wasted and confused, and tries to escort her onstage before laying down on the stage's steps. As she thanks him, he comes onstage and ogles at the big-screen projection of her face behind her. Eventually, he pees himself in front of the microphone, and Ally pulls him offstage.
The last look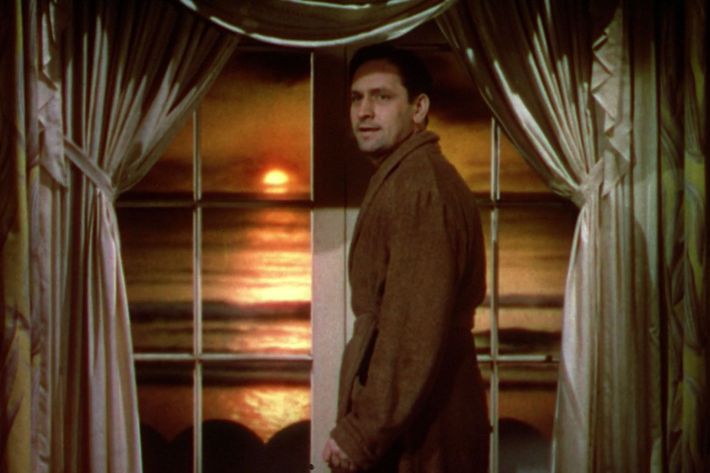 1937: Norman is arrested and heads for a sanitarium stay. Once he's home, he overhears Vicki talking to a studio boss. The movie star "Vicki Lester" is dead, she firmly tells the boss, and she'll devote her life to caring for her husband. Norman overhears this in the next room, and softly cries.
When the exec leaves, he and Vicki talk about their plans for the future, but she doesn't mention her retirement. He looks outside, through the French doors, at the sunset over the ocean. As Vicki leaves to make sandwiches, he barks out the familiar "Hey!" She turns around. "Do you mind if I take … just one more look?" Then he promptly drowns himself.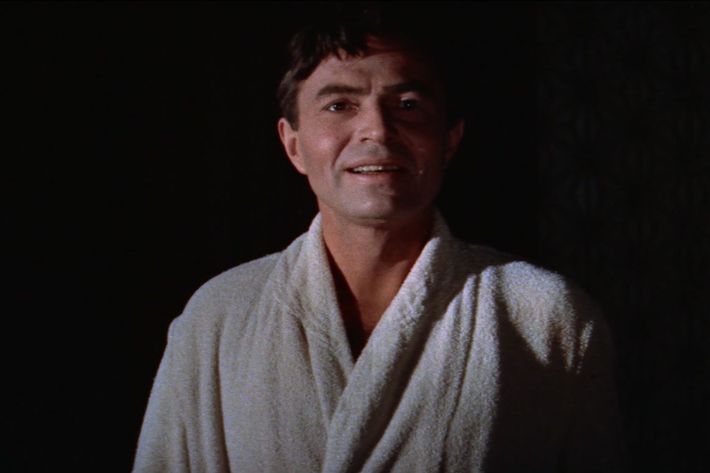 1954: Norman is arrested (again) and heads for a sanitarium stay (again), and overhears Vicki talking to a studio boss (again). She says she'll shelve Vicki Lester for now to care for Norman, and suggests that maybe they can work abroad once he's sober for good. "Somewhere where they don't know about him the way they do here," she says.
Norman is in bed when he overhears the conversation, and cries. He walks in on Vicki considering her next move, and takes in the setting sun over the ocean's waves. He tells her he's going to go for a swim, and calls out to her before she leaves to go to the kitchen. "Hey," he says. "I just wanted to look at you again." He retreats into the darkness and goes to drown himself.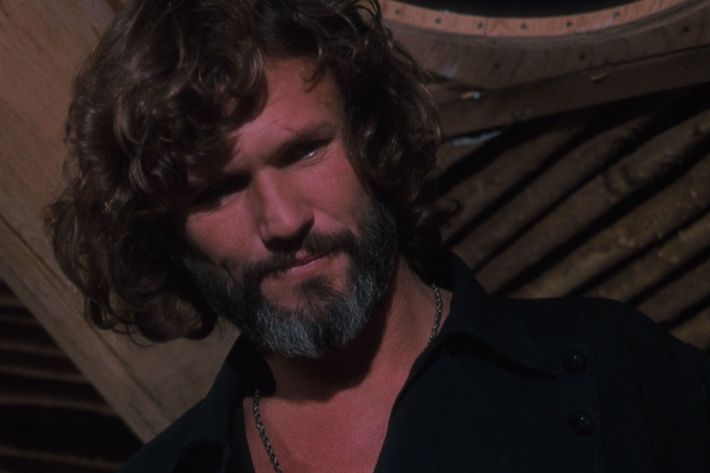 1976: John returns home to the couple's Arizona home from a rehab stint. One morning he wakes up early, rousing Esther as he leaves. He traces the outline of her nose and she wakes up. He's off to pick up his manager Brian from the airport, he says. He turns to her before he leaves. (For the first time, Kris Kristofferson buttons his shirt above his navel — a cardinal sin!) He looks at her for a long moment. "What?" Esther asks.
John grins. "Just looking, baby." He cracks a beer as he leaves his house, and drives his Ferrari Daytona off the road and crashes.
2018: Ally's manager Rez sits Jackson down to tell him what's really going on with Ally's career: She's demanding that he come along on tour with her, something the label will never allow. Instead, she's canceling the European leg to stay home and take care of him. Rez flatly tells Jackson he's holding Ally back, a conclusion he's considered but not faced.
When Ally comes back from rehearsal, she lays in bed with Jackson and lies to him, saying that that night's show will be her last for some time. She makes up an excuse — the label canceled the European leg so she can focus on her sophomore album — and says she'll be home with him all summer. As she gets up to leave he says he just wants to take one more look at her. She smiles and traces the outline of her nose, as he did the first night they met. After she leaves for the night, he hangs himself in the garage.