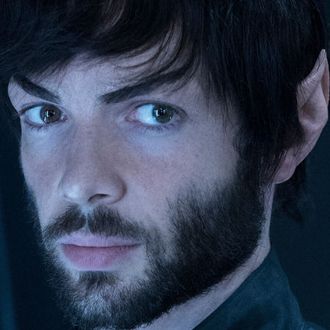 Fans of Star Trek: Discovery will soon be throwing up their Vulcan salutes as everyone's favorite sharp-eared space voyager will debut in the forthcoming second season. At New York Comic Con 2018, a new (bearded!) Spock made his first appearance in a trailer for the new season, set to premiere January 17, 2019.
During the panel Ethan Peck, who will play the famous science officer, recalled the audition process: "It was absolutely outrageous. It was a long audition process, and in the beginning I didn't know what I was reading for. I knew it was for Star Trek and this guy was struggling with emotion and logic. And toward the very end of it I found out who it was and I was like, 'Oh my gosh I can't believe,' and I had a panic attack throughout the last meeting with [Executive Director Alex] Kurtzman, and about two days later I was like, 'You know what, even if it doesn't go my way, what an incredible experience to brush arms with this character and this world.' And I got a text message from the casting director, Orly Sitowitz, and she said, 'Welcome aboard, Mr. Spock.' I was in such shock I sat down on the corner of the street and I cried for like 15 minutes, I was so overwhelmed and overjoyed. I'll never forget the moment."
According to Peck, his Spock will be a kind of precursor to the Spock of the original series. "The Spock in the original series is sort of a light at the end of the tunnel," Peck said. "We have to start Spock in a place where he's becoming who we see on the Enterprise with Kirk."
The second season of Discovery will also feature another familiar figure from the Enterprise, Captain Christopher Pike, who will be played by Anson Mount. In the panel Executive Director Heather Kadin acknowledged the challenge that comes with casting new actors in the role of classic, beloved characters but stood behind the casting choices for the new season. "Obviously we didn't take the casting of Spock or Pike lightly. But you also want the actor to be able to bring their own self to it as well, and I think that's what both Anson and Ethan have done." And so a bearded Spock it is.