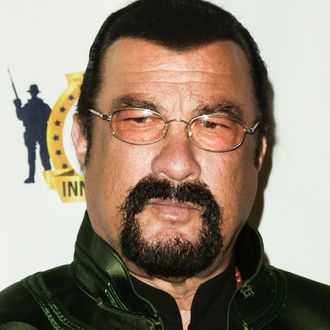 Steven Seagal has denied all allegations of sexual assault.
Photo: Paul Archuleta/2017 Paul Archuleta
Steven Seagal was interviewed by the BBC Thursday night, but before the interviewer could even finish her question about how he's handled sexual-assault allegations against him, he pulled out his IFB earpiece and walked out. "In terms of your life in America, you've been very much caught up in all the allegations of sexual harassment," BBC Newsnight reporter reporter Kirsty Wark said. "You had a rape allegation against you. I wonder how you deal with all that." Before Wark could even finish her question — at the words "caught up" — Seagal's brow furrowed, and at the mention of a rape allegation, he pulled out the earpiece and stood up to leave.
Several women — including Portia de Rossi, Julianna Margulies, Jenny McCarthy, and Inside Edition correspondent Lisa Guerrero — have accused Seagal of sexual assault. An extra from Seagal's 1994 movie On Deadly Ground has accused him of raping her. Seagal has continued to deny all allegations. In September, the L.A. District Attorney's office declined to pursue rape charges against him.