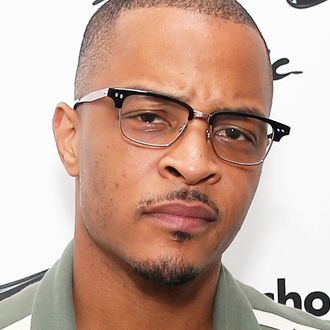 T.I.
Photo: Dominik Bindl/Getty Images
T.I. has yet to be cast as a Marvel superhero (though he is in the MCU), probably because he's already been playing the part in real life for years. In 2006, T.I. famously saved Creed's Scott Stapp after he attempted suicide, then talked another guy out of suicide at an Atlanta radio station a few years later in 2010. According to T.I., at this point, he's saved multiple lives and and he's now told GQ about how, exactly, all his rescue efforts go down. With Stapp, he had to think on his feet upon noticing he'd jumped off a building, though he didn't know it was Stapp he was saving. "So I step out and look down and don't see nothing. And then I look up and — 'Oh shit, it's a white man up there!' [Laughs.]," he recalls. "That's what really shocked me. Blood shows up real good on a white man. So I'm like, 'He's bloody, fucked up.'" Stapp, badly injured, didn't make it as far down as he wanted and intended to jump again. Instead, T.I. offered him a hit of his joint if Stapp would allow them to call for some help, which Stapp agreed to. First life saved.
T.I. heard about the radio-station incident on the air and personally went to the station to diffuse the situation by talking to the man. On the scene, T.I. was told he had to speak to the police negotiator. "Now, I'm imagining a Samuel L. Jackson, Wesley Snipes, LL Cool J–looking motherfucker," he says. "But it's this little-bitty woman. She told me they couldn't take me up there because it's a liability." T.I. then recorded a message for the man, which convinced him to come down. Second life saved. In 2014, T.I. then got caught up in a potentially deadly standoff with the LAPD involving the rapper Game after a fight. "When the police got their guns out on us, and we're face-to-face with them, and Game is like, 'Man, fuck that shit! I'm ready to die! You gonna kill somebody?!?'" he says. "And I go, 'Well listen, he's getting carried away. What we want to do is make sure everybody get a chance to go home again.'" Ultimately, T.I. calmed everyone down and no one was injured or arrested. Multiple lives saved.
The very next day (!), T.I. was driving when a car in front of him flipped over. T.I. got out to help the woman trapped inside the car, resulting in an unexpectedly awkward moment. "She said, 'Ooh, I ain't got no panties on!' So I look away, and then she said, 'Is that T.I.?' And I got the hell on before my cover was blown." Well, looks like we've found our inevitable next Spider-Man.