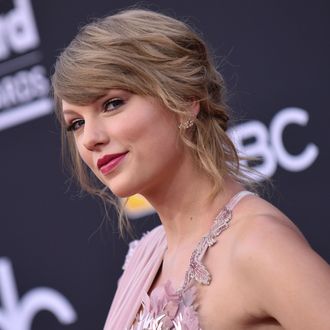 Taylor Swift.
Photo: LISA O'CONNOR/AFP/Getty Images
As you might recall, Taylor Swift took a lot of heat for not throwing her significant influence behind a candidate in the most recent presidential election. While the singer might have mistakenly believed she should sit the election out in 2016, she, like everyone else, has realized the time to stay apolitical has passed. So congrats, Democratic candidates of Tennessee! You'll definitely have TSwift's vote this November, as the singer explains in a new Instagram post stumping for Phil Bredesen for Senate and Jim Cooper for the House of Representatives.
Even more than being pro-Bredesen and Cooper, however, Taylor Swift is apparently very anti–Marsha Blackburn, the Republican candidate currently running against Bredesen for the seat belonging to outgoing Republican senator Bob Corker.
"As much as I have in the past and would like to continue voting for women in office, I cannot support Marsha Blackburn. Her voting record in Congress appalls and terrifies me," writes Swift. "She voted against equal pay for women. She voted against the Reauthorization of the Violence Against Women Act, which attempts to protect women from domestic violence, stalking, and date rape. She believes businesses have a right to refuse service to gay couples. She also believes they should not have the right to marry. These are not MY Tennessee values."
"Please, please educate yourself on the candidates running in your state and vote based on who most closely represents your values," she continues. "For a lot of us, we may never find a candidate or party with whom we agree 100% on every issue, but we have to vote anyway." Oh, and October 9 is the last day to register in Tennessee. So if you were waiting until the second Taylor Swift told you to get your act together … then get on it!