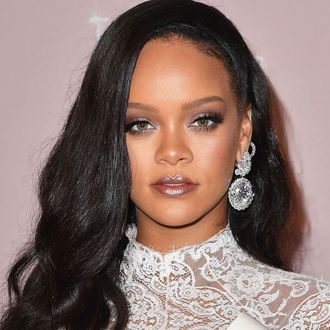 Rihanna.
Photo: Angela Weiss/AFP/Getty Images
Someone call Alexis Neiers — there's a new Bling Ring in town. On Tuesday, the Los Angeles Police Department announced that it had arrested three teens who are suspected of burglarizing A-list celebrities and athletes.
Over the past few months, burglars have broken into the Hollywood-area homes of Rihanna, Christina Milian, and Los Angeles Dodgers outfielder Yasiel Puig; police say they believe the incidents to be connected. On September 27, after Los Angeles Rams wide receiver Robert Woods's home was broken into, police arrested 19-year-old Jshawne Lamon Daniels, 19-year-old Tyress Lavon Williams, and 18-year-old Damaji Corey Hall, all of whom were charged with burglary. (Hall's mother, 34-year-old Ashle Jennifer Hall, was also arrested and charged with grand theft.)
At press conference on Tuesday, LAPD commanding officer Lillian L. Carranza revealed that the department believed the recent burglaries to be related, saying, "[We] have become aware of a series of residential burglaries targeting actors, producers, musicians, and professional athletes living in the Los Angeles area."
Carranza elaborated that the burglars tracked the social-media profiles and tour schedules of potential targets to ensure that the residences were vacant. Then, they would allegedly dress themselves in designer clothes and drive to the chosen celebrity's home in a luxury car in an attempt to fit in. Before breaking in, though, Carranza said the suspects would "change into more comfortable clothing and hoodies to avoid being recognized."
According to police, the suspects went into houses looking for everything from firearms to cash to designer goods; when the LAPD searched the homes of the suspects, they found luxury watches and jewelry, as well as $50,000 in cash. They also discovered a list of celebrity names including Viola Davis, LeBron James, and Matt Damon, who police believe were potential targets.
The investigation is still ongoing, as police believe there are more outstanding suspects. The suspects remain in custody.