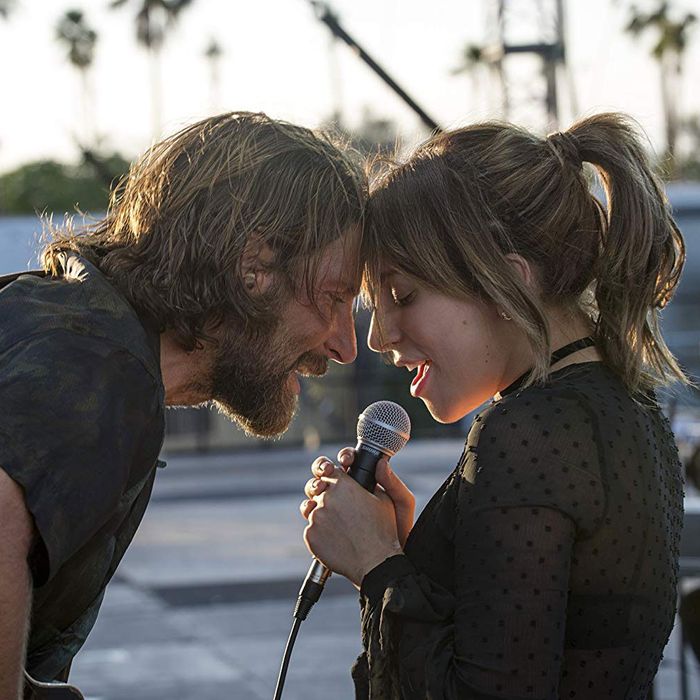 A Star Is Born
Photo: Warner Bros.
A Star is Born fever has been sweeping the nation since Gaga invented vowels in the trailer, and now that its just-released soundtrack is skyrocketing to the top of the charts, Twitter threads and brunch restaurants alike are abuzz with heated debate over which songs are best. None of my friends brought me to any advance screenings (devastating), and I was unable to see the movie in its opening days due to an assignment covering New York Comic Con (even more devastating, especially considering I was there at the behest of noted Star Is Born fan website Vulture dot com).
But when the soundtrack came out, I was faced with a moral quandary: Do I listen now or do I wait? Maybe I will just listen to "Shallow" in full and then save the rest, I thought, like someone who didn't get sick every Halloween after promising her mom she would spread out her Reese's surplus over several days. But of course this soundtrack swiftly became aural Pringles to me — once I popped, I could not stop, and I wound up listening to the whole thing before seeing the film. I am a die-hard fictional-movie music obsessive whose No. 3 most-listened-to album on iTunes is the soundtrack to Walk Hard: The Dewey Cox Story, so based on this history of fanaticism, as an experiment, I took on the task of ranking this album as An Album. So here, divorced from the context of the film / any opinions its narrative may or may not want to impose about certain songs, in all its inanity and insanity: a ranking of the A Star Is Born soundtrack from someone who has not seen the movie.
34. SNL: The greatest trick the Devil ever played was forcing me to listen to Alec "Black People Love Me" Baldwin's voice on a Lady Gaga album. This track combines two of my greatest enemies: numbers and Woody Allen apologists. Delete from playlist.
33. Unbelievable (dialogue): Whomst is this little RP-accented weasel? I do not like. No thank you, Mr. Rez.
32. Memphis (dialogue): EVERY MENTION OF MR. REZ IS ANNOYING TO ME.
31. Music to My Eyes: This sounds like music that plays during last call at a honky-tonk bar while people with small Confederate-flag bandanas adorning their belt loops and jeans pockets slow-dance with each other. I am too unnerved by this to listen to the song more.
30. First Stop, Arizona (dialogue): Just an adorable moment between Bradley Cooper's "Jackson Maine" and Lady Gaga's "Ally [………..]" — apparently it's Campana?? ← This is thrilling to me. EXHILARATING.
29. Out of Time: I have been on the Genius website to look at the lyrics to all these songs, and clicked this one because there is, for some reason, a page for the lyrics to an instrumental track. I'm glad I clicked, though, because there are two comments on the page that sum up my general apathy toward this track: "this sounds like Pink Floyd!" followed by the reply "or Phish!" That is simply not the kind of music I am coming to the A Star Is Born soundtrack for.
28. Too Far Gone: Bored. I can tell by its position in the track listing it is (spoiler if you are unfamiliar with any iteration of A Star Is Born, in which case I have no idea why you are reading this and recommend you head back outside for another round of sport) Jackson Maine's "I fucked up irrevocably and am going to die shortly" song, and it serves its dramaturgical purpose, but I have no desire to revisit it after I am done with this ranking. I hope it gets used ten years from now for a Friday Night Lights reunion special to accompany a shot of a middle-aged Tim Riggins sullenly taking swigs from a beer he rests on his potbelly.
27. How Do You Hear It (dialogue): We love to hear how songwriters work! Come on, "Franklin Shepard Inc."!
26. Intro: High-energy. Good guitar! Like guitar. This is an intro that says, "Hello boys — you can like this movie very much too as well!" Trick them! Trick them all!
25. I Love You (dialogue): Mmmmmmmmmmmmmm very sweet. Obsessed with the fact that the Genius lyrics describe this as a "skit." SNL!!!!!!!
24. I Don't Know What Love Is: It's fine. It's there. She sounds like Amy Winehouse on the "is" of the titular line and I think I would be more interested in playing that "is" on a continuous loop than playing this song in full any more times.
23. Vows (dialogue): Tender, nervous Gaga! Ingenue Gaga! Sweetly tuck your hair behind your ears Gaga!
22. Twelve Notes (dialogue): I am glad I listened to the soundtrack before seeing the movie mostly because the experience of not hearing Sam Elliott til the very end meant I got a Sixth Sense ending moment, where I replayed all Bradley Cooper's line readings in my head and realized his characterization started with "Sam Elliott is gonna play my brother" and then he worked outward from that.
21. Scene 98 (dialogue): Both stars have talked about the improvisational nature of many scenes in this film, and this one especially feels very loose. As someone who spent a lot of time with them at NYU Tisch, I can tell you Very Serious Straight Male Actors ascribe to a belief that the height of being present is saying "fuck" a bunch of times. This track reminds me that behind most every movie star is a 19-year-old acting student who experienced a life-changing scene study class where his teacher told him to improvise dialogue as Brick in Cat on a Hot Tin Roof.
20. I'll Never Love Again (movie version, with Bradley): This may be blasphemous, and I am sure that this version of the song is very effective in the film, etc. etc., but on the album, the transition to Bradley/Jackson doing the song just makes me think about how toxic and possessive it is for a man to write a song for his wife to sing about never loving someone again? Like … while he was alive? That feels like grooming to me?????? Sorry!!!!
19. Why Did You Do That: Too repetitive melodically for me to join the "Buddha's Delight" Hall of Fame of Songs I Am Supposed to Find Bad but Surprise I Am Low Class and I Love Them, plus I simply am not a woman who cares about male butts (I prefer arms) so I do not find this a relatable bop.
18 . Trust Me (dialogue): Will always swoon when a hot person asks another hot person to trust them.
17. Maybe It's Time: Every time my computer notifies me that this track has started playing, I get momentarily excited that it's "Maybe This Time" from Cabaret, and then I get lost in the idea of Lady Gaga making her Broadway debut NOT in the rumored Funny Girl revival, but as SALLY FUCKING BOWLES which is a MUCH BETTER FIT, I BELIEVE. Anyway, giving me that idea is just about the best thing this song has going for it. I much prefer Bradley Cooper/Jackson Maine's harder-edged songs; this reminds me of the Brad Paisley concert I was forced to endure for a birthday party during my high school years in northern Virginia.
16. I'll Wait For You (dialogue): This track was when I fully realized that, to borrow parlance from Vulture associate editor and top-five favorite Twitter user Hunter Harris, I wanted Bradley Cooper to [redacted] me by the [redacted] and [redacted] my [redacted] until we [redacted] at the same time because it seems like that would be possible with him.
15. Heal Me: Sounds like late-era Mariah, for the shows where the belt just isn't all the way there. Vaguely futuristic, lightly sensuous, unobtrusive lyrics — the kind of song that plays on a continuous loop at any and all Sephora locations.
14. Fabulous French (dialogue): This track begins with the gift of Bradley Cooper mumbling "is this a drag bar" so incomprehensibly I at first thought he was wondering if he had stumbled into a Drybar salon. It goes on to bestow us with sweet cherub Anthony Ramos — future Usnavi in the film adaptation of In the Heights and, of course, Hamilton's original golden-voiced sacrificial lamb, dying twice (as Laurens and Philip) in order that we all might remember how to Feel — and FINALLY, THE MOMENT WE'VE BEEN WAITING FOR, SHANGELA LAQUIFA WADLEY, THE ONE TRUE WINNER OF RUPAUL'S DRAG RACE: ALL STARS SEASON 3. Shangela will play the Emcee in my Cabaret revival with Gaga. (Willam as Emerald as Fraulein Kost.)
13. Parking Lot (dialogue): I have ASMR — for those of you who don't frequent the strangest crevices of YouTube, that is Auto Sensory Meridian Response, a deeply soothing tingle in your brain that is triggered by whispering, soft speaking, and, for some people I do not wholly understand, lip-smacking while eating. This ticks off all my ASMR boxes and I will listen to it every night. Hot mumbling? Check. Soft, slow singing? Check. Audible sexual chemistry? Didn't know that relaxed me, but now I do and so do you!
12. Somewhere Over the Rainbow (dialogue): This being featured in the track listing as "dialogue" was the tipping point in my decision to rank the Full Soundtrack as opposed to just the songs, and ooooh, non je ne regrette rien (we'll meet up with Edith again shortly). A perfect choice as an intro to Gaga as our 21st century Esther Blodgett/Vicki Lester. A more ubiquitous snippet of this song might have been such an overt Judy nod that it would have been eye-roll-inducing; this is a perfect wink to friends of Dorothy and friends of friends of Dorothy alike who might have doubted Stefani's ability to inhabit this Legends Only role. She sounds ethereal and youthful and lovely.
11. I'll Never Love Again (extended — just Gaga): It's Mariah's "Without You" meets Whitney's "I Will Always Love You." The lyrics are just too on the nose for me, but duh, I appreciate a climactic finale anthem, especially now that the male voice is entirely divorced from my experience of it.
10. Before I Cry: Any song where crying is a shouted threat is very much up my alley.
9. Look What I Found: Love that staccato opening, especially since we got a mini Behind-the-Music of how it was brainstormed. Good walking-down-the-street-on-a-sunny-day-in-an-outfit-you-like music.
8. Black Eyes: There are many moments on this album in which I would live. None of these places involve the voice of a man, but if I had to spend some time in a rugged locale, I would go on a glamping trip inside Bradley Cooper's vibrato as he transitions from "eye" to "ee" vowels on "wide," "testify," and "lies."
7. Diggin' My Grave: Morbidly sexy with a twang! Morticia Addams wearing cowboy boots with Gomez in a bolo tie.
6. Alibi: A spiritual descendant of "Guilty As Charged" by my aforementioned favorite fictional musician Dewey Cox, and because of that, my favorite Jackson Maine solo song.
5. Hair Body Face: Remember how I said "Why Did You Do That" was not a relatable bop? THIS one hits me — someone who was told by a lax bro named Garrett, "I wish we could put your personality in Mary's body" — where I live. The first person to mash it up with the "Eyes! Hair! Mouth! Figure! Dress! Voice! Style! Movement!" section of "Rainbow High" from Evita will win my undying affection and probably a season of RuPaul's Drag Race.
4. La Vie en Rose: This song holds tremendous significance to me as I discovered it when I watched Piaf after my high school boyfriend broke up with me. (I made the lyrics my away message and he IMed me "didn't know you spoke French now" and I have never forgotten it, ALEX.) Anyway, Gaga absolutely kills, and her "big fish in a small pond" — I know from the "Fabulous French" scene that she is performing this in a dive-y bar — swagger here is charming and impressively distinct from the confidence she shows in her later songs on the album as an Established Artist/Celebrity. Also, a Bernadette Peters "Unexpected Song" Award for Outstanding Achievement in Backphrasing, as Gaga spends half the song a full beat behind in order to allow more space for her vibrato.
3. Always Remember Us This Way: This song really illuminates what a virtuosic vocal chameleon Gaga is — throughout this album, she evokes other legendary artists while never sounding unlike herself. 1) "You look at me and babe I wanna catch on fire" is very Lorde in "Liability" aka the Song Of My Summer 2017 Breakup. 2) "The band won't play" pseudo-yodel transition from deep chest resonance to a light head voice is PURE Adele. 3) The "OOH-OOH-OOH, OOH-OOH-OOH, OOH, OOH" IS ALL GAGA, BABY. NOBODY DOES A WORDLESS MOMENTUM-BUILDING BRIDGE BETTER.
2. Shallow: What can I say that hasn't already been said, and on this very website, with much more eloquence and urgency and depth? Instantly cathartic. The slow burn of the start. The jump up the octave between "fear myself" and "I'm off the deep end." THE PRIMAL HOWL. And Cooper does an admirable job of letting her have the focus while offering able support!
1. "Is That Alright": Can you imagine being enough in love to tell a man that nothing he says wouldn't interest you? That is a lunatic level of adoration and tenderness that I will only accept in a power ballad. I think the vocal and energetic bipolarity of this song is what makes it so endlessly affecting to me. The verses ache — Gaga is singing ("didn't even make a sound" Halo-style) at the very bottom of her range, an unbelievably vulnerable place to be. High notes are impressive, midrange belting is powerful, light and airy falsetto moments are pretty; the tessitura in which the verses of "Is That Alright" exist strips Gaga bare of any vocal pyrotechnics, and all we are left to focus on are the specifics of her yearning pleas for all-encompassing intimacy. The quiet, naked desperation of these low notes, similar to the "fear myself"/"deep end" jump in "Shallow," makes the chorus all the more thrilling, as the song grabs hold of your body and twists up your insides and takes you back in time through every high and low of every relationship you have ever had. The moment of this album I would choose to live inside forever if I thought my heart could take it is Gaga's half-whispered, half-sung "is that alright?" at 1:28, somehow simultaneously a passionate supplication and a divulged secret. NUMBER. ONE. MOMENT. NUMBER. ONE. SONG. I WOULD BE HONORED IF IT WOULD TAKE ME AS I AM.