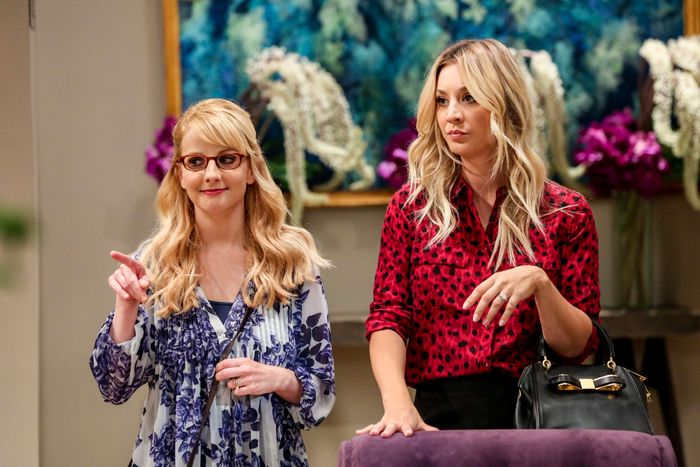 Photo: Michael Yarish/CBS
The clip show can be one of the lamest, and laziest, of all sitcom episodes. So extra kudos to The Big Bang Theory writers for giving us the preferably pithy clip scene in this final-season episode that also sheds some wonderful insight on Sheldon Cooper's backstory and ties the series cleverly to its spinoff, Young Sheldon.
While Sheldon is editing his wedding photos on his computer — Photoshopping the Wright brothers into a pic with Amy's dad because he admires Orville, and "Wilbur because he's Orville's plus one" — he gets an email from someone named Tam. Young Sheldon viewers know Tam is Sheldon's childhood BFF, his only friend, in fact, and the one who introduced him to such pop-culture obsessions as comic books.
Sheldon, however, is not happy to hear from his friend, not excited that Tam is reaching out because he's going to be bringing his son on a campus tour of Caltech. Amy, and Sheldon's friends, are shocked to find out Sheldon even had a friend before them because he's never mentioned one. When they learn the two haven't spoken in decades, and that Tam is now on Sheldon's enemies list (which he recently digitized and made searchable by first name, last name, and length of grudge), they're desperate to know what Tam did (or how Sheldon misinterpreted it) to get Sheldon's dander up permanently.
A look at Sheldon's enemies list isn't helpful; he merely indicates that Tam knows what he did. But when Leonard, Howard, and Raj scope out Tam during his Caltech visit, they're more frustrated to find out Tam doesn't know what he did. When Sheldon confronts him, angrily, and stalks off, Tam reveals he wasn't aware Sheldon even had a problem with him.
Leonard, meanwhile, has earned a spot on the enemies list because of his interference in the Tam matter.
Finally, after Amy comes home and hears Sheldon on the phone trying to replace Leonard with Howard as his new BFF (Howard is as unexcited about accepting the new position as Sheldon is to be offering it), she gets the Tam story out of him. When teenage Sheldon was accepted to grad school at Caltech, Tam had promised to move from Texas to California with him and be his roommate. Then Tam met a girl the summer before Sheldon was to leave, and decided to stay with her in the Lone Star state.
"Even after reading all the pamphlets I gave him about social diseases," Sheldon says.
A lonely, scared Sheldon moved by himself, concerned he'd never make another friend, and for a long time, he tells Amy, he didn't.
"But then you did!" she points out. "And great friends. If you think about it, if Tam had moved out here with you, who knows what your life would have been like."
Cue that clip scene, a delicious montage of some of TBBT's greatest moments, which begins with Leonard knocking on Sheldon's door to inquire about a room for rent. But in this new, Sheldon-imagined edit of that scene, Tam is inside the apartment, and tells Sheldon to reject Leonard as a new roomie.
From there, we see the what-if version of Sheldon hugging Penny after she gives him a signed, used Leonard Nimoy napkin as a Christmas gift, while Tam, not Leonard, proclaims it "a Saturnalia miracle."
We see Sheldon and Tam, not Leonard, meeting their new neighbor, Penny.
And we see Tam, not Leonard, chasing a stressed out, "Bazinga!"-ing Sheldon around a ball pit.
"No, my life woulda still been great," Sheldon says after visions of his alt-life with Tam. Later, realizing Amy is right about how he could have missed out on his current group of friends, Sheldon meets with Tam and tells him he forgives him. Tam's still confused, but tells Sheldon he'd fallen in love back in Texas. Besides, he knew his brilliant friend would go off and do great things, meet great new people. Tam's happy with his life, too, he says, a fact Sheldon refuses to acknowledge, because … Sheldon. "Oh Tam, you don't need to be brave on my account," Sheldon says, after Tam tells him he has a great wife and amazing children. "I'm very happy," Tam insists.
Sheldon, patting his friend on the arm: "Brave, brave, Tam."
Backing up the Sheldon-centric story line is the furthering of Raj's relationship with new fiancée, Anu. Penny and Bernadette decide they should get to know the person who's about to become a member of their group, so they go to the swanky hotel where she's a concierge to meet her.
Savvy Anu knows they're really there to scope her out, so she suggests dinner at a hot restaurant where reservations are tough to get, then promptly nabs a reservation. Bernie and Penny are immediately impressed, especially when they see LeBron James at the eatery. The women bond during the meal, though Penny and Bernie dish on some of Raj's more eccentric habits, like bathing with his dog and wearing ladies' deodorant so he'll smell "daisy fresh."
Raj's not thrilled with their liquored-up loose lips, so Penny and Bernie decide they need to make it up to him … during another dinner chat with Anu, at another local hot spot.
"Do you think she can get us into Soho House?" Penny wonders.
Bernadette: "I don't know, but we owe it to Raj to try."
Theor-ems:
• Amy, after Sheldon acts weird(er than usual) about his childhood friendship with Tam: "I didn't just drink the crazy milk, I bought the crazy cow."
• When Amy initially tries to talk to Sheldon about Tam, she says he invoked Section 3, Article 5 of the Marriage Contract: "Beeswax, None of Your."
• Sheldon had an imaginary talking koala as a childhood friend. Leonard says it also betrayed Sheldon.
• In an effort to learn more about Tam, Leonard, Howard, and Raj call Sheldon's brother George (guest star Jerry O'Connell). George knows nothing about Sheldon's 20-year rift with Tam — he actually thinks he had an entire conversation with Tam at the Shamy wedding — but he does reveal he is, or was, on Sheldon's enemies list for peeing into his bro's shampoo bottle.