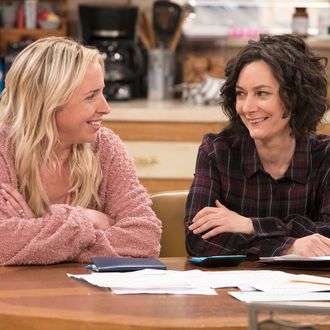 Photo: Eric McCandless/ABC
Audiences still care about The Conners, even without Roseanne Barr at the helm. ABC's reboot of last spring's Roseanne revival opened strongly Tuesday night, with 10.4 million same-day viewers and a 2.3 rating among adults under 50, per Nielsen. That's nearly identical to the 10.5 million same-day viewers that showed up for last May's season finale of Roseanne, which ended up being a (second) series finale after Barr's Twitter fingers prompted her firing. It also made The Conners the No. 1 show in the key young-adult demo (beating This Is Us), and one of only two shows Tuesday to snag 10 million or more viewers (NCIS is the other).
Barr's conservative stans will no doubt point out The Conners premiered with a much smaller audience than last March's Roseanne (18.4 million), and well, yes, it did. But after the novelty of seeing a beloved TV show return, the second half of the show's nine-episode season saw a sharp ratings drop-off: The final four episodes of Roseanne last May each averaged between 10 and 10.6 million viewers, putting Tuesday's Conners debut right on par with its predecessor. Still, while ABC execs were no doubt breathing deep sighs of relief The Conners didn't tank, they'd be the first to admit the battle for viewers is hardly over.
Season openers of almost any show are often the most-watched episodes, and it's common for shows these days to drop 20 to 25 percent within a week or two of said premieres. Newer shows — and ABC has said it very much considers The Conners a "new" series — can fall even further. Last season's two big reboots (Roseanne and NBC's Will & Grace) saw big ratings slides as the nostalgia factor wore off, and audiences moved from live viewing to delayed and nonlinear watching. It's likely The Conners could be pulling in 6 or 7 million viewers by Thanksgiving, a number which would be a tad disappointing given Roseanne's overall performance last season. But as ABC scheduling chief Andy Kubitz told Vulture last week, even at half its audience from last year, The Conners would still be the network's biggest comedy.