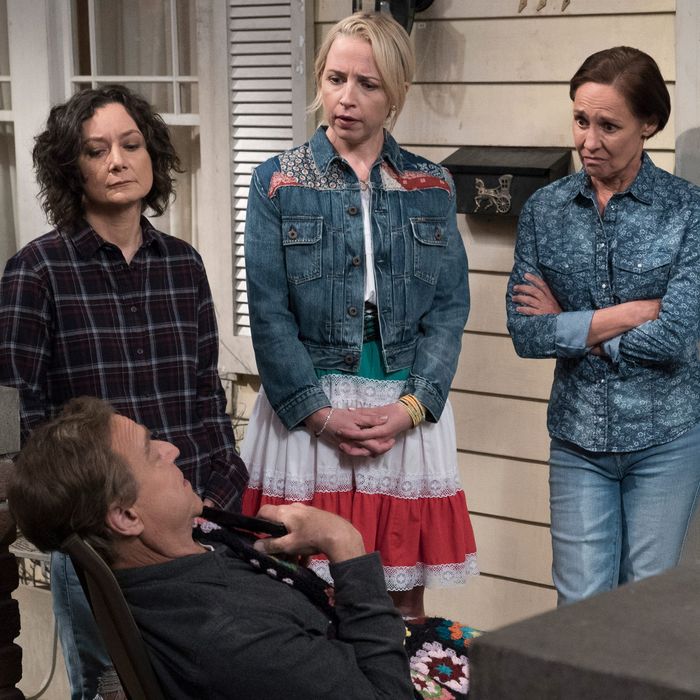 John Goodman as Dan, Sara Gilbert as Darlene, Lecy Goranson as Becky, Laurie Metcalf as Jackie.
Photo: ABC
On May 29, ABC canceled its spectacularly successful revival of Roseanne, mere hours after its titular creator and star sent out her now-infamous racist tweet. But in TV-land what is dead may never die: Roseanne is back Tuesday night, reincarnated as The Conners, a "new" sitcom featuring all of the same writers and stars of the old show — with the very notable exception of you-know-who. It would be easy to dismiss Roseanne minus Roseanne as the sort of ridiculous-sounding idea upon which decades of jokes about network TV cynicism have sprung, and indeed, it's easy to imagine a scenario in which audiences will reject this reboot of a revival. But just because the odds of success are long doesn't mean ABC was wrong to roll the dice on The Conners.
For one thing, despite its title, Roseanne long ago ceased being a show primarily about Roseanne Conner. Sure, her domestic goddess stand-up routine was the DNA on which the original show was built, and her talent as an actor and producer are why the series became a breakout hit when it first premiered exactly 30 years ago this week. "Roseanne was obviously extremely important to the show," says executive producer Tom Werner, whose company produced both Roseanne and The Conners. "But John Goodman was always equally important. And the children provided a lot of storylines." Whatever its title implied, Werner adds, "I've always thought the show was about the Conner family." That was particularly true of last season's revival, which put Darlene (Sara Gilbert) and her struggles as a single mom front and center in many episodes. It takes nothing away from Barr's accomplishments as a writer and actress (whatever one thinks of her bigoted pronouncements) to acknowledge that the show evolved into something bigger than one woman's comic persona.
There's also a case to be made that while Barr has a large and vocal fan base — which in recent years has grown to include very conservative voters and supporters of President Donald Trump — several of her fellow former cast members are actually bigger stars in 2018. Goodman, through his collaborations with the Coen brothers and other roles, has built an impressive feature film career (with the Golden Globe and Screen Actors Guild award nominations to prove it) and is one of Saturday Night Live's most popular recurring guest hosts. Laurie Metcalf has been nominated for a Tony Award in each of the past three years, winning in 2017 and 2018; spent 2016 and 2017 basking in kudos for her turn in Lady Bird; and in 2016 earned Emmy nominations for three different shows. And Gilbert has been a regular presence on TV the past decade, with roles in scripted shows and as a host and executive producer of the long-running CBS daytime show she created, The Talk. For ABC and Werner, the decision to green-light The Conners is better understood not as a choice about whether to continue without Barr and more about finding a way to make a show with Metcalf, Goodman, and Gilbert. "I mean, who wouldn't want to put a show like that on the air?" says Andy Kubitz, ABC's executive vice president for programming strategy and scheduling.
And while Kubitz's colleagues at most of the other broadcast outlets would indeed jump at a show with the combined star wattage of The Conners, ABC — currently in last place among the Big Four networks — has programming needs that made this show a particularly well-placed bet. Its comedy brand is all about family sitcoms, from The Goldbergs, Fresh Off the Boat and Black-ish to its top-rated (and longest-running) half-hour, Modern Family. Unfortunately for the Alphabet net, it's not at all unrealistic to imagine a scenario in which all four of those shows wrap their respective runs within the next year or two, joining the recently-departed The Middle. Even if they don't all depart, ABC is still very much in need of a new anchor comedy, given the declining Nielsen numbers for those veteran shows. The strong ratings for the Roseanne revival gave the network exactly that, of course, so it's not hard to figure out why it wants to at least see if The Conners has the ability to pull a similarly big crowd. "If we can capture even half of Roseanne's audience from last year, we'll be the number one new show for the season," Kubitz says. Another possible benefit: At least on paper, The Conners should be the perfect platform off of which to launch ABC's most promising new fall comedy, the 1970s-set The Kids Are Alright, which also revolves around a noisy blue-collar family.
Despite so many strong incentives to make The Conners happen, it took about a month for ABC and producer Werner to figure out the spin-off. According to Kubitz, his boss, ABC Entertainment president Channing Dungey, wanted to "let the dust settle" after the sudden cancellation, in order to see "what pieces and what parts were left to be picked up and put back together." In addition to figuring out whether or not continuing the show was financially feasible, "We had to know [if] the cast still wanted to do it," Kubitz adds. "And then we had to figure out if we could actually have enough time to put it all back together."
While reports of a potential spinoff surfaced very soon after the Roseanne cancellation, Werner says continuing on was hardly a slam-dunk. "The fact is, nobody needed to do the reboot originally, and certainly nobody needed to do The Conners," he says, adding that ABC's programming needs took a back seat to the desires of his remaining cast and writers, as well as the desire to keep the show's hundreds of crew members employed. "I was less concerned about ABC saying, 'Could you come in and pitch the show?' than I was to answer the question in our own minds, in the same way that we did a year earlier: Is this a show worth doing? We wanted to make sure internally that we could continue to do episodes that we were proud of — then we could talk to ABC."
Once the creative concerns were settled, Werner says everything else fell into place. While Gilbert, Goodman and Metcalf all had other jobs, "I think the cast feels — I wouldn't say obligation, but respect for the legacy of the show," he says. "They were keen on seeing whether or not there could be another chapter in the show's life." Somewhat surprisingly, money didn't seem to be much of an issue in going forward with the spin-off. "Everybody was happy with the financial arrangement that the show had last year," Werner says, explaining that because last season's Roseanne revival did far better than anyone expected, ABC didn't try to get a better financial deal for the Barr-free The Conners. "It was relatively straightforward, the negotiation," Werner says. Kubitz concurs, saying the new deal is not a "dramatic change" from the one ABC made to resurrect Roseanne. "We're paying, I think, a modest percent increase, nothing major, from the Roseanne license fee to this license fee," he says. ABC and Werner have also made it clear that Barr will have no financial interest nor be paid for The Conners, and her name does not appear in the new show's credits.
As for how audiences will react to The Conners, Kubitz and Werner both decline to offer any guesses on the show's Nielsen performance. Kubitz fully expects that some of the viewers who watched Roseanne last season will have zero interest in a new show without her, either because of their love for the character she played or because they believe ABC was wrong to fire her. "There's gonna be people who straight up will not even give it a shot," he concedes. "Does it worry us? I don't think so, because I think it's a great TV show that has a great message, and talks to a certain part of our audience. I'm hoping people give it a chance."
Kubitz also correctly notes that The Conners is premiering as part of what's shaping up to be a pretty rough fall for nearly all TV shows, particularly returning series. Big hits such as The Walking Dead and The Big Bang Theory have seen their audiences shrink by as much as half since last year, while even a heavily hyped reboot such as CBS's Murphy Brown generated a relatively small sampling from viewers compared to last season's revivals. Even Roseanne lost about 40 percent of its audience between its first outing in March and what turned out to be its series finale two months later. The fact is, even if Barr had never fired off her racist tweet and Roseanne was returning this fall, ABC would almost surely be looking at much smaller Nielsen numbers for the show this season.
But as noted earlier by Kubitz, The Conners doesn't need to do Roseanne-sized ratings to be a success for the network. ABC's biggest comedy, Modern Family, opened its season last month with barely five million same-day viewers, while NBC's The Good Place has survived into its third season even though its same-day audience regularly comes in at under three million. ABC obviously is hoping to do better than both of those shows, but if The Conners can pull in around six to seven million viewers each week and continue to do reasonably well with younger audiences, it would very much qualify as a success for the network. And if audiences decide they're simply not interested in a show without Barr? In that case, ABC and Werner can at least take comfort in knowing they were able to write the Conner clan's final chapter on their own terms. "There was a great sense of joy when we came together last year," Werner says. "Everybody did not want the last note of the show to be that it was canceled [on] a discordant note."