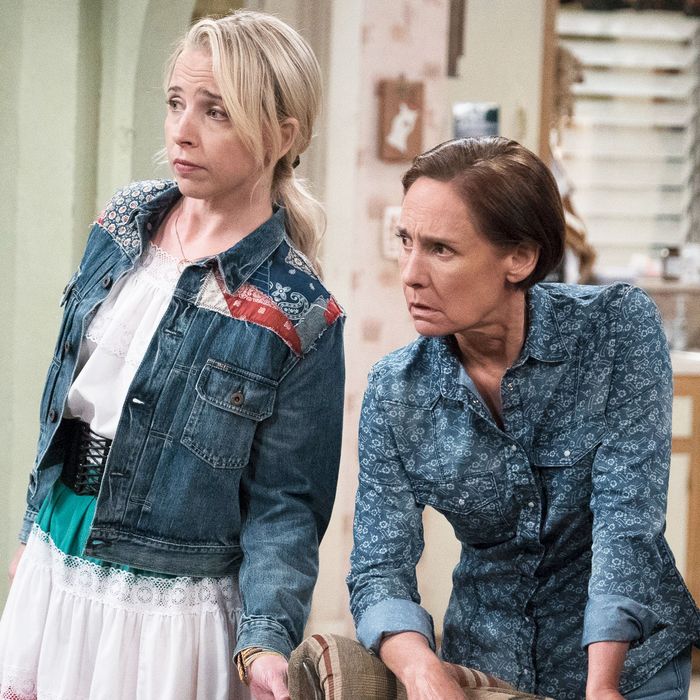 Photo: Eric McCandless/ABC
Spoilers below for The Conners premiere.
The world's worst-kept spoiler has come to pass. Yes, The Conners killed off Roseanne, and yes, she died from an overdose on pain medication, just as Roseanne Barr herself said last month.
ABC's Roseanne spin-off, created after the network fired Barr for her racist tweets, begins three weeks after her character's funeral, with the Conner family still mourning her death. Instead of breezing on with the plot, as Kevin Can Wait did after killing Erinn Hayes's character, The Conners makes the story behind Roseanne's passing a key part of the episode.
At first, the Conners think that Roseanne died from a sudden heart attack, but then the coroner's office reveals that she overdosed on pain medication. The show had dealt with the character's reliance on pain medication in last year's revival as Roseanne developed a pill addiction after her knee surgery, but Darlene and Dan are still shocked by the news and claim they didn't realize how big her problem was. As others react similarly — as the characters talk about how little they knew Roseanne — it feels like a metatextual comment about the actors not knowing their co-star. Then, Becky discovers a pill bottle Roseanne hid in her closet with a prescription for "Marcy Bellinger," revealing that she got her pills from someone else.
From there, Dan decides to blame this Marcy Bellinger for Roseanne's death, and drives around Lanford with a sign on his truck calling her out by name. (Meanwhile, the other characters discover pills hidden away in the freezer, indicating that Roseanne wasn't relying on one stash.) Then, Marcy Bellinger herself shows up on the Conners' doorstep — and surprise, surprise! — she's played by the great Mary Steenburgen.
Steenburgen then delivers a serious speech that suddenly makes The Conners seem like a grim, acclaimed Off Broadway play about struggling America. Her character says Dan's actions have hurt her, that nearly everyone in Lanford has started trading medication because no one has insurance, that she had no idea Roseanne had an addiction, and that she knows "what it's like to have that problem." The rest of the family tells Dan they found other pain pills hidden around the house, and he has to accept that Marcy isn't to blame for Roseanne's overdose. The episode ends with Dan going to sleep alone in his and Roseanne's bed, tenderly making a place for her even though she's gone. It seems The Conners isn't done dealing with Roseanne's passing yet.