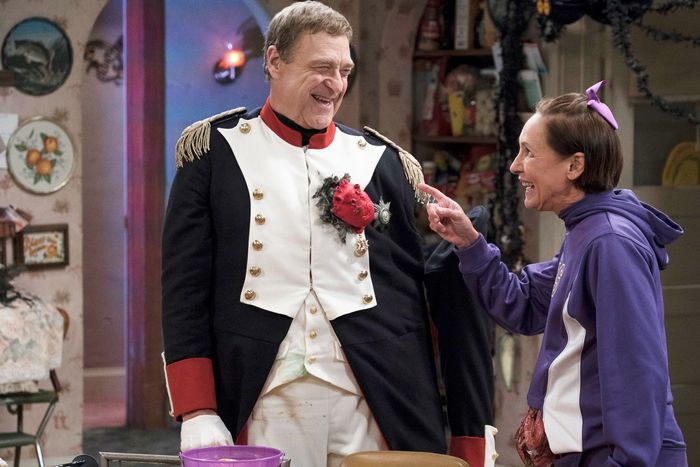 Photo: Eric McCandless/ABC
The spirit of Roseanne continues to haunt the Conner household, which is appropriate since it's Halloween, the favorite holiday of the late Conner mama. And Roseanne would have been proud of most of the family's costumes. The Conners always went all-out for the holiday — young DJ's Schwarzenegger–meets–Our Gang getup of "The Alfalfinator" in '91 remains my fave —but this year's All Hallows' Eve shenanigans offer extra incentive, as an Instagram contest will reward the scariest costumed family with a case of beer and a six-foot sammich from Jack's Liquor and Deli.
So Jackie's wearing a Lanford High uniform with guts hanging out (a disemboweled cheerleader), Dan's a famous war leader with several wounds and a dangling arm (as Napoleon Blown Apart), DJ's strapped with fake weapons and toy lion parts glued to his clothes (as a big-game hunter that, presumably, is mocking the hunting habits of Donald Jr. and his ilk), grumpy teen Harris is Lizzie Boredom, and Mary is Scary J. Blige.
And, as the clear individual winner in the family's effort, Becky, wearing a bald cap and covered in toy sharks, is Sharknade O'Connor. Clever, clever, clever, even though the writers step on their own joke by making Becky explain the costume to Jackie.
We don't find out if the Conners win the suds and sub because a bit of Halloween drama interrupts the fun. First, Darlene is trying to make it out of the house to get to a job interview; cash is so tight that she's in debt to Mark's school for a class field trip to a farm, so a second job is her immediate priority. Meanwhile, Mark's just learned that his costume for the school carnival has been banned. He's fashioned an outfit paying homage to a character from Fortnite, but a school email blast informs parents that such costumes might be considered violent or offensive, and therefore will not be allowed.
Dan, just as Roseanne would have been, is ticked off. He urges Darlene to march right down to Mark's school and let the principal know his "PC crap" is just that. Darlene says she thinks the school may have a point with some costumes, and rushes off to her interview at McNasty's. It's a restaurant where servers are purposefully rude to the customers, so her family assumes Darlene is a shoo-in for a job. But when her potential boss, Gary (guest star David Paymer), asks her to give a few examples of quips she might lay on her patrons, Darlene is so mean that she traumatizes Gary and does not get the gig. "I was overqualified," she later tells her dad.
Meanwhile, as the Conner household Halloween bash gets underway, Darlene and Mark go to his school carnival. He has worked hard to create a new costume, a colorful ode to Frida Kahlo, after being inspired by an art book Darlene stole from the library. ("It was an art book in Lanford. Nobody'll even know it's missing," Darlene reasons.) But when they get to the entrance of the carnival, Principal Swindel yet again buzzkills Mark's efforts. He deems the Kahlo costume culturally insensitive, as Mark is not Hispanic and is accused of "cultural appropriation." Darlene argues — things have gotten too PC up in here even for her — but Swindel stands his ground, even, or rather especially, after Darlene reveals the nickname he was given all the way back when she was a student: "Swinedel."
Laugh is on her, temporarily, at least, as Swindel reveals to her that he already knew about the nickname, and reveals a nickname used to describe Darlene: "Darklene." But all's well that ends well for the mother and son, as Mark forgets all about the costume dustup after seeing Darlene stand up for him.
Back at 714 Delaware Street, Jackie has brought a guest, Peter (Matthew Broderick) for tricks and treats, and to get Dan's opinion on her new love match. At first, Dan tries to be polite, and says Peter is nice. Jackie presses, though, telling him she wants him to tell her the absolute truth, just as Roseanne did when Jackie introduced a new boyfriend to the family.
She asked. So Dan tells her he may hate Peter, a Cliff Clavin–meets–Sheldon Cooper know-it-all whose humorless, pedantic knowledge bombs spark Dan to fess up that he may hate the guy.
"It is a little weird that Peter doesn't have a job at 48 years old," Dan adds.
"I knew you'd try to destroy this," Jackie says. "And by the way, do you know how hard it is to find a single guy in his 40s with a job?! He's a damn unicorn! That's what he is!"
Wonder if this means we've seen the last of ol' Peter?
Around Lanford:
• The Alfalfinator Roseanne ep, "Trick Me Up, Trick Me Down" — which premiered in season four on October 29, 1991 — was written by Amy Sherman (now Amy Sherman-Palladino) and featured the final guest appearance of George Clooney as Jackie's former boss and sometimes boyfriend, Booker.
• Jackie wants a drink after taking Harris for her driver's license test.
Jackie: "Becky, where do you keep the hard stuff?"
Becky: "In Becky."
• Dan walks in on Darlene's phone conversation with someone trying to hire her as a topless housekeeper, for $40 an hour. She turns the job down.
Dan: "$40 an hour? Do they take men? 'Cuz I'll show off the girls for that."
• Dan, upon hearing about Mark's school rules about "no costumes that perpetuate negative ethnic stereotypes or are scary, gory, or anything that's saddening": "It's Halloween, for God's sake! 24 hours without laws or rules!"
Darlene: "That's The Purge movies, Dad."
• Darlene, explaining why she doesn't want to get into a tiff with the people at Mark's school: "I already owe them money for Mark's field trip to the dairy farm to see how milk is made."
Jackie: "Chinese kids are building robots, our kids are confused about what cows do … wow!"
• Peter has a master's degree in medieval culture, came to the party dressed as "the mind-body dualism of Descartes," and has no job. Yeah, he can't hang for very long with the Conners.