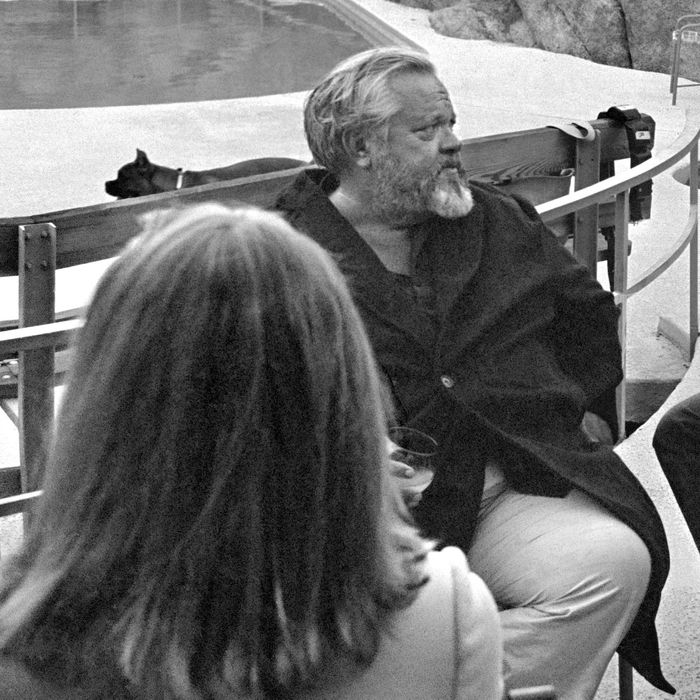 Orson Welles (second from left), Peter Bogdanovich (center) and Oja Kodar on the set of
The Other Side of the Wind
Photo: José María Castellví/Netflix
Fictively documenting the filming of a film within a film, Orson Welles's The Other Side of the Wind casts a grandly meta-narrative eye on Hollywood movie industry insider baseball. Plotted around the behind-the-scenes sexual predations of an aging filmmaking maverick who's directing his comeback movie (played by real-life director John Huston), it's a grandly talky, psychedelic, psychosexual art-house drama, shot on a hodgepodge of different film stocks, from Super 8 to 16 mm to 35 mm, black-and-white to saturated color, to create a kind of kaleidoscopic pile-on of images and narrative voices.
The dramatic mockumentary offers viewers a specific kind of information overload. It's a time capsule of '70s excess, peopled with acclaimed directors, including Claude Chabrol, Paul Mazursky, Henry Jaglom and Dennis Hopper — all of whom are essentially playing themselves — with Last Picture Show director and real-life Welles protégé Peter Bogdanovich co-starring as Huston's character's protégé (yet another film director). It's an acidic satire of the studio system, a deliberate mockery of European art films of the day (Michelangelo Antonioni's Zabriskie Point gets the sucker punch), and an arch commentary on the construction of celebrity (thanks to a goon squad of paparazzi and reporters who film and record Houston's every move in the movie).
But for Welles completists, The Other Side of the Wind arrives a subject of enduring fascination for an altogether different reason: It's being touted as his "final" film. It began production in 1970, didn't finish principal photography until 1976, and reaches the screen some 33 years after the actor-writer-director-producer's death — an accomplishment requiring no small amount of technological innovation, magical thinking, and legal maneuvering. (Wind premiered at the Venice Film Festival in August, made its North American debut at the Telluride Film Festival in September and begins streaming on Netflix November 2.) One of the film's producers, Frank Marshall, began working on The Other Side of the Wind in Arizona as a production assistant at age 25, and since the early '90s has labored tirelessly to complete it. He now feels fairly incredulous — ambivalent, even — that a finished film has finally materialized. "It's been such a part of my life for so long that it's a bit bittersweet," Marshall tells Vulture. "I'm in the place where I say to myself, 'What do I do now?'"
By the onset of the '70s, Welles's professional reputation as the genius auteur behind Citizen Kane had been overshadowed by the received industry wisdom that his days as a commercial filmmaker were a thing of the past — and Welles was his own worst enemy with money, making one catastrophic business decision after another. He'd lived in Europe for most of the '60s, filming portions of an adaptation of Cervantes's Don Quixote in Italy and Spain, taking acting gigs in France and Yugoslavia for fast cash, and directing the majority of an adaptation of the Franz Kafka novel The Trial in Paris. When Welles returned to America in the late '60s, however, he was determined to self-finance his next project: a movie about a hard-drinking, tough-talking, Hemingway-esque director named JJ "Jake" Hannaford (Huston) who returns to Hollywood from self-imposed exile in Europe, determined to make his comeback film, which happens to also be titled The Other Side of the Wind. (Welles insisted the movie was not autobiographical.)
A legendarily chaotic production, the movie is set in and around Hollywood, but its stop-start shoot took place all over: on the Paramount studio back lot; a rented mansion in Carefree, Arizona; Bogdanovich's Beverly Hills home; Connecticut; Euro stand-in locations including the Netherlands, Spain, and Belgium; and at the Metro-Goldwyn-Mayer studio back lot (which was rented for $200 a day by having the cast and crew pose as film students — Welles is said to have been smuggled onto the studio in a van). Half a scene would be shot in L.A. then be finished two continents away three years later. Croatian sculptor-actress Oja Kodar appears frequently naked as the female lead in TOSOTW, a nameless Native-American radical character. Kodar co-wrote its script, directed parts of the film within the film — a heavily mannered, dialogue-free erotic epic — and also happened to be Welles's girlfriend at the time.
Throughout the $2.6 million production — originally scheduled for just eight weeks — Welles would halt filming to nip off to shoot other TV and movie projects and commercials to help finance TOSOTW. While also battling his own not-inconsiderable tax problems, he entered into deals with a number of nontraditional film financiers. And one of the film's European backers legendarily embezzled hundreds of thousands of dollars from its budget. Adding to the already disorientating quality of his guerrilla filmmaking — shooting without location permits, enlisting unpaid film students and interns for the majority of his below-the-line workers — the director encouraged the actors to veer away from the script whenever they felt like it. "John, just read the lines or forget them and say what you please. The idea is all that matters," Welles is quoted as having told Huston — spawning such dialogue doozies as Huston's arch assertion that, "It's all right to borrow from one another, what we must never do is borrow from ourselves!" And a self-serious journalist character asks Hannaford from the back of a convertible, "Is the camera a reflection of reality, or is reality a reflection of the camera eye? Or is the camera a phallus?" (Most of the action takes place at Hannaford's 70th birthday party, where he screens The Other Side of the Wind for friends, sycophants, reporters, and Hollywood hangers-on on what turns out to be the final day of his life.)
Once the cameras stopped rolling, though, no one could have predicted that the trove of more than a thousand reels of film would not be seen again for over 40 years. In 1975, Welles edited part of the film within the film together to be screened at an American Film Institute lifetime achievement tribute to his work — but also as a kind of sizzle reel for potential investors to drum up funds to finish the movie. That money never came. And The Other Side of the Wind became locked in a legal imbroglio, thanks to a dodgy production deal Welles had struck with the French company Les Films d'Astrophore (owned by none other than Mehdi Bushehri, the brother-in-law of the Shah of Iran). The company attempted to reduce his profit participation in the film and wrest away final cut. Welles, for his part, spent the rest of his life fighting for control of the film and searching for funds to complete it; he died in 1985 at age 70.
In the intervening years, TOSOTW cinematographer Gary Graver, a longtime confidante of Welles, made it his mission in life to finish the movie, only to come up short again and again against the vagaries of French copyright laws, complex ownership disagreements, and grudges among a cast of characters who all claimed some legal or artistic right to control the fate of Wind. After Graver died in 2006, his good friend Frank Marshall — by then one of Hollywood's most successful producers, behind such blockbuster franchises as The Bourne Identity, Indiana Jones and the Temple of Doom and Back to the Future — took up the torch.
And around 2008, he joined forces with Filip Jan Rymsza, a Polish-born writer-director-producer who first became aware of The Other Side of the Wind by reading a Vanity Fair feature about its legendarily convoluted production. Rymsza took on the crucial task of establishing a chain of title for the film — a historical ownership timeline documenting proprietary rights to an intellectual property — spending roughly four years conducting audits and combing through records to assemble a 300-page document cataloguing every historical rights transfer.
It fell to Rymsza to broker peace between the three warring factions responsible for the film staying in France: Oja Kodar (to whom the director had willed the movie); Welles's daughter Beatrice (who staked her claim to Wind under France's Napoleonic law that dictates "blood can't be willed away," according to Rymsza); and Film d'Astrophore. "The judge said that nobody can move until all three parties have signatures for release — but he wouldn't specify who controlled what percentage of the film," Rymsza recalls. "So that's when everything got really complicated. It was very difficult to really assess the ownership of it. But also there were these three parties and none of them were speaking to each other."
With Welles, Kodar, and Film d'Astrophore's blessing and all the necessary court approvals, the producers finally took possession of the negative, nearly 100 hours of footage and various shooting scripts (one of them 360 pages long), along with numerous annotated memos. They still weren't sure, however, whether the film stock had biodegraded over the years or would even be usable. It was. But reviewing all the footage prompted the realization the filmmakers would have their work cut out for them in terms of reassembling the chaotic jumble of film stocks into a cohesive motion picture. "I mean, doubts definitely creeped in," says Rymsza. "The scenes felt very disjointed. You felt that Welles was shooting them over the course of six years. They varied greatly in quality — not only picture quality but audio quality. It felt very cobbled together."
From there, the filmmakers spent several months digitizing the hundred-plus hours of footage and brought on Oscar-winning editor Bob Murawski (The Hurt Locker), who had been close with Graver. But more importantly, he had previous experience doing a posthumous film "restoration project" — a film called Gone With the Pope that was shot in 1975, similarly orphaned in 1981 when its director-star died, and "lost" for more than 30 years only to be edited into completion by Murawski in 2010. He took a methodical approach toward cutting Wind together: first reading every draft of the shooting script, familiarizing himself with the editing approach on all of Welles's other films, reading every biography he could on the director, and consulting interviews with Welles found in the Academy of Motion Pictures Arts & Sciences library.
"I basically tried to do my homework as much as possible, just tried to get into Orson's head, how he thinks," Murawski says. "I thought about the filmmaking process and what he was trying to accomplish with this movie. Once I got into it, I really felt like I knew what he was trying to do — to try to make this movie about an old director trying to get back on top."
He adds: "I think one of the reasons Orson never finished the movie was because of the technical problems of working with and cutting together all the different formats of film. He would have had to blow up the 16 mm to 35 even to be able to edit."
In addition to co-starring in TOSOTW, Bogdanovich has gained a reputation as a Welles scholar. The director personally asked Bogdanovich to help finish Wind in the event Welles died before its completion. Bogdanovich came onboard as executive producer around 2008, when Marshall and Rymsza were in negotiations to release Wind with Showtime. "Peter was crucial not only because he is a very well-respected director and also was in the movie, but because he was there, he had talked to Orson, he's done books and tapes, and he really knew Orson well," says Marshall. "So not only did Orson ask him to finish the movie if anything happened. He really understood what Orson was going for. This final phase was a real collaboration between Bob, Filip, Peter, and I. Two of us were there and were able to bring, I think, a connection to [the movie] that wouldn't be there if we hadn't actually worked on the movie."
Huston's son Danny was brought in to overdub his father's dialogue, perfectly mimicking the elder Huston's bourbon-soaked growl. And the multiple Oscar- and Grammy-winning French composer Michel LeGrand (The Umbrellas of Cherbourg), who had scored Welles's last completed film F Is for Fake, created an original soundtrack that leans heavily on experimental jazz.
Although the filmmakers rushed to complete editing by the spring of this year in a bid to hold The Other Side of the Wind's world premiere at the Cannes Film Festival in May, festival director Thierry Fremaux threw a wrench in their spokes by barring the film from screening in competition; Cannes has a new policy to disqualify movies from streaming services that do not screen theatrically in France. Nevertheless, the film held its grand rollout at the Venice Film Festival to generally positive reviews.
For all the jubilation The Other Side of the Wind's long odyssey toward completion is bringing to Welles's zealous fan circles, the filmmakers agree its existence as the director's "final" filmmaking effort provides a bittersweet coda to all the work they did to bring it to the screen. "It's sad to me. It's a sad story. It's a sad movie," Bogdanovich said at a post-screening Q&A after the movie's Telluride premiere. "Not only Orson's last movie, it's an 'end of everything' kind of movie. The only thing that survives is the artistry."