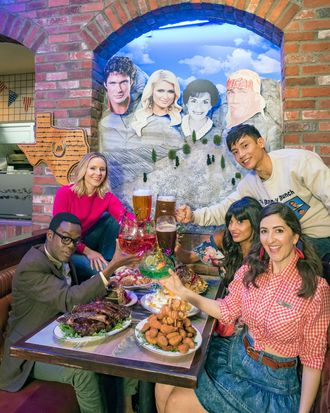 Not pictured: Pawnee's famous Paunch Burger.
Photo: Ron Batzdorff/Ron Batzdorff/NBC
In the third episode of The Good Place season three, Eleanor and the gang all go out for a bite to eat at the Cowboy Skyscraper Buffet, a terrible restaurant covered in fry grease and pictures of David Hasselhoff. The whole restaurant is full of visual gags — a real buffet of Americana, if you will — but it's a bit hard to see what the actual menu offerings are. Fear not, Vulture has obtained an image of the full Cowboy Skyscraper Menu, so that you can make an informed choice about whether to order the Paunch Burger, the Ol' Faithful, or to spring for the full Independence Buffet.
It's worth noting that the existence of the Paunch Burger on this menu suggests The Good Place and Parks and Recreation exist in a shared universe. (Not to mention how Parks and Rec seemed to take place in the same world as The Office.) Let the countdown until Blake Bortles goes to work for Entertainment 720 begin!
In case you don't want to squint at the image above, here are all your choices at the Cowboy Skyscraper Buffet, reprinted in full from the menu:
ALL-AMERICAN APPETIZERS




• Fire-Bottom Jalapeño Poppers ($14.50) – Texas sized jalapeños stuffed with an entire block of Velveeta and coated in our world famous maple brown sugar cornmeal batter. Deep fried and served with a side of wasabi buffalo sauce.




• The World's Largest Tater Tot ($9.50) – A potato the size of human head is stuffed with tater tots, cornmeal and a can of Pabst blue ribbon. Served with a side of ground beef ketchup and a stick to bust it open with.




• Landfill Fries ($8.50) – Crispy sidewinder fries tossed in spicy buffalo seasoning and topped with blue cheese crumbles, nacho cheese sauce, jalapeños, crema, pico de gallo, house-smoked pulled pork and chipotle BBQ sauce.




• Tuna Poke Lollipops ($18.50) - Sashimi-grade ahi tuna packed into crispy wonton shells fried and smothered in old bay seasoning sauce. Served with a side of our world famous orange wasabi.




• Honey Dipped Triple Fried Wings ($13.50) – Three dozen chicken wings are brined and roasted before being coated in our world famous four loco brown sugar BBQ sauce. Served with crispy fried onion straws, tangy ranch and peanut medley.




THE LANDMARKS

These are the monument sized plates that make America great! Served with your choice of a carafe of our famous hickory clam chowder or a punch bowl of Caesar salad topped with garlic fries and anchovy cream sauce.




• The Mount Rushmore Salad ($14.50) – Four crisp heads of iceberg lettuce, batter dipped and fried, garnished with a 32 ounce chicken fried steak slathered in our world famous rancheeto BBQ gravy. Served with a cup of fruit.




• Grand Canyon Dog ($9.00) – A two foot "freedom" baguette, hollowed out and filled with hot dogs, mac & cheese, bacon and our world famous brown mustard and spicy wasabi chili. Served with an onion ring tower and our world famous apple ranch dressing.




• *Ol' Faithful ($18.50) – Every 10 minutes your water will fire a blast of our world famous beefy beef chili into your mouth from a fire extinguisher. We will keep firing until you tell us to stop!




BIG BARN BURGERS

Burgers the way God intended them… AMERICAN! Our richly marbled 100% USDA Choice ground beef is smash-grilled so each burger is dripping with flavor. All burgers are served with our fry bucket and world famous bourbon infused cheesy ketchup.




• Pretzel Crusted Mac-N-Cheese Burger ($12.50) – Crispy applewood bacon, six-cheese mac 'n' cheese, lettuce, tomato, onion, pickle all lightly fried in our world famous pretzel batter. We repeat the process three times to give it just the right amount of crunch and then stack it on a buttery brioche bun.




• *The Paunch Burger ($11.00) – Three meat patties, six slices of cheese, lettuce, tomato, onion, pickle covered in our world famous bourbon brown sugar thousand island sauce and topped with a fried egg. The pride of Indiana recreated here for you.




• The Dessert Burger ($15.00) – Two meat patties, sweet and thick maple bacon and a thin slice of our world famous New York cheesecake. Topped with potato chips and hot fudge. A sweet and salty delight. For a special treat get it a la mode for $4 more.




• *Independence Buffet ($26.00) – Everyday our world famous chefs create new dishes out of yesterdays leftovers for this world class buffet. Why choose from the menu when you can have it all? Please use a clean bucket or trough when you return to the buffet.




Join Our VIP Program!

Discounts, Pay Once Eat All Day on Sundays, Personalized Buffet Buckets & More!




Fourth of July Drink Special

Half an apple pie, blended with Southern Comfort and Coca Cola. Served in a Chevy Hubcap.




*The Australian Department of Health strongly recommends you do not eat this.